A/B Testing Made Simple
Test and verify your hypothesis. Make data-driven decisions. Get more sales, more leads and better conversion rates.


Launch A/B test in minutes and measure the impact
A/B Testing lets you compare the performance of two versions of a page by showing half your visitors the current version  (the 'Control') and the other half the modified page (the 'Treatment').
By comparing which version got more conversions, you can determine which version is more effective and make data-driven decision.
Why Marketers Choose Convertize A/B Testing
Convertize is the best alternative to AB Tasty, Optimizely and VWO  for Marketers who are looking for an innovative and cost-effective A/B Testing tool that is easier to use and delivers results they can trust.
Compare Convertize vs AB Tasty –  Convertize vs Optimizely – Convertize vs VWO 
With Convertize, you avoid the high-cost of simply running an A/B Test (several $1'000/month with Optimizely and the likes), you get intuitive features with a visual editor to create variations of your pages, and you avoid the hassle of dealing with mathematical knowledge and potential mistakes along the process.
Convertize is also the alternative to Google Optimize for Marketers looking for high-quality of service: unlike Google Optimize, we provide instant chat support to assist you while setting up your A/B Test.
Our A/B Testing platform includes smart features that make it a breeze to test your website content.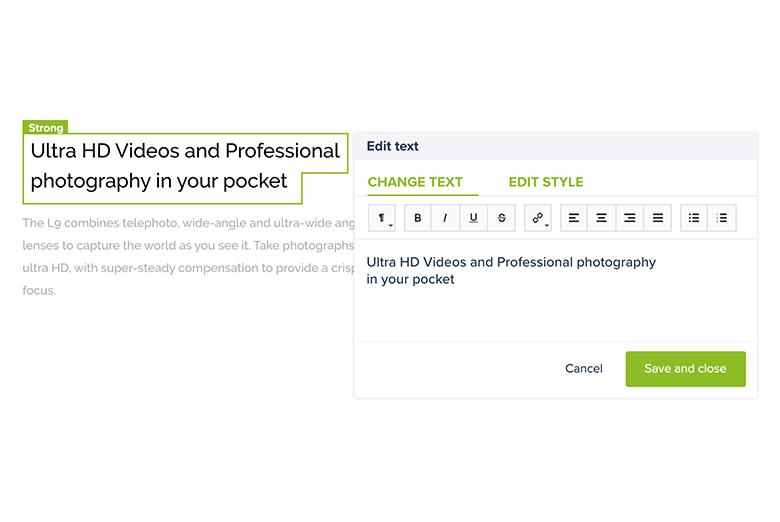 Our SmartEditor™ makes it easy to create different versions of your page – without coding – so you never have to wait for your web developer to launch your A/B Tests.
Quickly create new versions of your page by changing any elements:
Text
Banners
Pop-ups
Offerings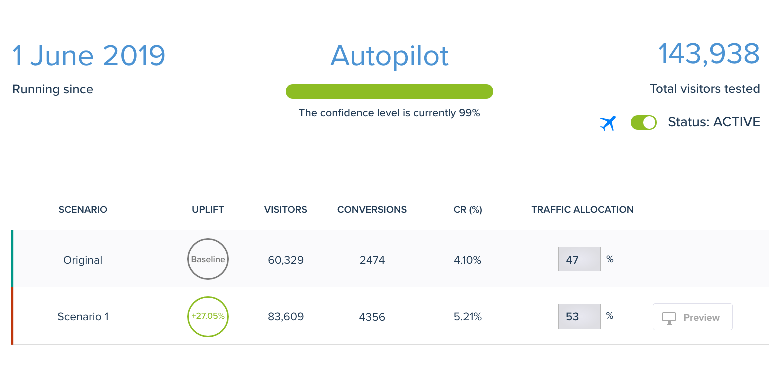 Our Autopilot™ is a set of built-in algorithms that automatically shift more visitors to the best-performing version of your A/B test. That means you don't need to actively monitor your A/B Tests and don't have to worry about statistical significance. It's all taken care of.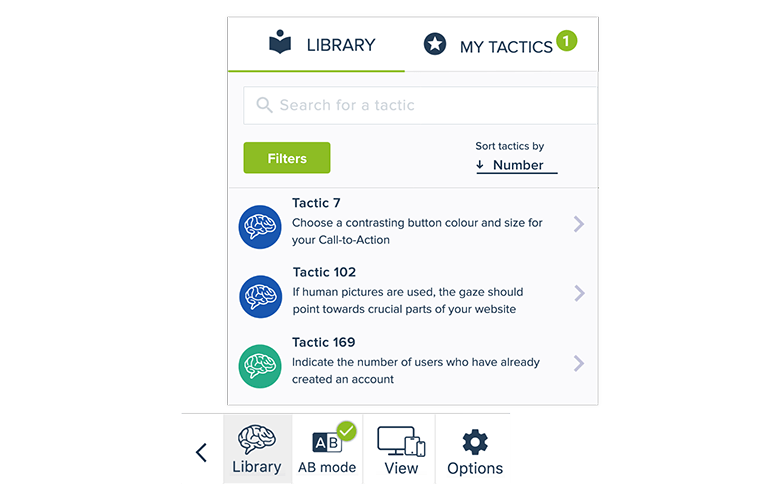 The Smart Editor includes a library of over 150 different A/B Testing ideas, so you get started quickly never run out of hypothesis to test.
More than ideas, these are actual optimization tactics –  all based on psychology and consumer behaviour – and tailored to your specific industry and the page you are optimising.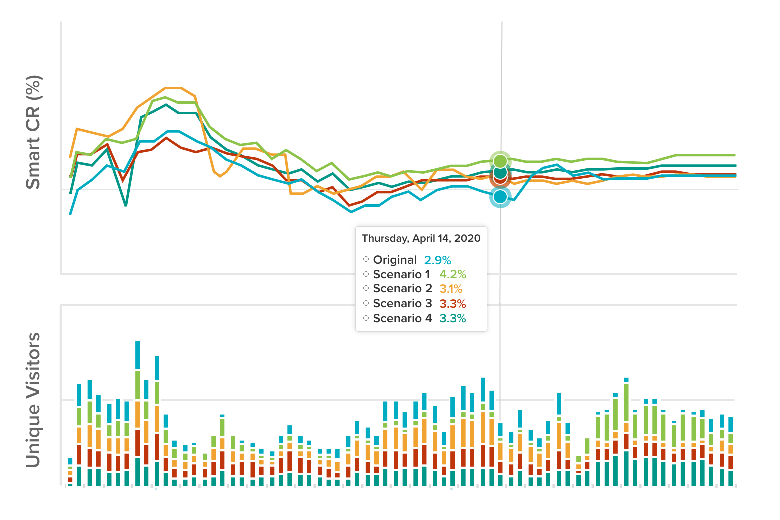 The Hybrid Statistics Engine combines frequentist and Bayesian statistics. That means it is able to identify statistically significant results faster.
Your results are presented in three simple charts. With Flight Tracker you can see the traffic and conversion rate for each of your scenarios on every day of your experiment.
Try all features with your FREE trial
Experiment with SmartPlugins, Autopilot, Hybrid Statistics and Nudges for 14 days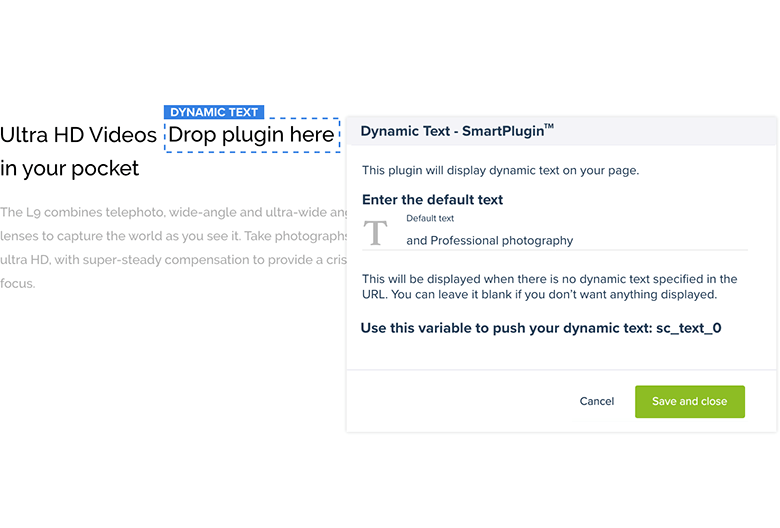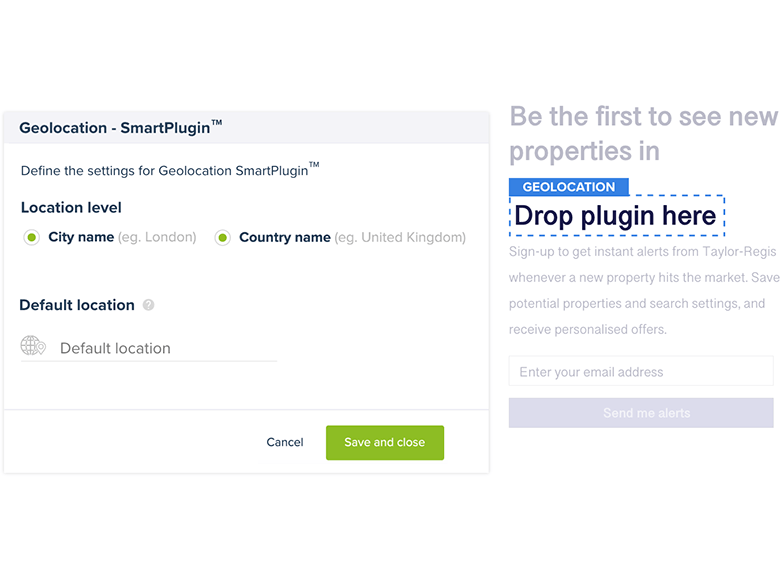 Our platform includes SmartPlugins™ to personalize your customer experience with a simple drag-and-drop.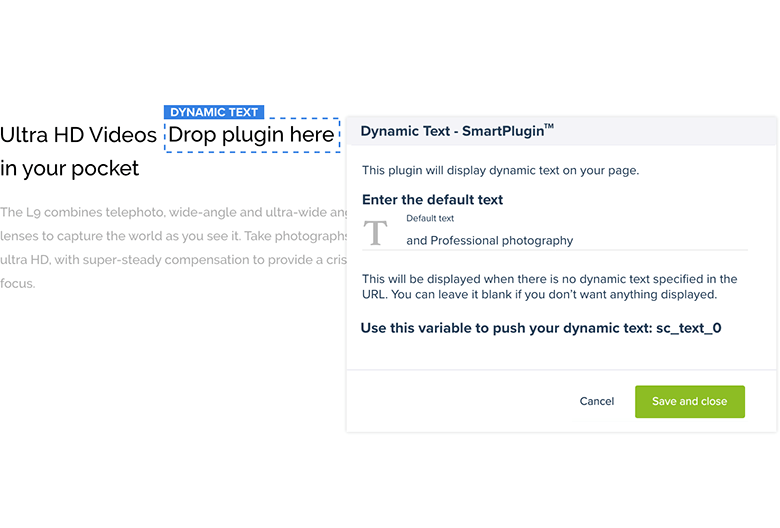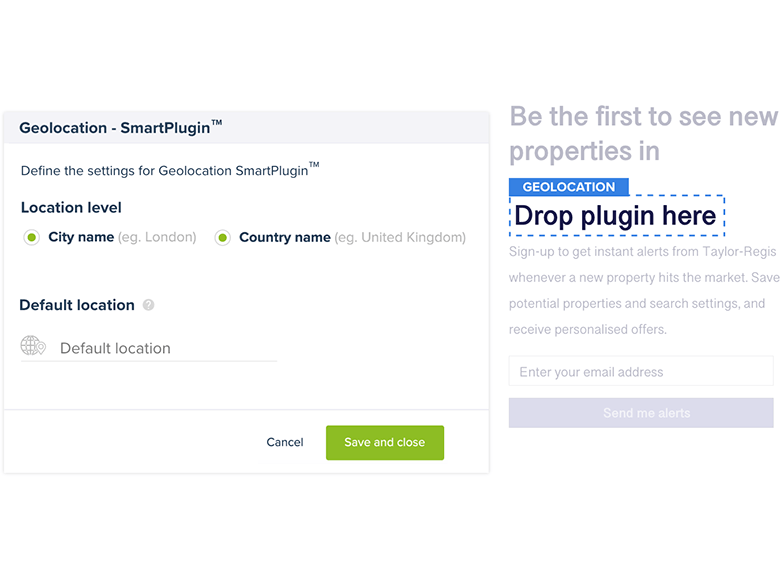 With Dynamic Text, you can show different headlines depending on who your visitor is. Geolocation allows you to persanalize your content with your visitor's location.
Convertize A/B testing software can be added to your website without touching a line of code – simply by adding it to the tag manager or CMS platform (ie. WordPress) you already use.
Join happy teams and agencies already using Convertize

Try all features with your FREE trial
Experiment with SmartPlugins, Autopilot, Hybrid Statistics and Nudges for 14 days
Choose your plan and get started
14-day FREE trial • No commitment • No credit card required
2 months free with annual billing
Solo
Up to 20 000 visitors per month

3 projects
A/B Testing with Autopilot
Smart duration
SmartEditor™
Our SmartEditor™ makes creating experiments simple. No prior knowledge of coding is required.
SmartPlugins™
Simply drag & drop the SmartPlugins to add persuasive notifications, geolocation or dynamic content that will urge your user to complete a conversion.
Unlimited projects & collaborators
Create as many projects and experiments as you would like, and invite collaborators to participate.
AB Testing
Set up an AB test in just a few clicks. Autopilot Mode automatically allocates traffic to the best performing variant, leaving you free to focus elsewhere.
A/B Testing Ideas
Not sure where to start? Convertize can help, thanks to more than 250 A/B Testing Ideas for e-commerce, Saas, Lead Generation and more.
Platform Support
If you have any questions regarding pixel implementation, AB testing, billing, or simply need help creating an experiment, you can use our live chat support.
Website Integration
Convertize works with any website, including popular content management systems such as Wordpress, Shopify, Magento, etc. You can also use Google Tag Manager to install the pixel.
Targeting & Segmentation
Want to target specific users? It's easy with Convertize, with options for device type, geolocation, and more!
On-demand Coaching
We're more than happy to share our optimisation expertise with our online coaching tailored to your abilities and goals. This service is available for an extra fee.