3 New Persuasive Notifications Features For 2018
Reading Time:
2
minutes
We've started 2018 with a bang at Convertize, and after shaking off the last chills of Winter, we've added even more functionality to our Persuasive Notifications!
What Are Convertize Persuasive Notifications?
Persuasive notifications are similar to push notifications in that they are a way of communicating with a user, except rather than simply providing information, they often urge the user to action. For example, they might use a low stock notification to prompt the user to buy the product they are viewing.
Unlike push notifications, persuasive notifications pop up only when the user is already on your website. They do not require their permission in order to appear. Persuasive notifications use live data from your platform to inform about products, thereby urging quick action and increasing your revenue.
How do they work?
In order to use the persuasive notifications feature, you insert a special piece of code into your notification message. This code is provided to you by the platform that you are using. At Convertize we offer a small code snippet into your webpage and Convertize automatically replaces the code with the dynamic value that you push through the snippet.
What Notifications Does Convertize Offer?
We offer 6 simple, effective pop-up persuasive notifications that help you to increase engagement and drive conversions.
Popularity Notification This notification relies on the principle of Social Proof. It lets people know how popular your products are.
Order Soon Notifications By introducing a time limit, you can create a sense of urgency that encourages quicker conversions.
Low Stock Notifications Low stock notifications emphasise scarcity, nudging hesitating visitors into paying customers.
Free Delivery Notifications You can incentivise larger basket sizes, by displaying a target spend to secure free delivery.
Influencer Notifications Maximise the exposure of endorsements from industry influencers by displaying expert reviews or testimonials.
Custom Notifications Create your own custom notifications, highlighting anything from a important news to special offers or free content.
3 New Persuasive Notifications Features For 2018
1. More Screen Positions
After hearing your feedback, we've created three additional positions for notifications, taking the total positions available to 5.

2. Drag And Drop Flexibility
It is now much easier to rearrange the order of notifications with our new drag-and-drop flexibility.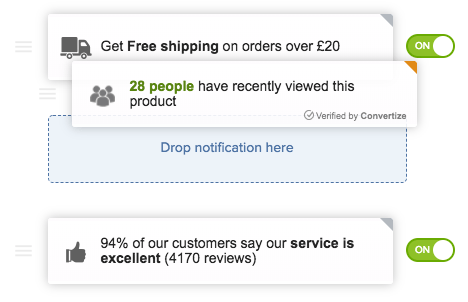 3. Clearer Psychological Principles
We have introduced a clear colour-coding system to show more clearly which psychological principles lie behind our notifications.

We hope these additional features will help you drive even more conversions! Please let us know what you think of them, and don't hesitate to suggest more improvements you'd like to see on the platform.