Workspace Tailors Persuasive Notifications To Your Industry
Reading Time:
3
minutes
Our IT and UX teams have achieved a few significant steps recently. After introducing the Lightning Mode, they are rolling out yet another exciting new update to our platform!
This enhancement will make the Convertize platform more accessible, easier to use and personalised for your industry.
In November 2017, we launched Workspace a smart and interactive space within our platform making it easier than ever to tailor optimisation to your unique services and products.
Exciting New Improvements to Persuasive Notifications
1. Choose a set of Persuasive Notifications Aligned To Your Industry
Until now, you've been able to specify the type of your website by choosing from eCommerce, Lead Generation and SaaS. In order to make Notification Workspace more effective we've added specific industries: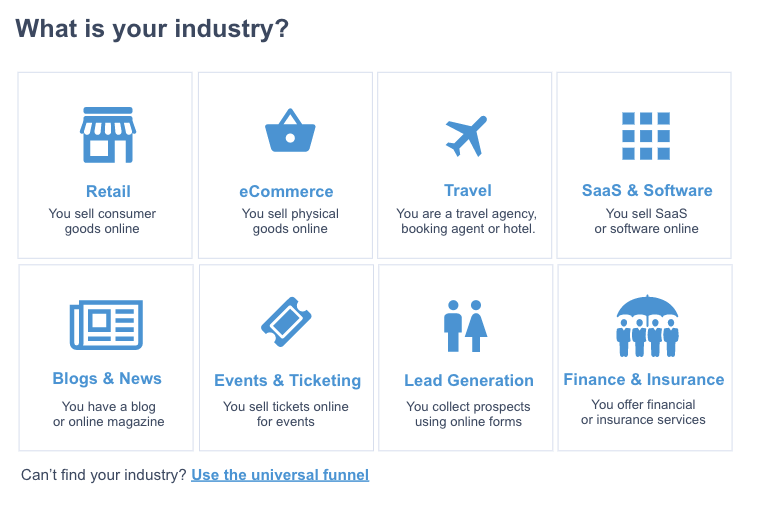 Based on your industry, you get a set of Persuasive Notifications specific to both your industry AND the type of pages in your conversion funnel. These options have been hand-picked by our team at Convertize based on research into the needs of these different industries.
These Persuasive Notifications allow you to create a personal and compelling relationship with your customers.
For example, if you sell tickets to events, a notification will tell a viewer that "10 people are looking at this seat," or that "10 people in your postcode recently booked tickets to this event." This creates scarcity and urgency tailored to the customer's interests and location and generates a more personal persuasive relationship between your website and your customer. 
2. Quick And Easy Editing With Workspace
Adding Persuasive Notifications to your website is now easier than ever with Workspace. With the click of a button, you can activate or deactivate any notification.  
You can also create your own notifications and push real-time data from your website the deliver personalised messages.
If you're activating or creating a notification that contains variables, you might need to update your Tracking Pixel in order to be able to push dynamic data into your messages. If your changes in Workspace generate a new Tracking Pixel, Workspace will let you know that it's time for an update by pushing the red dot next to the Tracking Pixel button.
3. Add Real-time Data For More Personalised Notifications
You can add variables to push real-time data into your notifications. All you need to do is place the Tracking Pixel into the head section of the page where the notification needs to be displayed.
You can push information such as how many tickets have been purchased, how many items are left in stock, or how much time is left before a consumer must purchase to qualify for next-day shipping.
Simply copy and paste the script into the header of your website, and your custom Persuasive Notifications will appear in real-time on your website.
If you click on the "Tracking Pixel" button (with the red notification as shown in the previous photo), Workspace will generate a new and unique Pixel for you: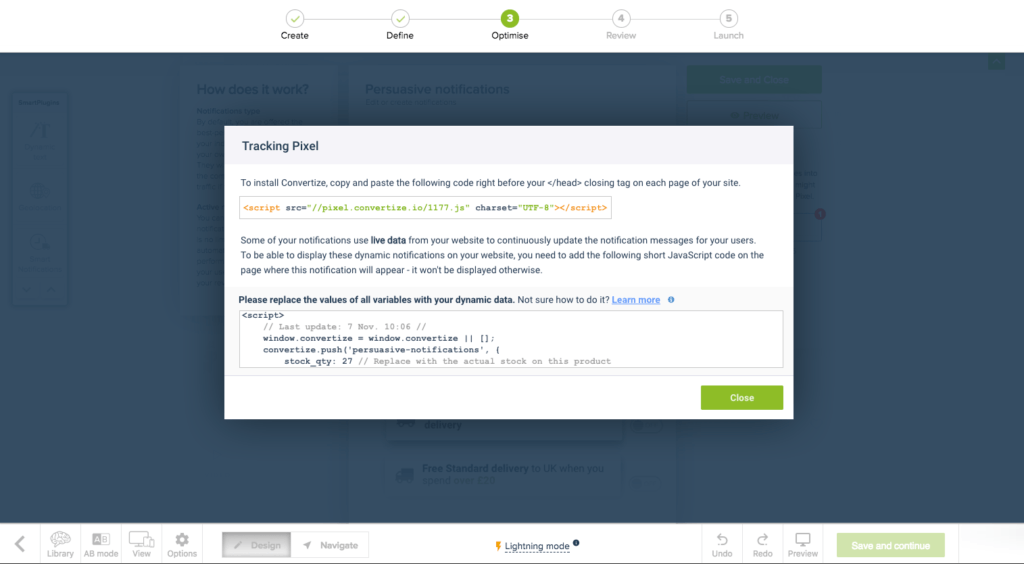 Once installed, the Tracking Pixel implements changes made in Workspace onto your website in real-time. (However, as mentioned before, certain changes to customised pixels may require a new Tracking Pixel to be installed; Workspace will notify you about this change via the red dot notification.)
Happy optimising, and we hope you enjoy using Workspace as much as we enjoyed creating it.