Personalisation
Use dynamic headlines to increase engagement whilst reducing your cost per click. Create a personalised user experience by displaying the location of your visitors.
Get closer to your customers
new
This SmartPlugin™ enables you to dynamically insert your visitors' geolocation into your website pages, allowing for the creation of personalised content to improve engagement with your products and services. All this can be achieved in a few simple clicks.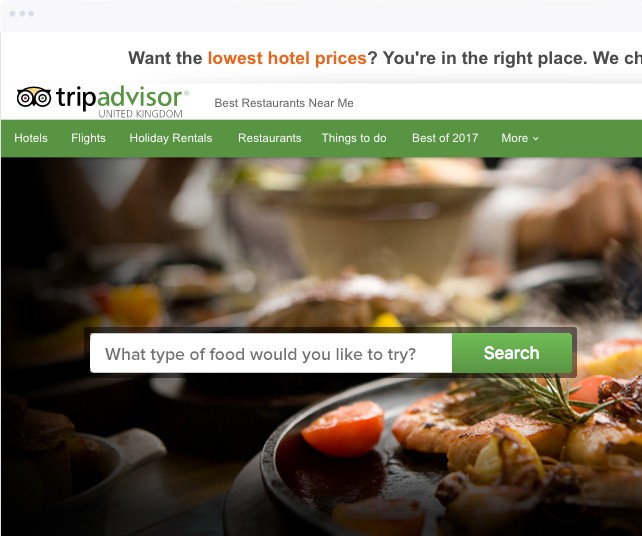 The best restaurant deals
in London
Pricing
Choose your plan and get started
30-day FREE trial • No commitment • No credit card required
Save 20% with annual billing
solo
Up to 30 000 visitors per month

1 user
A/B Testing with Autopilot
Smart duration
team
Up to 300 000 visitors per month

15 users
A/B Testing with Autopilot
Smart duration
Premium support by Chat
agency
Unlimited visitors per month

Unlimited users
A/B Testing with Autopilot
Smart duration
Premium support by Chat + Phone
AB Testing
An intuitive, feature-rich Smart Editor lets you set up experiments in minutes
SmartPlugins™
Personalisation takes seconds with our drag-and-drop SmartPlugins™
Persuasive Notifications
Our notifications use consumer psychology and real-time data to convert visitors into customers
Autopilot Mode
Maximise the value of tests by automatically pushing traffic to the best performing variation
Unlimited Projects
No limitations on how many projects, experiments, or websites you want to optimise
Persuasion Tactics
Our experts have created over 250 psychology-based tactics to inspire your experiments
Join over 800 happy teams using Convertize

Improve Customer Engagement & Increase Your Revenue
Try our 30-day free trial - no credit card required