User Experience (UX)
Where does User Experience apply? Does it apply to you when you are going to a Japanese restaurant? What does it mean exactly? In the digital marketing, saying UX is the way to refer to User Experience, most (if not all) marketers know UX, or at least they feel that they understand what UX is. Before going to the definition of UX we can certainly agree that User Experience is about making your website visitors feel good, so that they convert and come back.
What is User Experience (UX) ?
Wikipedia defines User Experience like this:
User Experience (UX) refers to a person's emotions and attitudes about using a particular product, system or service. It includes the practical, experiential, affective, meaningful and valuable aspects of human–computer interaction and product ownership. Additionally, it includes a person's perceptions of system aspects such as utility, ease of use and efficiency. User experience may be considered subjective in nature to the degree that it is about individual perception and thought with respect to the system. User experience is dynamic as it is constantly modified over time due to changing usage circumstances and changes to individual systems as well as the wider usage context in which they can be found. In the end, user experience is about how the user interacts with and experiences the product.
To summarize, User Experience is related to emotions, attitudes, user's perceptions, overall it is something subjective.
It is a global concept that includes simplicity, elegance, usability, but also customer service.
That means that companies willing to improve the User Experience also need to think globally: it's much more than a Graphic Designer or Web Designer task, the Engineering team must be involved to ensure that the page load smoothly, the Marketing team must be involved to ensure that ad copies and content are matching users's expectations, the Customer service team must also be involved (think about Chat or Bots).
There's a lot to consider when you want to improve the user experience, and Peter Morville breaks it down with his UX honeycomb: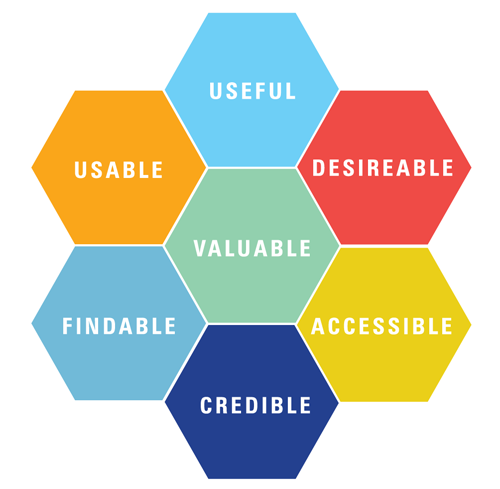 He believes that to offer a good user experience, information must be:
Useful: Your content should be original and fulfil a need
Usable: Your website must be easy to use
Desirable: Your design elements must trigger positive emotions and appreciation
Findable: Content needs to be easy to find and navigate
Accessible: Content needs to be accessible to people with disabilities (think about elevators)
Credible: Design elements influence whether users trust and believe the website
The truth is that – in everyday life – when people think UX, they think about "UX Design" where designers combine art, science and user behaviors during testing.
Steve Jobs was a UX designer, he was THE master of minimalist design.
Peter Boersma, a UX Strategist from the Netherlands, created a T-shape model to explain User Experience :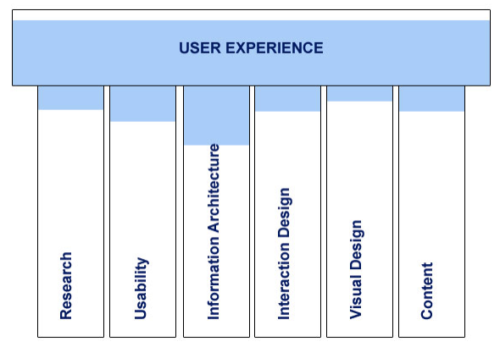 The six core disciplines of the T-Model:
Research
Usability
Information Architecture
Interaction design
Visual design
Content
Research and Usability also mean that a good UX designer must have some knowledge of behavioral economics, neuromarketing and consumer behavior. It's more that being a "Photoshop Master".
Why is Website User Experience Important?
I mentioned Steve Jobs as being a UX Master, but how do you feel when using an iPhone? Do you love it or do you hate it? Are you lost or do you find it intuitive? Not all users feel and behave the same.
If your website doesn't work the way your visitors expect it to, they may not like their experience and just bounce instead of becoming customers.
Now imagine that next week you launch a complete new version of your website, how do you think you existing customers will feel? You can anticipate that not all of them will like it.
Offering a good website user experience affects 3 key areas:
Your website conversion rates
Your customer satisfaction
Your customer loyalty
The UX practice goes perfectly along with conversion rate optimisation and neuromarketing. You will find below some article related to UX, that will help you to improve your website and gain knowledge :