Intrinsic and Extrinsic Motivation
What is Motivation?
The concept of Extrinsic and Intrinsic Motivation shows that motivation can be quantified in terms of intensity but can also defined according to its causes.
What is Extrinsic Motivation?
When motivation is induced by an external factor (reward, social pressure, approval of a third party, etc.) it is described as extrinsic. Material rewards, social approval or physical pleasures are examples of Extrinsic Motivations. 
What is Intrinsic Motivation?
Intrinsic motivation comes from internal needs and desires. These are highly individual motivations, informed by an individual's sense of self. Learning a new skill for pleasure, fulfilling a moral commitment, making connections with other people or completing a difficult task are all examples of Intrinsic Motivations.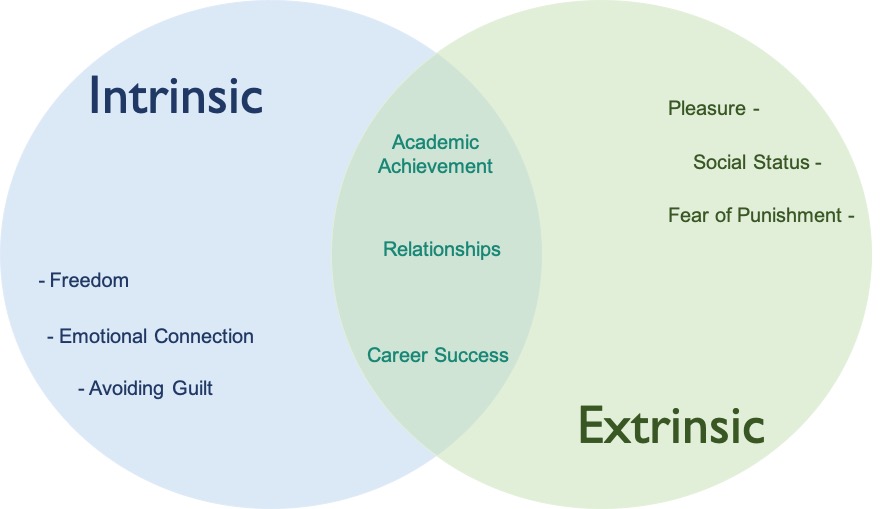 Examples
Depending on the context, either intrinsic or extrinsic motivation can be more effective. Extrinsic motivation is often most effective when engaging someone to complete a simple task. However, when the task is more complicated and requires more in-depth thought and creativity, this type of motivation has been found to be a hindrance. In these situations, intrinsic motivation is more effective.
Intrinsic and Extrinsic Motivation
It is very important for marketers to understand what motivates their visitors to do a specific task or to buy a product. Adding a few changes to your digital marketing strategy will help you raise your conversion rates.