Convertize Releases its Latest Feature: Autopilot Mode
Reading Time:
2
minutes

This article was originally published on MartechAdvisor and as part of the MarTechSeries.
—
Convertize, the digital consulting agency that specialises in Conversion Rate Optimisation, has today announced its latest feature – Autopilot Mode. 
Based on a new algorithm devised for their AB Testing and Notifications platform, Autopilot Mode automatically allocates traffic to the better-performing variant in an AB test.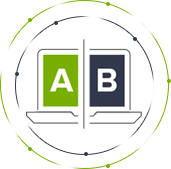 AB testing gives retailers of any size and within any sector the ability to statistically analyse more data points over a shorter period of time. It also allows users to accurately apply more complex statistical algorithms that take past outcomes into account. Autopilot Mode combines the Frequentist and Bayesian approaches to AB testing.
Philippe Aimé, CEO of Convertize explained: "In our experience, the Frequentist approach is faster, but Bayesian can be more reliable. Not wanting to forgo either benefit, we devised a hybrid approach. The result is an algorithm that continually recalculates the best performing variant and automatically pushes more traffic to it."
The feature has been designed to maximize the value of the better performing variation of an experiment. This will help to minimize the opportunity cost of AB testing by recalibrating the traffic distribution continuously. Once the test is completed, the majority of visitors will be taken to the higher converting version of a retailers website. This results in a smoother optimization process, ensuring that conversions are maximized whilst running tests. Autopilot mode also considers how results are changing over the course of the experience, whilst also taking into account the differences in consumer behavior on different days of the week.
Aimé continued, "The use of a hybrid approach of Frequentist and Bayesian in AB testing means that users of the Convertize platform are now able to leave the algorithm to decide on the traffic split for their AB tests.Typically, there is strictly no-peeking at results before AB testing is complete as this could prevent the experiment from being accurate. This could mean weeks of potentially trying to direct a large proportion of visitors to a less-optimal variant, which can cost companies vast amounts of money."