10 Best Intercom Alternatives for Customer Messaging in 2022: Drift, Crisp…
Reading Time:
14
minutes
At Convertize, we try to offer the best customer experience possible. Since the day we first launched our A/B testing tool, we have offered in-app support with Intercom. So, why did we look for Intercom alternatives in 2022? And why did we choose to combine a messaging app with email marketing automation software as the best way of providing customer support?

In this article, we offer an in-depth comparison of the 10 best Customer Messaging Apps & Intercom Alternatives.
Our analysis has been based on our experience of using the software and our survey of online reviews.
Drift: Often seen as the main alternative to Intercom. 
Crisp: The best technical alternative, but lacking in support
HelpCrunch: A competitor for both Intercom and Drift
GoSquared: The best customer support of all available options
Chaport: The simplest and cheapest way to start chatting to customers online
Reamaze: A lighter alternative to Drift, but with similar loading speed problems
Acquire: An executive solution, with powerful features
Customerly: Funnel-based CRM tool, designed for growing businesses
Freshchat: A mid-range solution with an intuitive interface
LiveAgent: A simple and user-friendly alternative
We also consider whether combining different types of software could provide a better all-round package. Our research included the very best Help Desk and Email Marketing Automation software.
The 10 Best Intercom Alternatives for Customer Messaging in 2022
In truth, we have not moved away from Intercom entirely. The main reason for this is the "switching cost".
Intercom is fully integrated with the Convertize app, and moving completely would require days of work from our tech team. The team is already working continuously to improve our app, so a full switch would set us back by several days.
Instead of going cold turkey, we simply reduced our reliance on Intercom. To help with this, we have begun to use an alternative live chat provider within Nudgify (our Social Proof app) and email marketing automation software to automate our drip campaigns.
When we started with Intercom we had less than 100 people using our app. It was convenient and cost effective, so we used it for almost everything…
As a Messaging system (which is their core product)
As an Analytics platform (to track our PPC and SEO campaigns by segmenting leads according to their utm parameters. Yes, we also used Google Analytics and Mixpanel, but it was convenient to have all the data in one place!)
For Leads and Customer Management. Tags made it much easier to manage our database
For Email Marketing Automation
To track customer segments
Overall, Intercom came in very handy. It offloaded tasks from our tech team and managed our entire customer base.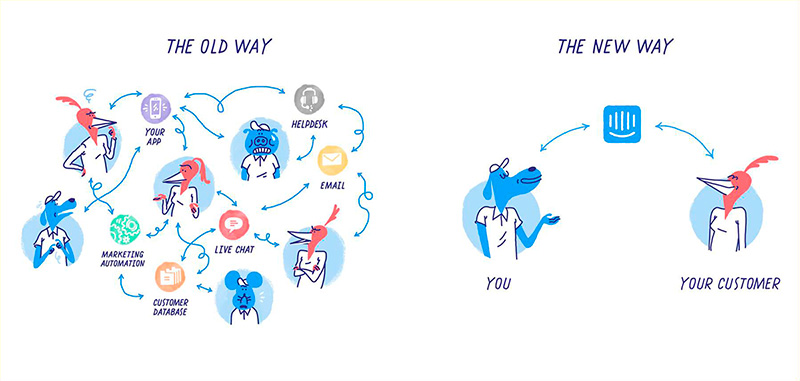 So, if Intercom was so helpful, why did we start to look for alternatives? This is why…
1. Intercom charges for visitors, not REAL users
If you use Intercom to manage customers, they will count everyone you interact with as a customer. Over time, you will build up tens-of-thousands of "customers".
They may have changed their pricing policy to include only "active users," but you should beware of how they define an "active user"…
How Intercom Defines "Active People"
According to Intercom, an Active User is anyone you have interacted with in the last 90 days. Each new person you talk to, regardless of whether they become a real customer, counts as 1 for at least 90 days.

Even using Intercom to engage or support users with an in-app message (to announce a product update, for example) will increase your cost.
So, with 3000 users, you would expect to pay at least $300 per month.
You should also beware of Intercom's pricing structure; it is remarkably complex. Each module comes with a fixed + variable fee, so it's difficult to estimate your monthly costs. We were simply forced to check them at the end of each month.
The pricing structure was a large part of our decision to look for Intercom alternatives.
2. Intercom creates false expectations
At any time, your visitors can receive a triggered message offering help. This gives them the impression that someone – a real human – is available.
When you are offline, this message creates a false impression. Your visitors expect an immediate response, but quickly realise that no-one is there to help them. Their only option is to leave an email address and wait.
When online, with your support team ready to step in, triggered messages feel like an ideal solution. But since customers receive "instant support", they also want instant resolution. If your team is not able to sustain that level of service, your customers will feel even more frustrated.
Intercom's solution? This sentence "… the team typically replies in a few hours."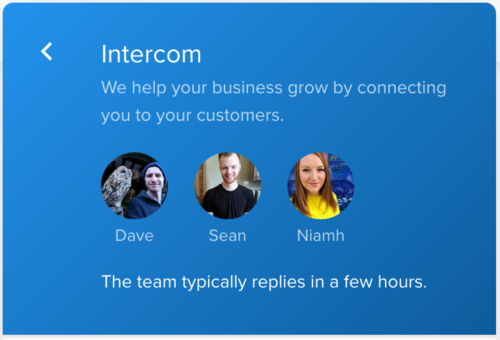 How can you overcome the problem?
You could use Bots: Intercom offers Bots to assist your customers any time of the day. Unsurprisingly, however, Intercom do not use Bots when dealing with their own customers. Humans don't like Bots unless they behave like humans, and customers frequently ask for a "human please".
You can make things clear to your customers: Tell them that they will have to wait and DON'T USE a messaging app or a Chat platform unless you are ready to offer instant resolution
It may seem contrary to sales principles, but it's a fact that false expectations reduce customer satisfaction. That's why we considered moving to standard help desk app (like Zendesk or Kayako) as an alternative to Intercom.
3. Multiple agents reply to the same request, differently
There is currently no way to merge conversations in Intercom. So if, for whatever reason, a customer opens different windows with the same request, they will end up having different agents replying (possibly differently) to their requests.
The best example is Intercom's own website. The support team usually takes a few hours to reply to a request. The consequence is that you – as a customer – create different "tickets" for the same question, in the hope that you will receive a quicker response from another agent.
After a few days, you will have received as many answers as tickets, sometimes with different information.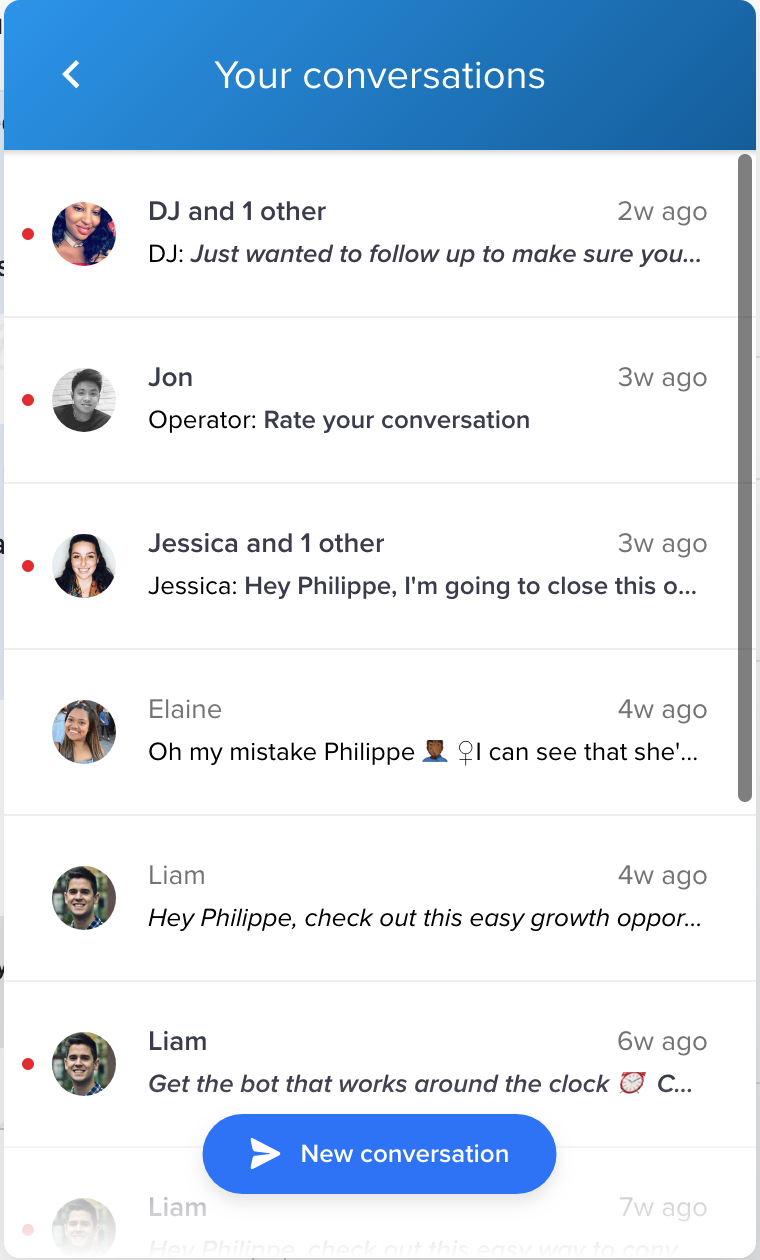 This creates confusion for your customers, and gives them the impression that you work in a disorganised and unstructured way.
4. Multiple conversations are left open
Once a conversation is closed, it will still be visible in the Intercom window. This means that, if a customer needs to re-open a conversation, it will take them quite some time to work out which window to re-open. Your customers will get lost, and your support team will, too.
This adds to the confusion and further downgrades the customer experience.
5. Intercom is good for messaging, but not for marketing automation
The automation system is based on users' registration details. Unless you have created tags to manage your lists, based on behaviour and interactions, your contacts will be grouped according to irrelevant characteristics. 
Alongside this…
it is not easy to schedule email sequences. Every email you create goes to a list, but there is no visual builder (there are excellent builders offered by Drip or AutopilotHQ).
Each email template has its own targeting and you can't trigger an email newsletter based on the open or click of another.
These are some of the reasons why we looked for email marketing automation software to replace Intercom's "Messages" feature.
6. Intercom are customer support hypocrites
It seems that Intercom is a paradox… 
they sell a customer support tool, but don't offer reliable support.
It takes them hours to reply to requests.
Their agents copy-and-paste templates, rather than offering specific replies to specific issues. 
If you are based in Europe, there is often no agent available when you try to reach them.
Why would you use a messaging app for your website, if that company does not seem capable of on-site messaging?
7. Intercom's pricing structure is too complex
In Brainfluence, Roger Dooley makes an important point about the Pain of Paying:
"Don't sell like a Sushi Chef"
Nobody likes standing at the checkout and handing over money. It makes sense to keep pricing simple.
Intercom does not think that way. As a result, their pricing is a Gordian mess.
The software is divided into 3 offers, each with a different price
They charge per volume (active people)
They charge per seat (agent)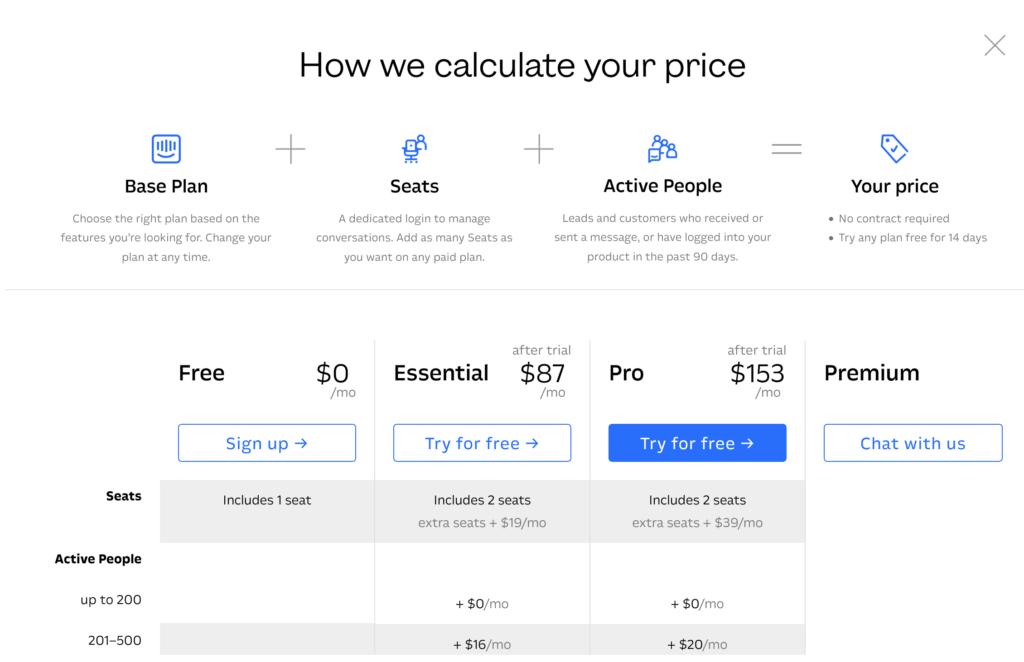 From the investors' perspective, its is a good business model.
You start using Intercom, your business grows, they charge you a lot of money… everybody's happy, right?
Not really. We didn't feel like we were getting value for money, and that's why we wanted some Intercom alternatives.
This is the first question we had to answer when we decided to replace Intercom. We needed to think about:
How we used it (What did we use and why)
Which features we needed to keep
Since Intercom is an all-in-one support solution, we could replace it with one platform or several smaller tools.
The obvious place to start was with software that offered the same features. 
We conducted a comparison of all the available "Customer Messaging Platforms", arriving at a list of the 10 best Intercom alternatives.
A less obvious approach would be to combine different types of software, each of which is equal to, or better than, one of Intercom's features.
We explored both options, and have some notes on every possible solution.
We evaluated each alternative using 5 criteria…
Features: The score is based on Must-Have features and Nice-to-Have features
UX: The score is based on how user-friendly the tool is
Loading speed: We tested the Loading Speed and gave it a score from 1 (slowest) to 5 (fastest)
Customer support: The score is based on how well and how quickly they replied to our requests
Pricing readiness: How easy it is to understand their pricing and estimate the monthly cost
Note: we used a weighted average score: giving 4 points to Features, 2 points to Customer Service and 1 point to the other criteria.
The Results
Intercom appears to be the best overall solution for us. Still, their pricing structure really is a nightmare and their customer support is a "copy-and-paste" brick wall of misery.
offers a number of features that put it in the "Enterprise" category. Co-browsing, screen-sharing and in-built video conferences really are very useful. The thing is, they come at a substantial cost. If you can afford it (and that's a big "if"), this is a great solution.
is the new kid on the block. Despite this, it is already offers more key features than Drift and has the most competitive pricing offer (£25/month for 4 agents). They don't yet offer customer support at the level of Intercom, but it is clear that they are working to improve it. It's not unusual to see the company's co-founders (Baptiste and Valérian) assisting customers.
Features and prices attract new customers,  but it's customer support that creates loyalty.
We found Crisp's user interface to be a bit awkward. This problem is probably due to the Curse of knowledge. It is to be expected, since the company's founders are also the software developers. The good news is that they are quick to develop their product and add new features. 
aims to be seen as the best Intercom alternative, but they fall behind on some must-have features. They also have a sales-first ethos, similar to Hubspot. They expect you to pay $1000 per month, and their plans have been organised to achieve this goal. Not just this, they also have serious loading speed issues (Drift was the slowest app in our test).
is one of the Freshworks applications. It is exceptionally user-friendly, with some intriguing features and integrations (including WhatsApp and Slack). To convert your basic account into a genuine Intercom alternative, you will have to opt for the full "Estate" plan and connect your account to a customer database tool. However, as a customer engagement solution, this is a fantastic low-cost option.
is a simple customer-support system, with chat, email and video call features. It boasts some of the fastest loading speeds for a customer support plugin but is not the most user-friendly of these tools. The pricing is transparent and, for smaller support teams, it gives exceptional value.
is a good alternative to Intercom… if coupled with Drip.com. Even so, we didn't like the fact that you can't customise the in-app messages or tag conversations. On the plus side, GoSquared has the best customer support of ALL Intercom alternatives. 
is a serious challenger. They are less well-known than Intercom or Drift, and probably have less funds, but they have an exceptional product. The development team really listens to their customers, taking suggestions seriously and sharing their roadmap openly. Unfortunately, like Intercom, their pricing system is too complex. 
 provides some of the features of Intercom, and is the simplest and cheapest way to chat with your site's visitors. It is one of the most user-friendly options available, and the customer support is very responsive. For small and medium sized businesses, Chaport is an excellent option. 
provides a number of the required features, but it comes at the expense of loading speed. The platform is not particularly user-friendly, but does give very good value.
is pitched at growing businesses who want to automate their customer support as much as possible. The software is designed to save you time whilst still keeping customers in your sales funnel.
To compare and evaluate Intercom alternatives, we identified 16 key features, either from Intercom itself or the alternatives.
We then segmented these features into 2 groups: Must-have and Nice-to-have
Leave a note for another team member: To ask another team member for help (usually IT)
Tag Conversation: To retrieve feedback, such as complaints or suggestions, at a later date
WYSIWYG Editor for in-app messages (Cues): To style your in-app messages
Filter Chat Conversation by Status: To manage your conversions like a Help Desk and archive them
Filter Chat Conversation by Agent: To quickly access your own conversations.
Display during office hours only: To reduce false expectation
Prompt Email after conversation has started (no gate): Less frustrating than forcing the user to enter an email first
Display only one trigger per visit: To avoid being too intrusive and repetitive
Exit Intent Trigger: Useful when used to acquire customers
Live View: To see who is currently on your website
Co-browsing: The ability to co-browse with customers can help you to provide assistance
Generate random name for Visitors: More user-friendly for your customer team
Another agent is writing (collision detection): A common feature offered by Help Desk software
Single Conversation (by Default or Option): To have one global thread with your customers
Merge conversations: To avoid multiple discussions on the same subject
Merge Users: To avoid duplicate users
To compare prices, you need to break down your needs based on the most complex pricing model. In our case, that was Intercom.
We compared the monthly prices for 1 Website, 3 Agents and 3000 Users.
We also considered "extras" such as Email Campaigns (not always included), Knowledge Base and Bots.
Customer Messaging
Software
Pricing model
Monthly Price for Chat and In-app Triggers (1)
Monthly Price adding Email Campaigns (1+2)
Monthly Price adding Knowledge base
(1+2+3)
Monthly Price adding Bots
(1+2+3+4)
Intercom
Charge per volume of active users, per option, per agent, per everything they can
$315
$315
Included
Included
1
Acquire.io
Charge for platform and per agent
$340
$340
$340
$340
2
Crisp
Charge per team
£25
£95
£95
N/A
3
Drift
Charge per volume of users and agent
$95
$95
Included
$500
4
Fresh Chat
Charge per volume, features and agent
$14
$76
Included
$136
5
LiveAgent
Charge per agent and extra features
$87
$87
$87
N/A
6
GoSquared
2 plans with everything, per team
£95
N/A
N/A
N/A
7
HelpCrunch
Per agent, BUT emails are counted separately
$57
$120
N/A
N/A
8
Chaport
Charge per agent
$29
N/A
N/A
N/A
9
Reamaze
Charge per team
$40
$40
Included
N/A
10
Customerly
Charge per team and emails
€29
€49
N/A
N/A
Crisp is a clear winner in terms of both features and price.
When you break down Intercom's features, this is what you find:
Messaging app / Live Chat
Shared Inbox / Help Desk
Lead and Customer database / Simple CRM
In-app notification
Knowledge Base
Bots
That leaves a lot of combinations! The software comparison platform Capterra lists:
241 Help Desk softwares
230 Live Chat softwares
188 Knowledge Management Software
After researching the best individual solutions for each feature, we found that the best solution was to combine 2 types of software:
Help Desk and Knowledge base software offering a chat solution
Since we have experience in Email Marketing, we know all-too-well that sending emails is a specialist job. Only Email marketing software can handle deliverability issues seriously. That's why we wanted to manage our email sequences through a leader in this market.
Here is our comparison of the 7 Best Help Desk & Knowledge Base software tools:
| Rank | Software | Main offer | Messenger | Messenger rating (5) | Prompts, Nudge, in-app messages | Shared Inbox | Knowledge Base | Search knowledge base from the Messenger window | Multisite/ Multidomains |
| --- | --- | --- | --- | --- | --- | --- | --- | --- | --- |
| 1 | Hubspot Service Hub | Marketing, sales, and service software | | 3 | | | | | |
| 2 | ZendDesk | Customer Service Platform | | 2 | | | | | |
| 3 | Kayako | Help Desk Software | | 2 | | | | | |
| 4 | HelpScout | Help Desk Software | | 2 | | | | | |
| 5 | HappyFox | Help Desk Software | | 2 | | | | | |
| 6 | SupportHero | Knowledge base | | - | | | | | |
| 7 | Wix Answers | Knowledge base | | - | | | | | |
Overall, Hubspot appears to be a serious Intercom alternative, but we easily got lost navigating their platform: it's a kind of do-everything platform for Marketing, Sales and now Customer Support. When on the FREE version you see all menus and many of them are "locked" meaning that you need to upgrade to get access to them.
Zendesk is serious alternative to Intercom, but their Chat feature is very poor and moving our team to a standard ticketing system would be another "switching cost". If you consider Intercom vs Zendesk, you should probably read Outreach: "Why We Switched From Intercom To Zendesk".
Kayako was the 2nd most serious contender. They have a great offer where you can integrate your knowledge base with the Chat. But we lost confidence in their product when encountering bugs during the testing phase. We were not convinced by their support, either, and the way they handle issues.
SupportHero is a very interesting option if you want to keep Intercom, since their knowledge base integrates with Intercom. It now competes with Intercom Articles.
WixAnswers, although not offering a Chat solution, WixAnswers has a very interesting FREE knowledge base offer that you can display in a widget – just like Intercom – on your website. But it was not enough for our needs.
To conclude, we felt that moving to Zendesk or similar services would mean offering a very different customer experience. It also appears that there is currently no Help Desk software on the market that seamlessly integrates a Knowledge Base with a Chat solution.
As a means of replacing Intercom's email management function (called "Messages"), we compared Email Marketing Automation Software packages. This would provide an easy way of setting up Email Sequences. Our research is outlined in greater detail in our blog discussing the 8 best Email Marketing Automation Software Tools.
In our case, we decided to move all our lists to SendInBlue and re-organise our campaigns this way:
A list for Blog subscribers, with a Blog email sequence
A list for Saas SignUps and Customers, with a Welcome email sequence specific to our Saas
A list of inactive Blog subscribers, ready to be deleted
In each list, we use a set of Tags to better segment our users.
Over the long run, it's possible that we will move to Drip.com for Saas SignUps and Customers and keep SendInBlue for our Blog subscribers.
But if you don't have the resources for that kind of setup, the easiest option would be to move to a Customer Messaging App, since it's a more straightforward Intercom alternative.
We tested each of the above software packages over a period of 2 weeks.
We quickly excluded Drift due to their loading speed issue and pricing policy.
We almost went for HelpCrunch, but we didn't like the way they count emails in a separate pricing plan (it's too complicated). They are also missing some key features for us such as:

Collision detection,
Ability to Tag another Agent in the conversation
Email prompt after a conversation has started, which does not create a "gate"

GoSquared coupled with Drip.com was a very strong proposition. However, the fact that we couldn't tag conversations made this a no-go.
In the end, we concluded that Crisp was the closest equivalent to Intercom and the most competitive offer. At £25/month for 4 agents, this was the best offer for us.
Crisp customer support really is a pain in the neck, but we prioritised features over customer support (given that it's a reliable software platform, we shouldn't need to speak to them too often.) Let's hope that they will improve as they grow.
If Crisp customer support doesn't improve, we will certainly move to HelpCrunch once they release the new features we need.
There is currently no real equivalent to Intercom. Therefore, if you are choosing an alternative, you need to know what you want first.
For customer messaging, Intercom offers one of the best products with the most user-friendly interface. They do, however, lack some of the nice-to-have features developed by their competitors (exit intent for example).
If Intercom starts offering a serious Email Marketing Automation feature like Drip or AutopilotHQ, it will be a very strong product.
Regardless, price is a growing issue. Moving all customers to the new pricing structure only gives people a reason to look for alternatives…

If money is not an object:
Use Intercom for it's Messaging app + In-app messages
Use Drip.com for Email Marketing Automation
If you want a simple interface and simple pricing:
Use GoSquared for it's Messaging app + In-app messages
Use Drip.com for Email Marketing Automation
If you want a cheap and good Intercom Alternative:
If you only need Intercom-style chat applications:
If you want co-browsing and bots:
Use Acquire.io, their co-browsing feature is excellent
On the HelpDesk and Knowledge Base side, I would like to recommend Kayako or HelpScout. Unfortunately, in both cases, they need to improve their Messaging apps.
You might wonder why we didn't include any Chat software like LiveChat, Tawk.to, Chatra.io. We tested a few of them and quickly concluded that NONE can really be an Intercom alternative. Chat software is usually designed to support temporary one-to-one conversations. They don't offer in-app messages and lead management in the way Intercom does.
If you liked this article, please share it or post your comment below.