17 Best Apps To Boost Your Shopify Conversion Rate in 2022
Reading Time:
17
minutes
Shopify offers store-owners a selection of over 3800 apps to boost their performance. Each of them claims to improve sales and help businesses grow, but not all of them work. So, how do you know what to avoid, and which apps will boost your Shopify conversion rate?
This article shows you:
Conversion rate statistics and benchmarks for a Shopify store
The best 17 apps for boosting your Shopify Conversion Rate
How to get the most out of your apps
17 Shopify Conversion Rate Apps
When we were developing Nudgify for Shopify, we scoured the App Store looking for popular solutions and hidden gems. Of the 3800 apps available, nearly a quarter of them were designed with "Sales and Conversions" in mind. However, these aren't the only apps that boost your Shopify conversion rate. Our list also includes page builders, email marketing apps and plugin page features. 
In 2019, the average order value (what each customer spends within a month of their first purchase) across every Shopify store was $63.50. That's higher than most eCommerce websites. 
However, according to a survey from December 2019, the average conversion rate on Shopify is just 1.5%. That puts it below the most recent industry benchmarks of around 1.85%.
If your Shopify conversion rate is higher than 3.1%, you're in the top 20% of Shopify stores. In that case, working on your conversion rate will produce a smaller return (you should work on something else).
However, for stores that convert between 1% and 3% of visitors, increasing conversion rates is the most efficient form of marketing. 
Most conversion rate apps can be grouped into a few categories. We chose one or two from each category, giving us a list like this…
Page Features – these plugins add a widget or button to your product pages – (3)
Pop-ups – these apps create sales notifications, cross-selling links or email pop-ups (3)
Social Proof Apps – by showing recent views or sales, these apps increase customer engagement (3)
Landing Page builders – drag-and-drop builders to create high-converting pages (2)
Email Marketing – email automation to improve customer retention and reduce abandonment (1)
Customer Loyalty Apps – point-based gamification to increase customer engagement (2)
However, if you want to increase your conversions significantly, and are willing to invest some of your marketing budget in the process, you should also think about using external plugins. For example, a CRO tool like Mixpanel, Hotjar or Qualaroo can give you valuable insights into how people actually use your site.
Social Proof App/FOMO App/Customer Loyalty/Trust and Security – $9-89/month
Nudgify is a Social Proof App that shows your customers things that are usually invisible when shopping online. For example, you can use "Nudges" to display recent sales, sign-ups and customer reviews. You can also show when an item is low in stock, creating powerful FOMO and boosting your conversion rate.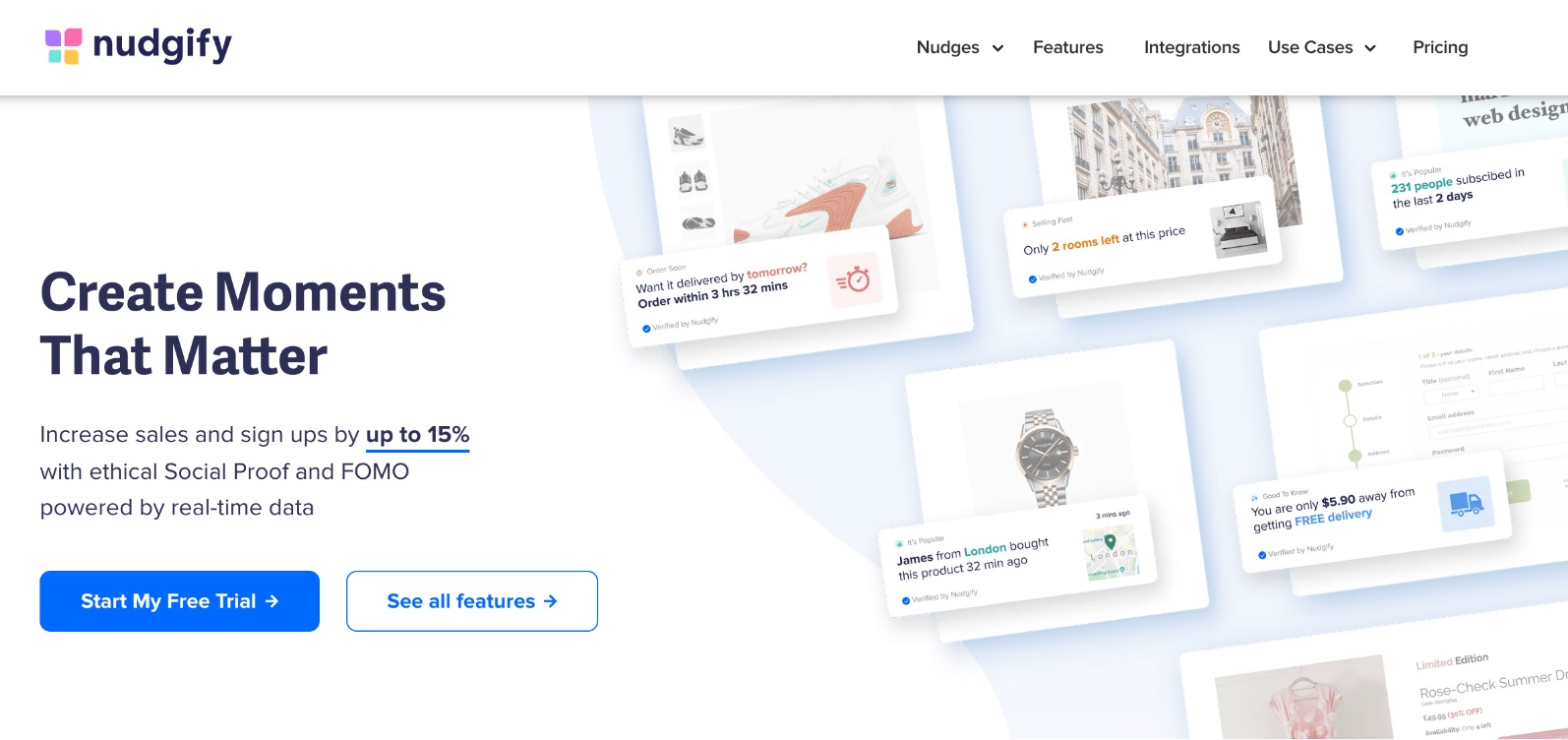 What is Nudgify like to Use?
Nudgify comes with a built-in library, so you can apply Nudges to individual pages (or types of pages) with a single click. It is a native Shopify app, so it is easy to install and use.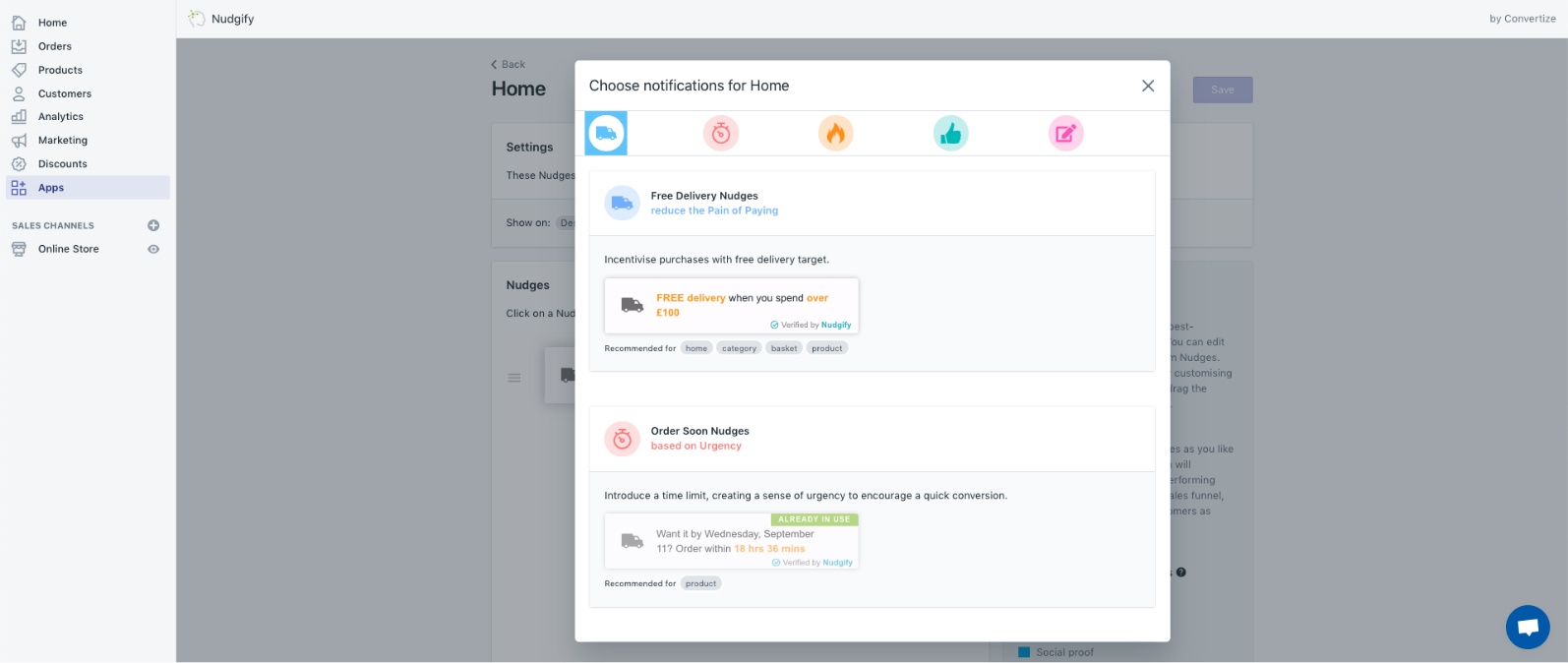 How Will Nudgify Increase Your Shopify Conversion Rate?
Nudgify gives you a simple way to engage customers on your Shopify store, recreating the experience of a traditional shop with effects such as Urgency, Social Proof, and Scarcity. By adding social context to online shopping, Nudges enhance your overall customer experience, and  Friction Nudges are specially designed to reduce the bounce rate on your problem pages. 
Upselling App – from 29/month
Candy Rack – is an effective tool to increase the average order value of your customers using cross-selling and up-selling techniques. The App is really simple to use, features a modern design and has an instant effect on the store's profitability. Candy Rack helps you to encourage customers to upgrade their chosen product and eventually bring them more benefits or cross-sell related products generating more sales and demonstrating the breadth of your catalog effectively.
As a result, you can you expect to see an increase of the Average Order Value of your store and satisfy more customer needs by helping them to decide on the products they might need but have not considered buying by themselves.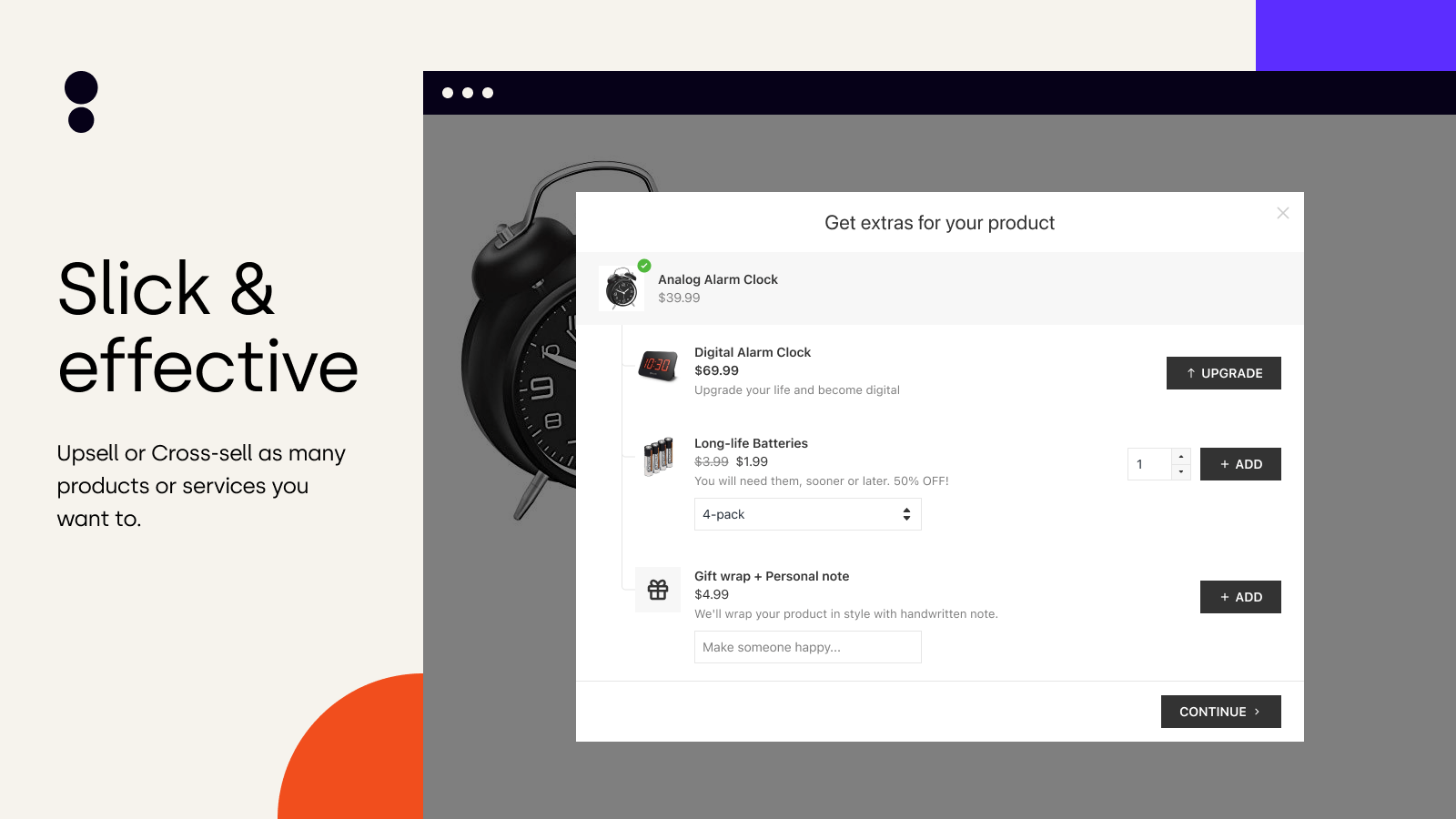 Candy Rack's main benefits:
Seamless integration of cross-selling and upselling techniques to your Shopify store
Make your store more profitable within the same product range
Well integrated pop-up design that can be customized to match your storefront design
Improve your customer experience by showing the rights products at the right time
Candy Rack is mainly for:
Shopify Merchants willing to get the most out of their current store
Fast-growing businesses needed a simple solution to scale their business with no extra cost
What makes Candy Rack a top-rated upsell App
Since the App launch, it has been continuously improved based on the merchants' requests
Customer-oriented team and 24/7 support
Free pop-up design matching your storefront style to make your customer experience even better keeping the overall "vibe" of your store
Feature Plugin – $4.49/month
Fast Checkout is a page feature plugin that lets you remove a step from the conversion funnel. The app is exceptionally good value, and it gives your customers another way to make a purchase. You can edit the text, change the design and even add animation to your CTA button.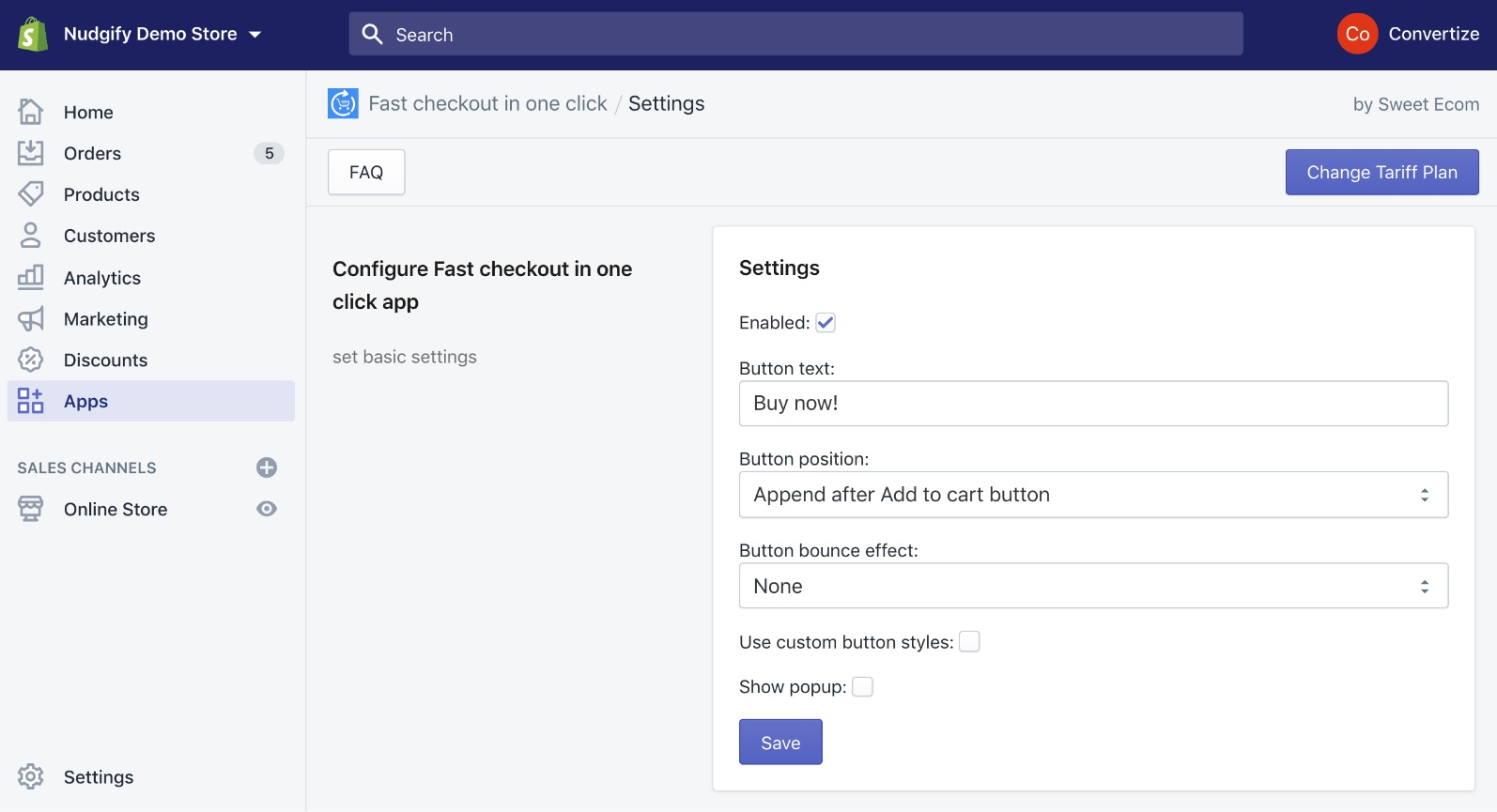 What is Fast Checkout like to use?
It is very easy to add an alternative CTA to your Shopify store's product pages, but there are limited options for customising the feature. Perhaps more frustrating is the absence of page settings that would let you choose exactly where to put the new button.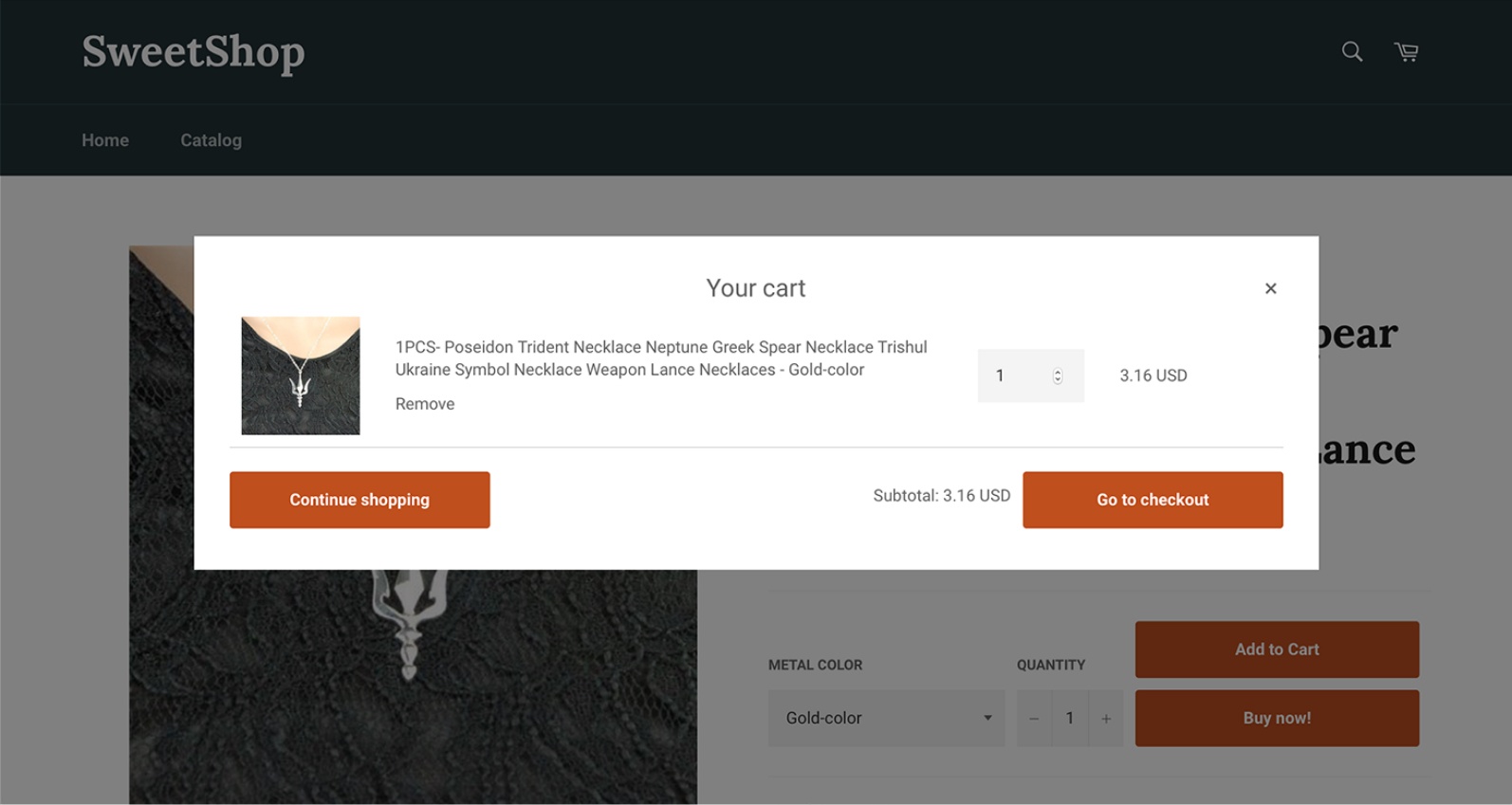 How Will Fast Checkout Increase Your Shopify Conversion Rate?
Fast Checkout adds an additional "Go To Checkout" button to your product pages, removing the need for your customers to add each item to their basket before making a purchase. The majority of abandoned carts take place before a customer enters the checkout, so this shorter sales funnel is more efficient. The express checkout option is probably best for low-price product ranges. This could create a problem because removing the "Add to Cart" step makes it less likely that customers buy more than one item. Because of this, there's a chance that you could increase conversions but reduce your overall revenue.
Pop-Ups/Email Marketing – $0-500/month
Privy is Privy is a comprehensive system that includes exit-intent pop-ups, remarketing and retargeting, and email campaigns. It is the #1 rated app in the Shopify app store and is used by over 300,00 small businesses.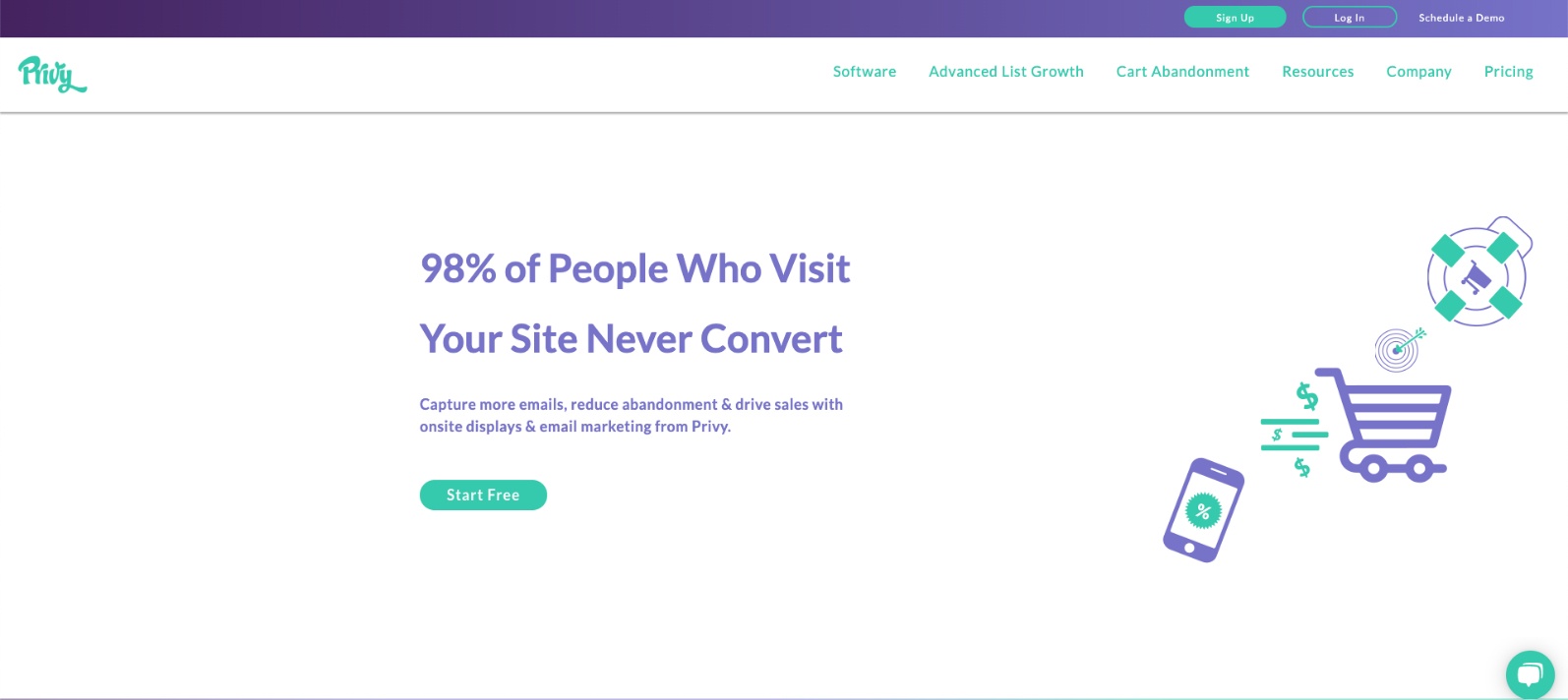 What is Privy like to use?
It's easy to customise the exit pop-ups and emails that Privy comes with. You can also set individual triggers and page rules for each message. These options give you a lot of control over your pop-ups.
Unfortunately, as your email list grows or your Shopify site expands, you will have to upgrade to more expensive plans. For example, the 'Growth Plan' (including testing and analytics) costs over $299/month.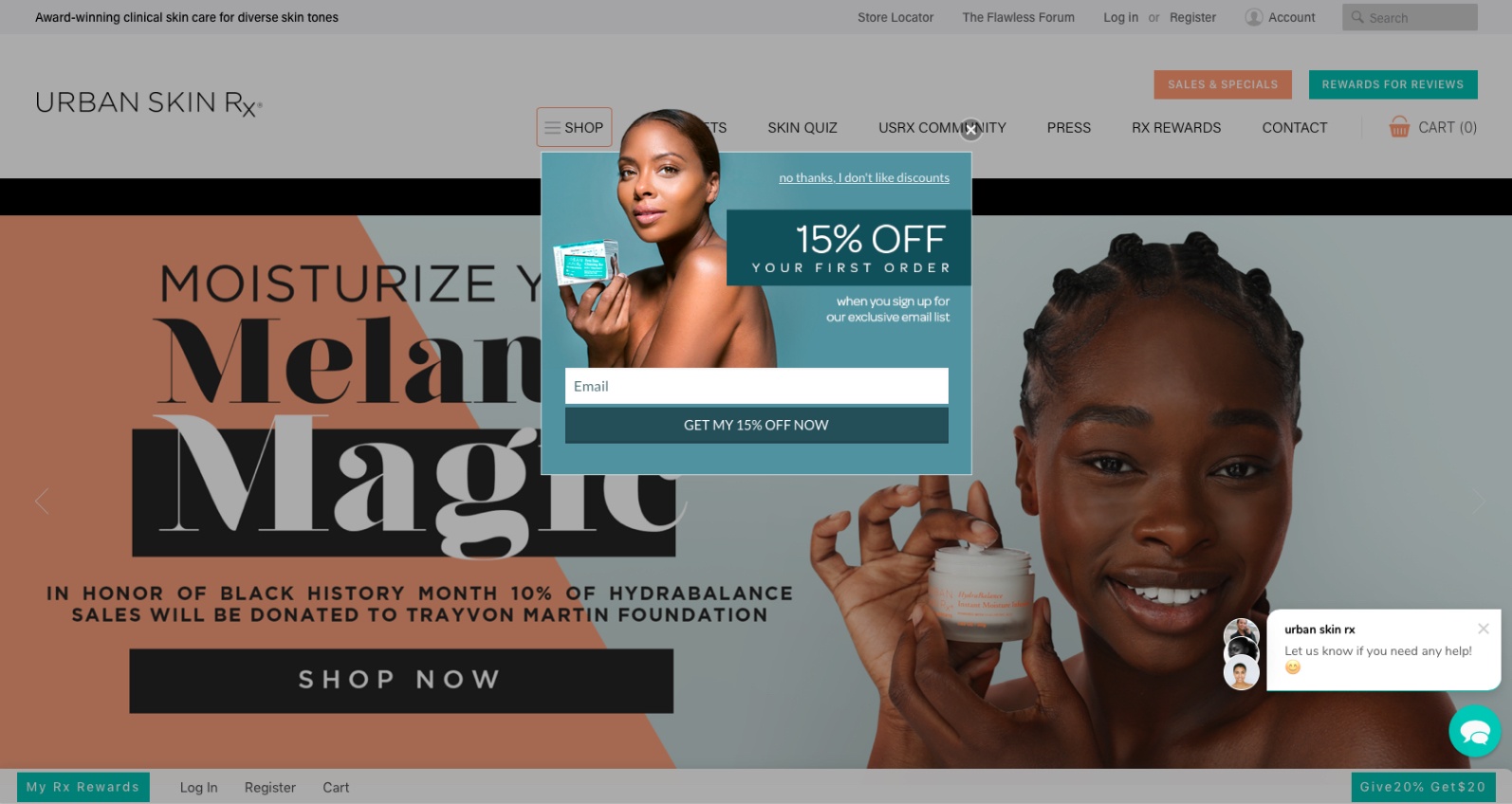 How Will Privy Increase Your Shopify Conversion Rate?
Privy allows you to engage users whilst they are on your site with fly-outs and pop-ups. That means you can increase your conversion rate with special offers and promotions, or grow your mailing list. You can even use the platform to send abandoned cart emails.
Customer Loyalty App – $0-50/month
Smile creates rewards and loyalty schemes that are tailored to your industry, size and business model. It then allows you to customise pop-ups and emails to share these rewards with your customers.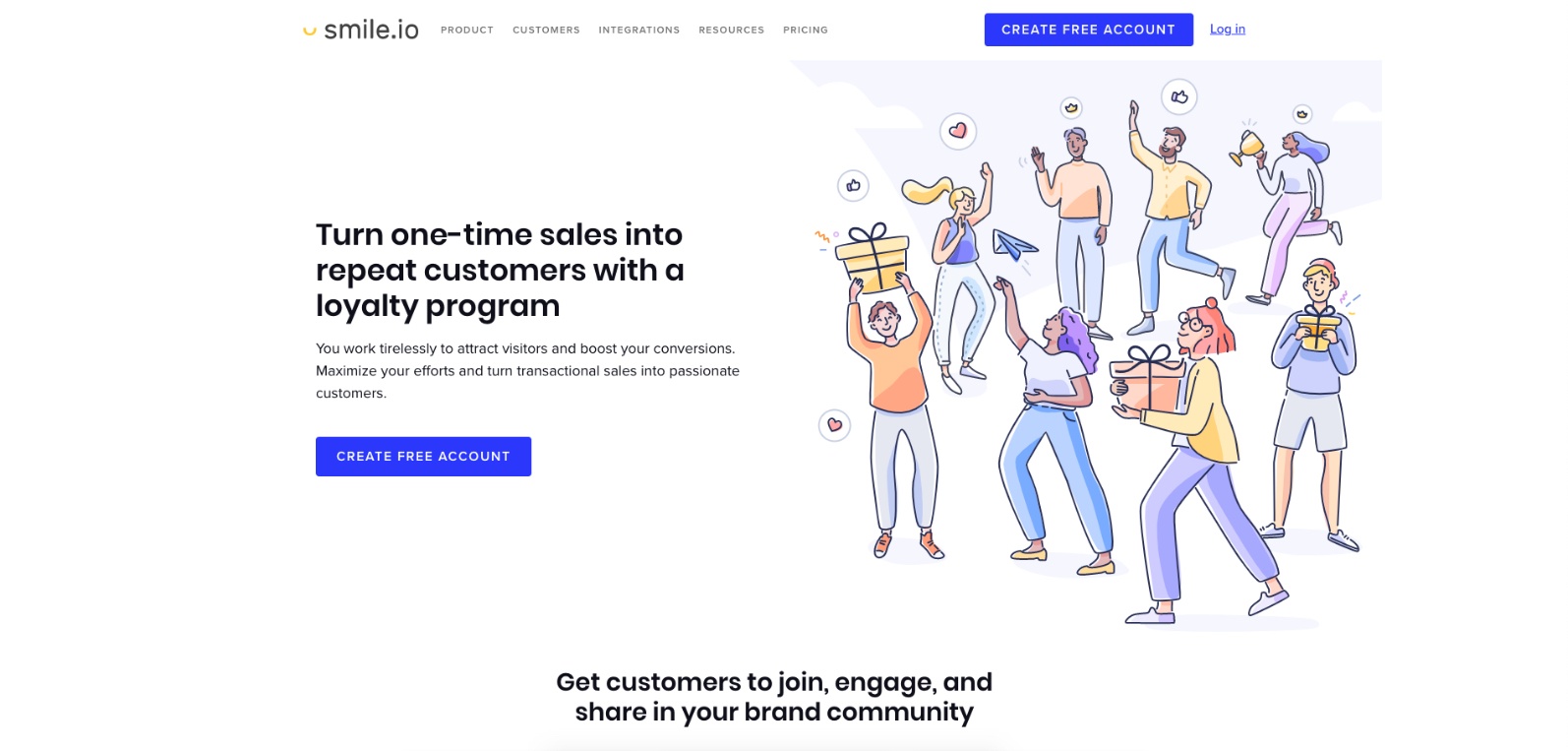 What is Smile Rewards Like To Use?
Because this is a complicated app, integrating with various aspects of your store and customer behaviours, it can suffer from the occasional glitch. However, the vast majority of user feedback is positive and the customer support is excellent.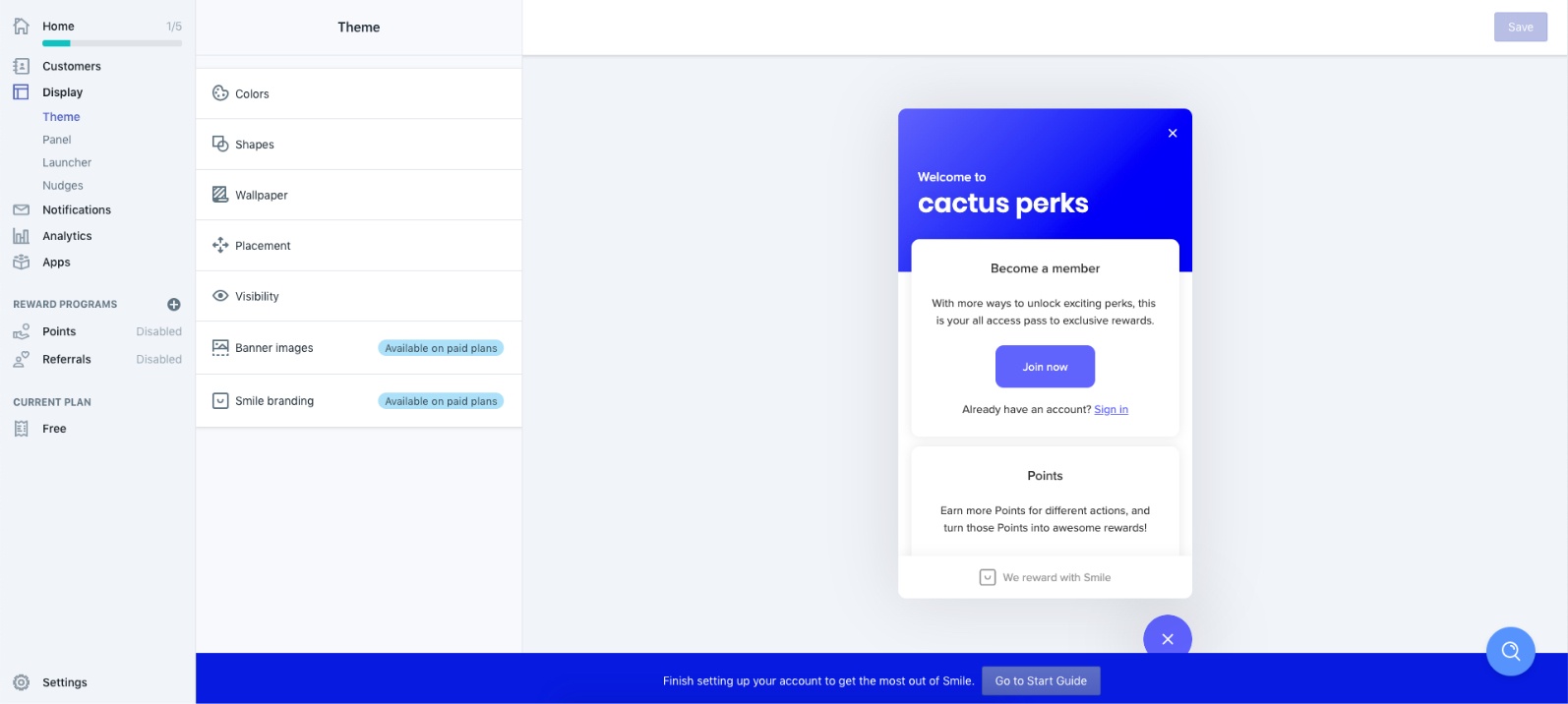 How Will Smile Increase Your Shopify Conversion Rate?
Smile is designed to establish a 'Brand Community' by gamifying your store. It gives your customers points for completing certain actions, such as referring another person, and then offers them discounts in return. The app has some impressive statistics for improving customer loyalty. However, there is a risk that your customers will object to this kind of gamification marketing. 
 Social Proof/Customer Loyalty App – $0-299/Month
Growave is a customer engagement solution combining a number of the features offered by similar apps in one place. By integrating it with your social media channels, you can leverage user-generated content to keep your content fresh and compelling.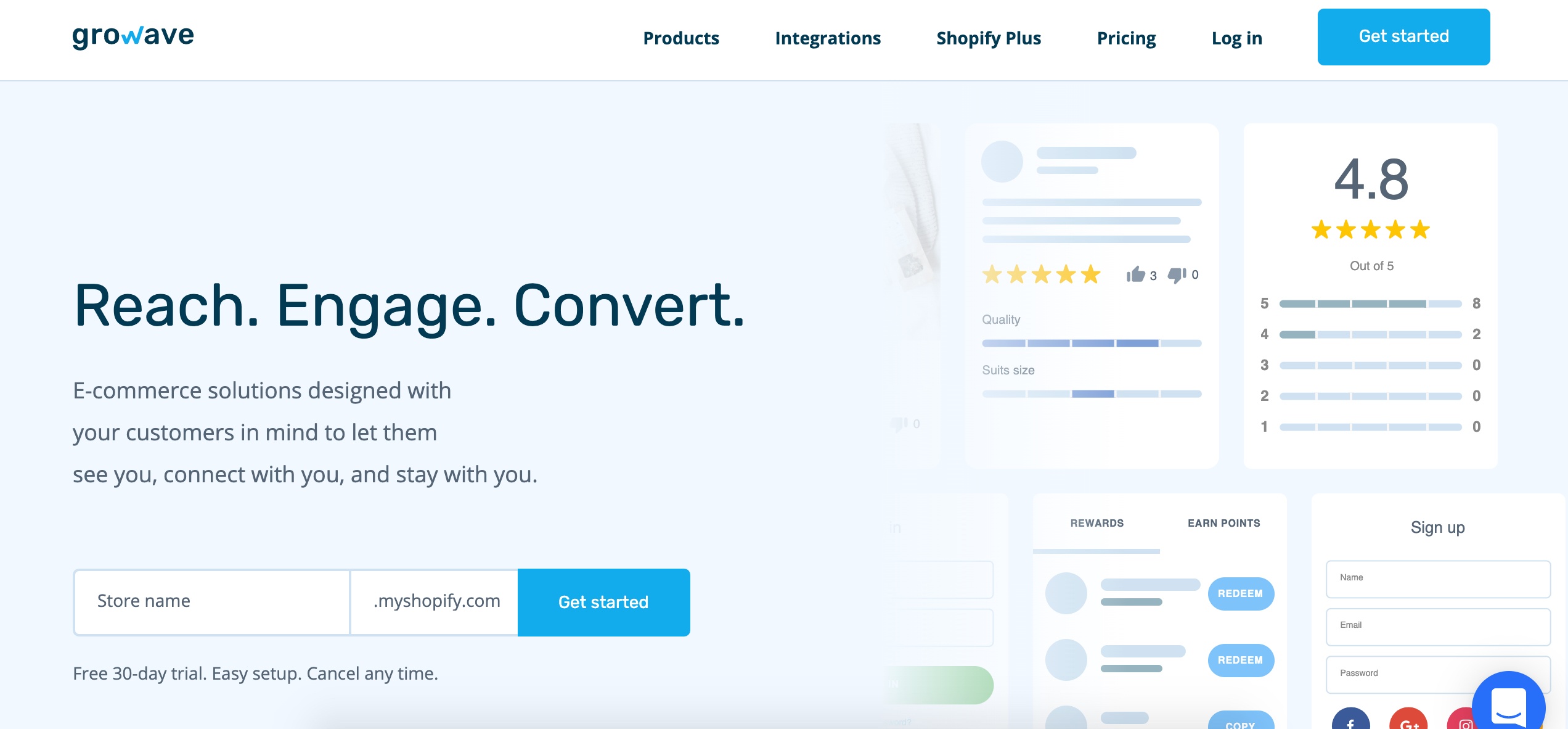 What is Growave like to use?
The customer support for Growave is consistently excellent, which is one reason that the app receives so many 5-star reviews. Documentation and chat support is available at every stage of the process, and you can even ask the developers to help you setup certain features. However, it is worth noting that additional integrations are often necessary, and not all features are available on every plan.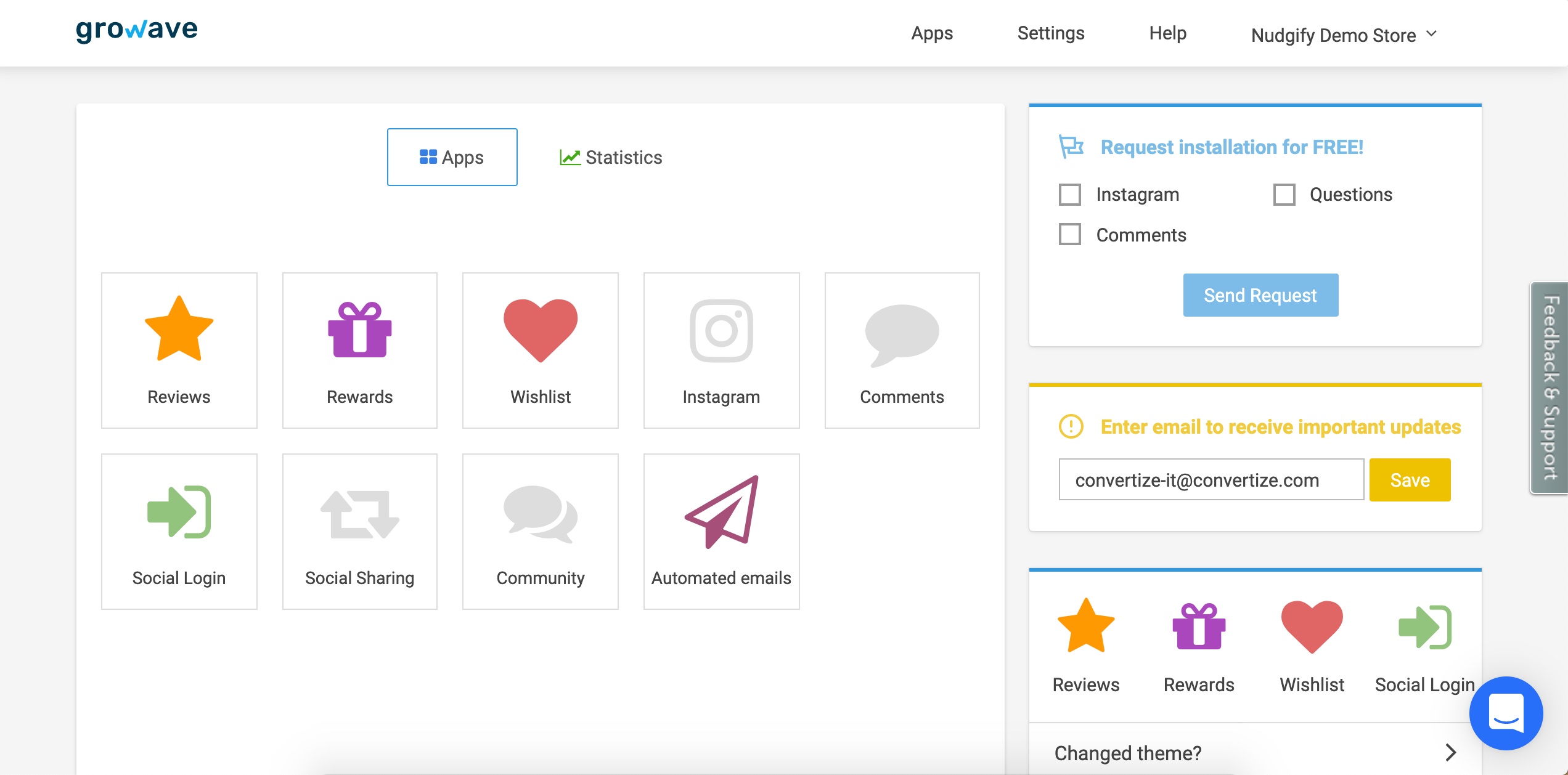 How Will Growave Increase Your Shopify Conversion Rate?
Growave's reviews feature allows you to easily import and display product reviews, so customers know they can trust your business and your products. The "wishlist" feature creates an alternative CTA to help keep customers in your conversion funnel (even when they're not quite ready to buy). Rewards and Automated Emails allow you to engage your customers after they have made their purchase – increasing customer loyalty and, therefore, lifetime value.
Landing Page Builder – $39-149/Month
Shogun is the most popular landing page builder on Shopify. With a simple design interface, anyone can create high-converting landing pages for their Shopify store. Because of the variety and the number of templates available, Shogun is one of the most popular page-builders for any website. 

What is Shogun Like To Use?
Shogun provides a huge variety of templates to choose from. It also provides a ludicrously simple drag-and-drop builder, so anyone can customise their landing pages to match their brand. However, this is a high-end product – if you're just starting out in eCommerce, the pricing (especially for premium plans) will put a noticeable dent in your profits.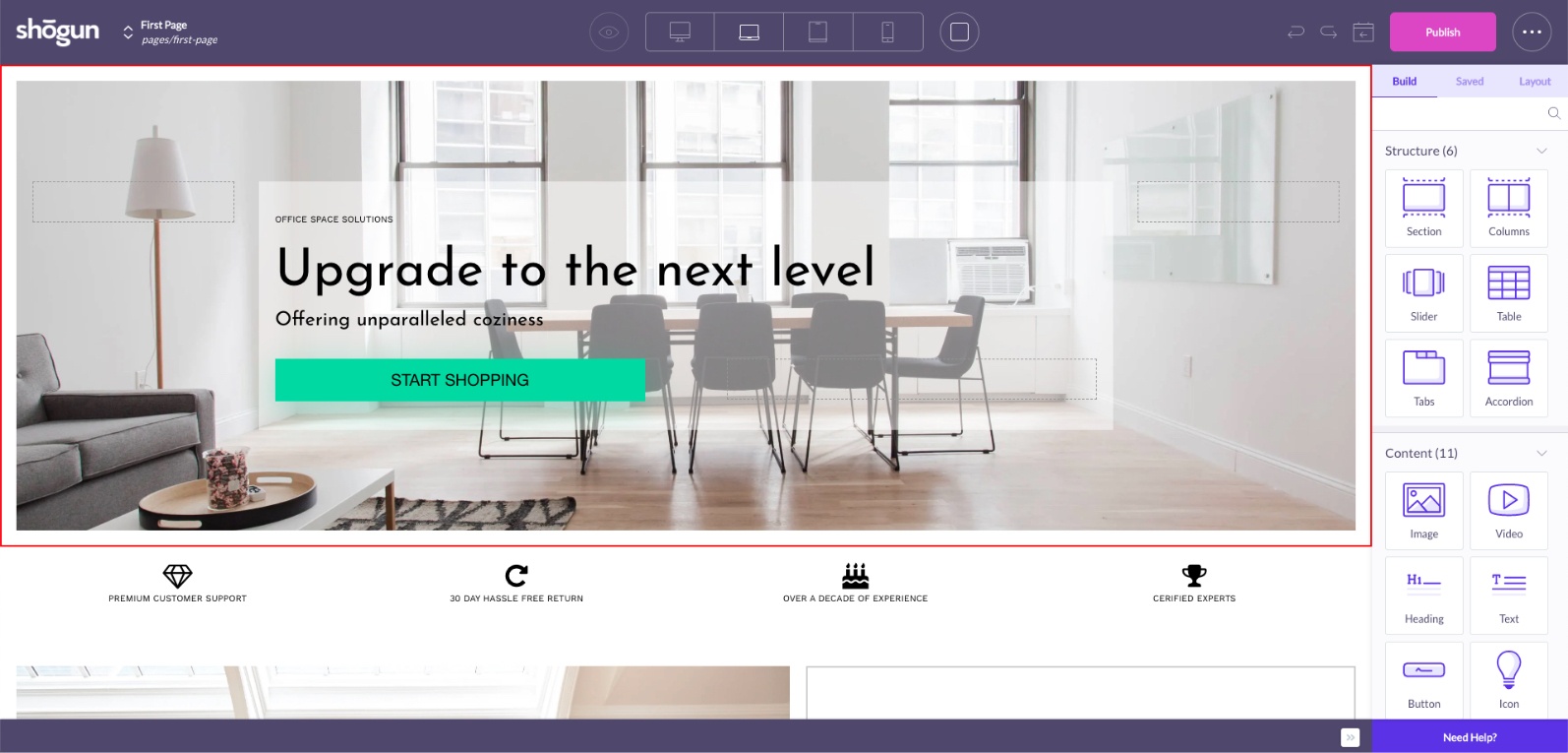 How Will Shogun Increase Your Shopify Conversion Rate?
Not only does Shogun provide templates built by eCommerce industry experts, it also provides users with a number of bolt-on features that increase conversions. Each type of page comes with its own set of elements like contact forms, free shipping bars, personalised recommendations and "frequently bought together" elements.
Pop-Ups – $0-199/month
Optimonk provides templates for four different kinds of on-page messages: pop-ups, nano-bars, sidebars and full-screen messages. These can be used to offer discounts, encourage social sharing or capture emails. By engaging your visitors with an interactive element like a pop-up, you increase the chance that they will take the action you want on your website.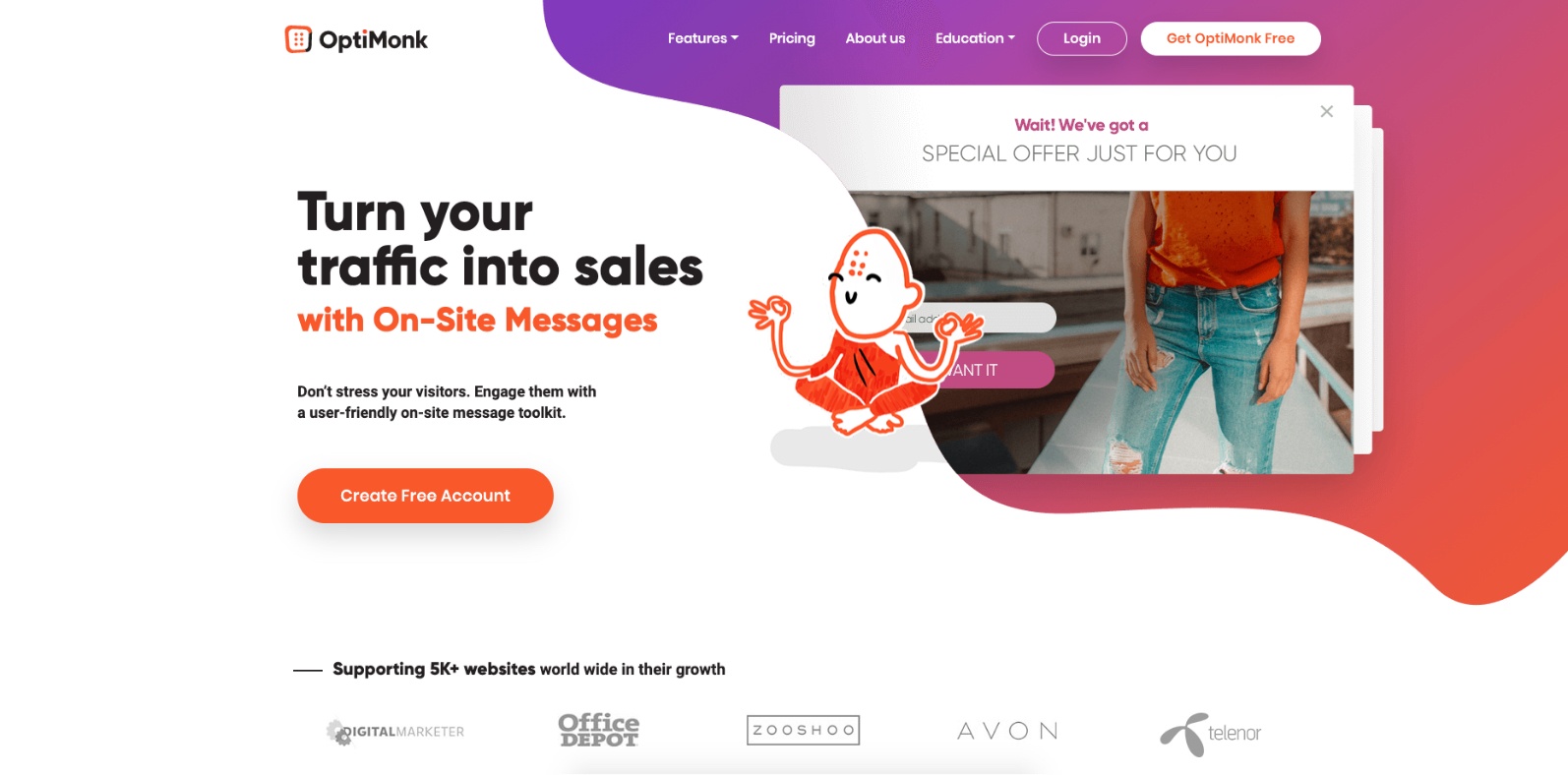 What is Optimonk Like To Use?
Optimonk is one of the highest-rated apps of its kind, and the interface is very user-friendly. However, there are cheaper and more flexible apps that provide pop-ups and sidebars, so you have to make sure a high-spec option like this will give you the return you need.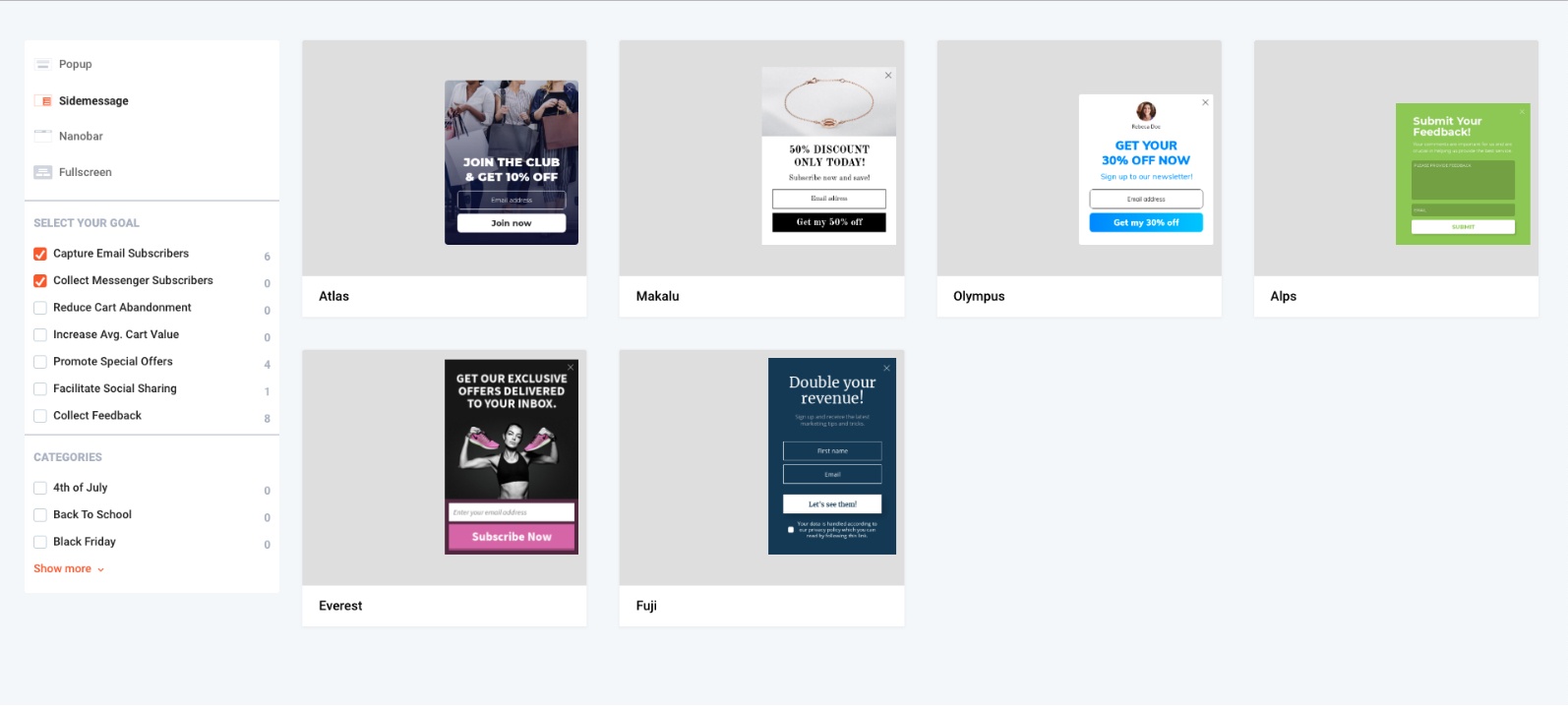 How Will Optimonk Increase Your Shopify Conversion Rate
The app offers a huge number of stylish templates for on-site messages. The pop-ups are clean and stylish, and can be customised very easily. However, the pop-ups can only be effective if they are used as part of a wider conversion strategy. If you're growing a formidable mailing list, you need to do something with those contacts.
Social Proof App – $10-50/month
Social Photos allows you to collect images from Social Media platforms and apply them to your Shopify store in curated galleries. It even prompts your customers to share their photos with your app. In theory, this will give you a catalogue of product images with a bucket-load of Social Proof included.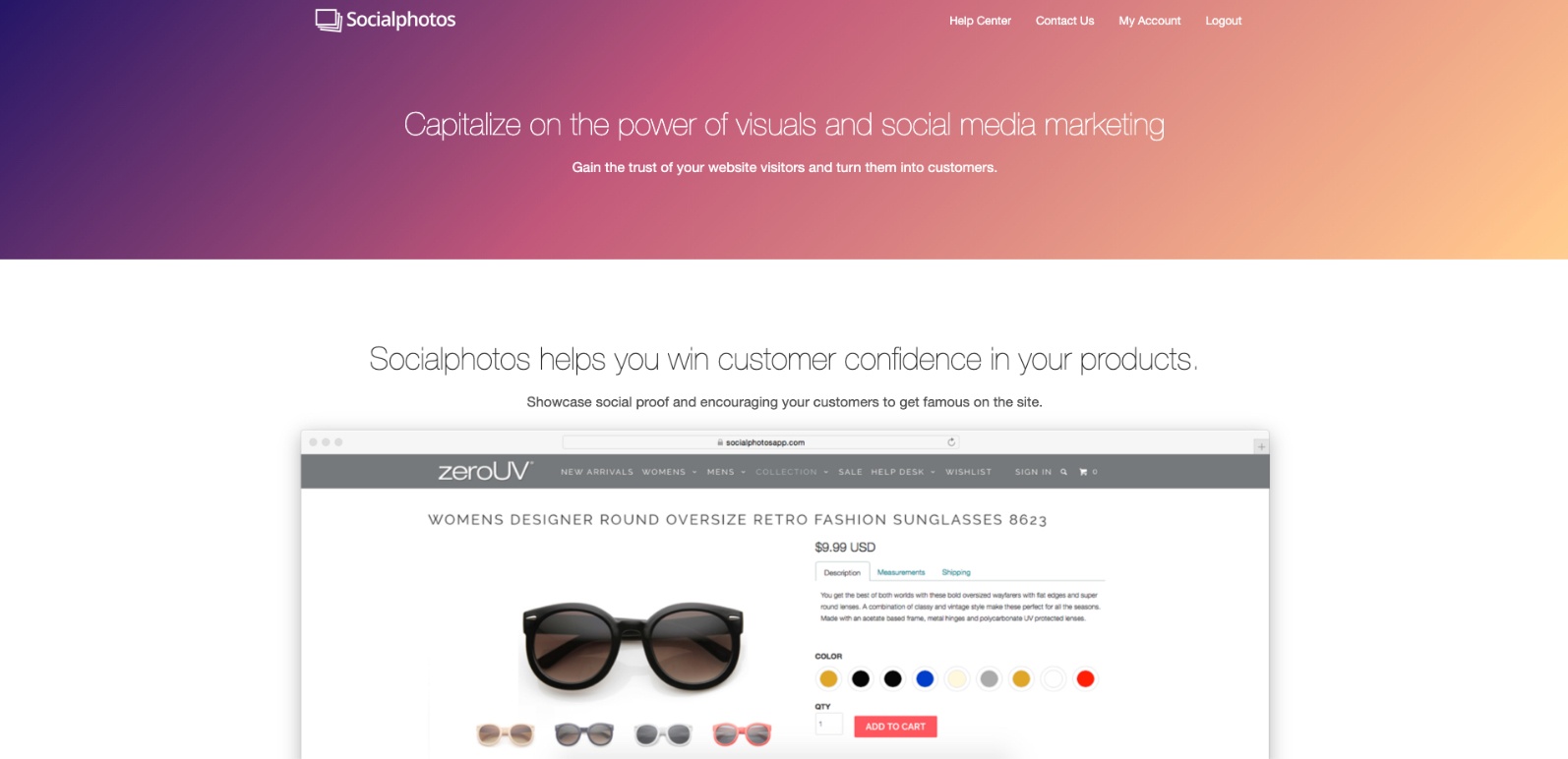 What Is Social Photos Like To Use?
The feedback from users is generally positive, although some Shopify store owners have found the app glitchy. More significantly, smaller store owners have found it difficult to get value from user generated content. As you could pay as much as $50 a month for the app, you need to make sure it works for you.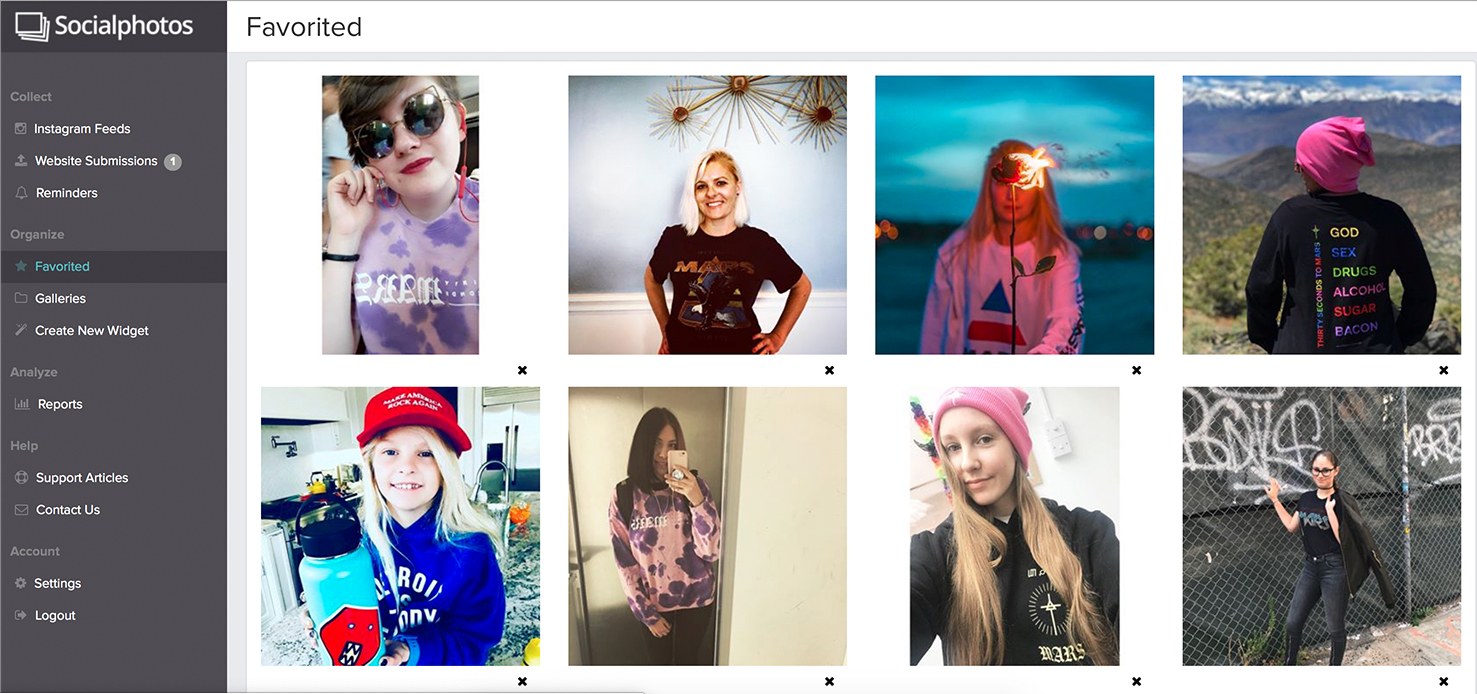 How Will Social Photos Increase Your Shopify Conversion Rate?
Social Media is a powerful resource for business, and customer-generated content is always the most persuasive kind. However, customer photos are likely to be less professional than your own pictures and you have no way to make sure customers post them. This app is probably most suited to larger businesses with an established brand community.
Pop-ups – $49/month
OptinMonster is an all-round customer messaging builder. It has a huge range of behaviour, targeting and analytics settings that can be used to optimise your messages. This, combined with a flexible builder, has made it one of the most popular apps in the Shopify App Store.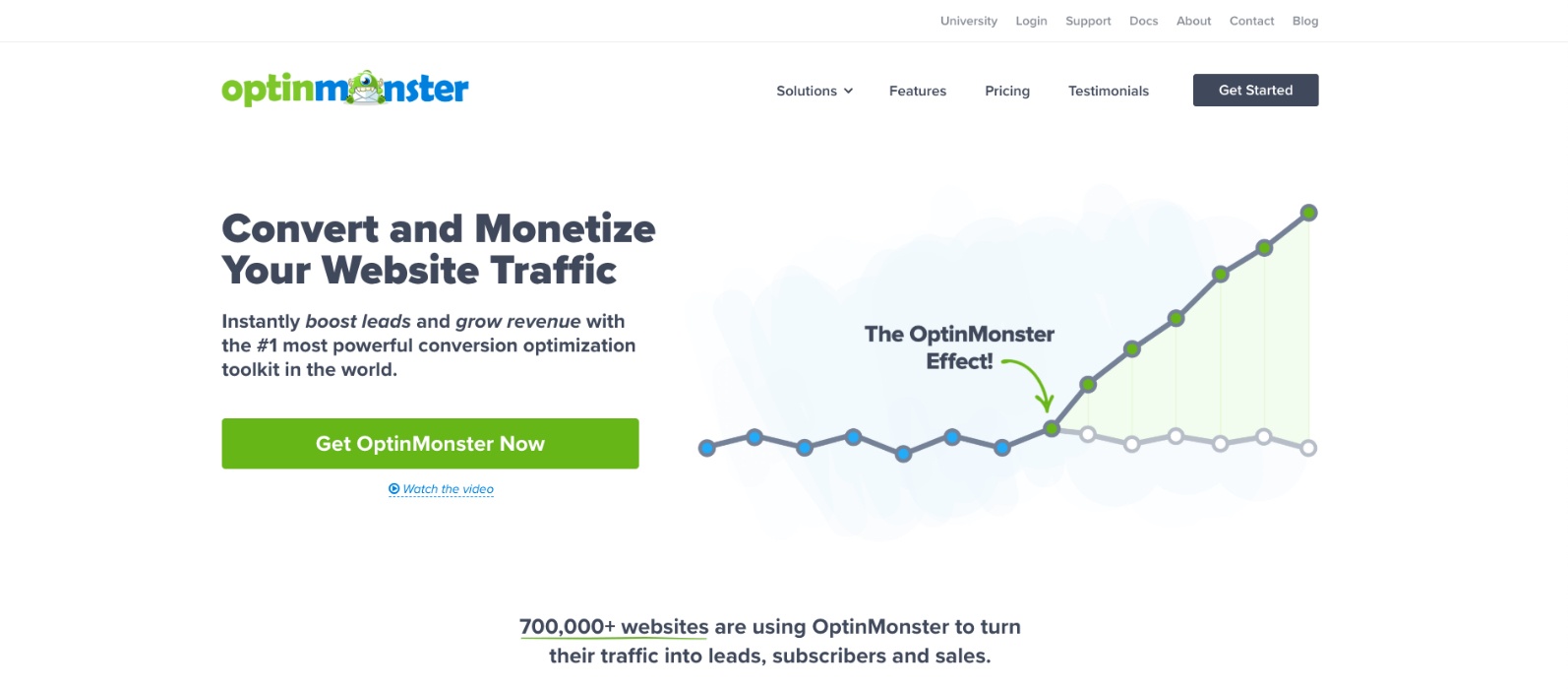 What is OptinMonster Like To Use?
The Shopify app offered by OptinMonster has collected 7 5-star reviews and 5 1-star reviews. That suggests that there are one or two quite serious bugs in the app (particularly with regard to billing). However, the features offered are quite impressive.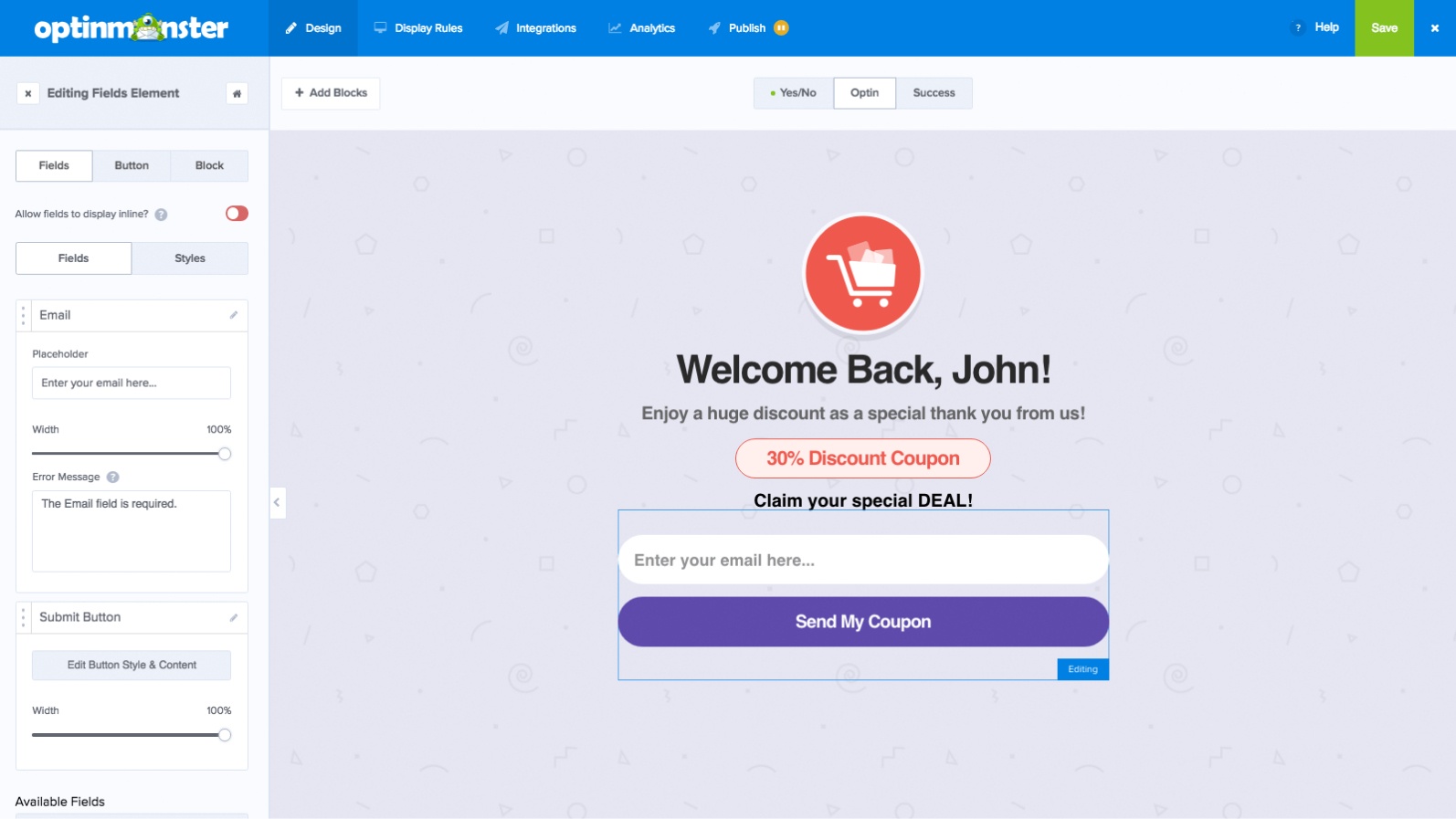 How Will OptinMonster Increase Your Shopify Conversion Rate?
As with Optimonk, the pop-ups provided by this app can be targeted to particular triggers and will respond to your users' behaviour. That means you can be more subtle and precise with your email capture strategy. 
However, the messages do tend to be less visually appealing than other apps (Optimonk, for instance) and the statistical reports rely on Google Analytics. With pricing starting at $49 a month, this is an option for a very specific type of Shopify store. 
Social Proof App  – $0-Premium/Month
Yotpo Reviews allows you to gather, moderate and display responses from your customers. You can integrate these with a range of other platforms and even incorporate reviews into your search engine display. That means this app can increase your traffic as well as your Shopify conversion rate.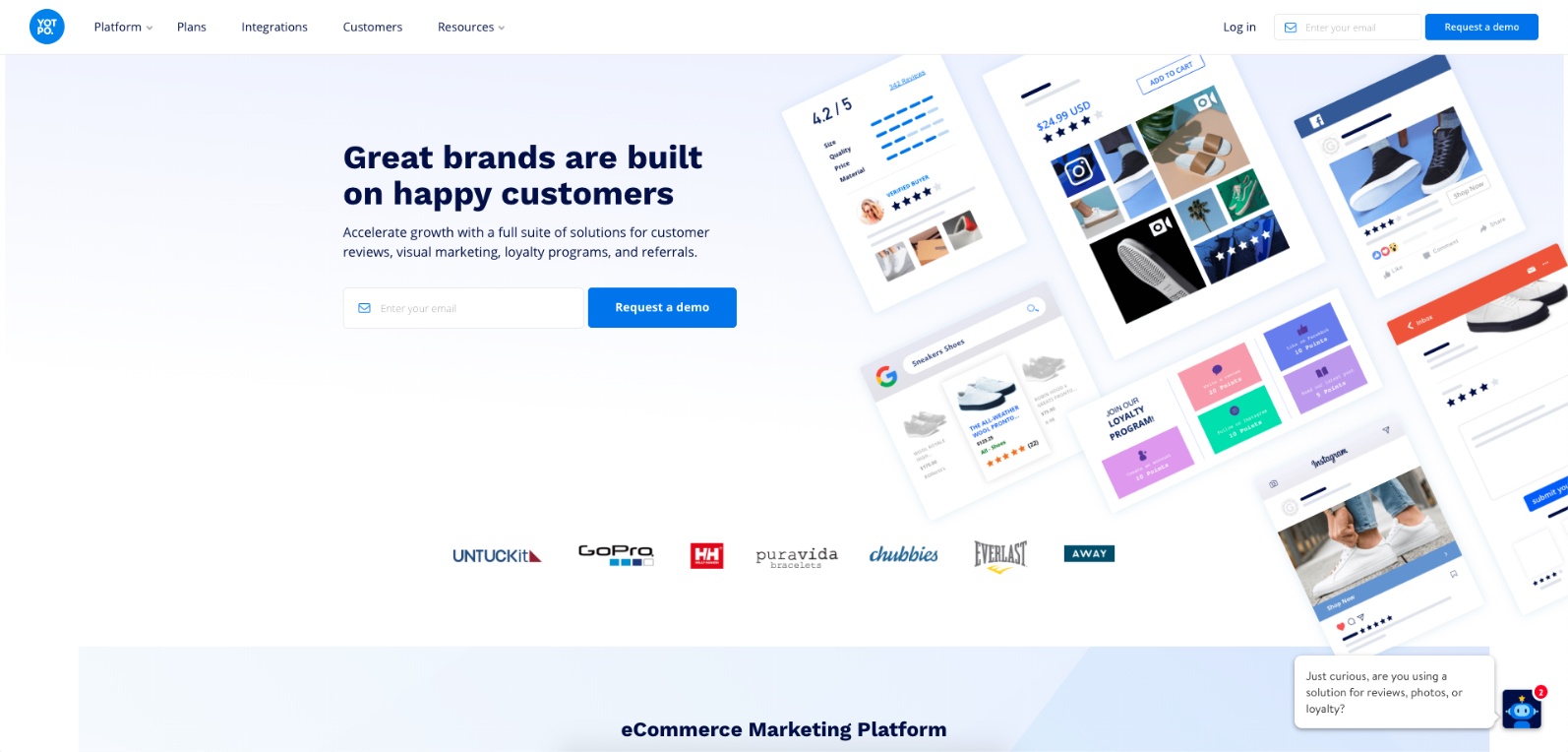 What is Yotpo Like To Use?
Yotpo is an easy way to organise the most valuable form of marketing content: customer reviews. It is highly rated by a large number of its users, with only one or two unhappy customers (which tend to be related to confusion over pricing).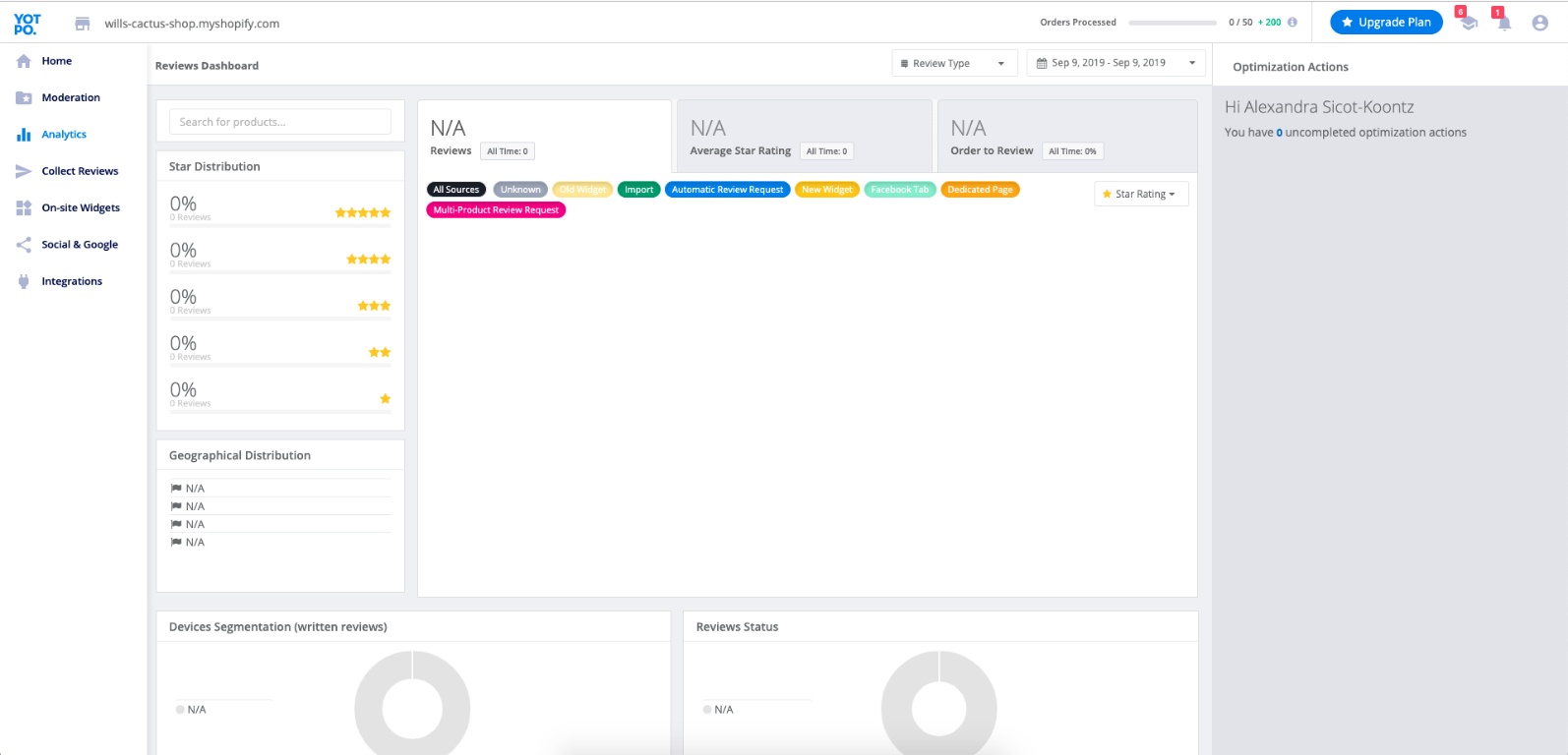 How Will Yotpo Increase Your Shopify Conversion Rate?
The customer review app offers an attractive way to display customer reviews in boxes on your Shopify page. The same displays can be incorporated into pop-ups and emails. The integrations make it easier to gather and share reviews between your different platforms. On the other hand, the heavily moderated formats reduce the impact of genuine reviews and Social Proof. In general, fewer more specific reviews are more effective.
Customer Loyalty App – $0-249/month
Swell, an app built by the same company that produced Yotpo, allows you to incentivise certain behaviours on your website. By attaching points rewards to referrals, social shares and other interactions, you engage your customers and encourage them to become active users.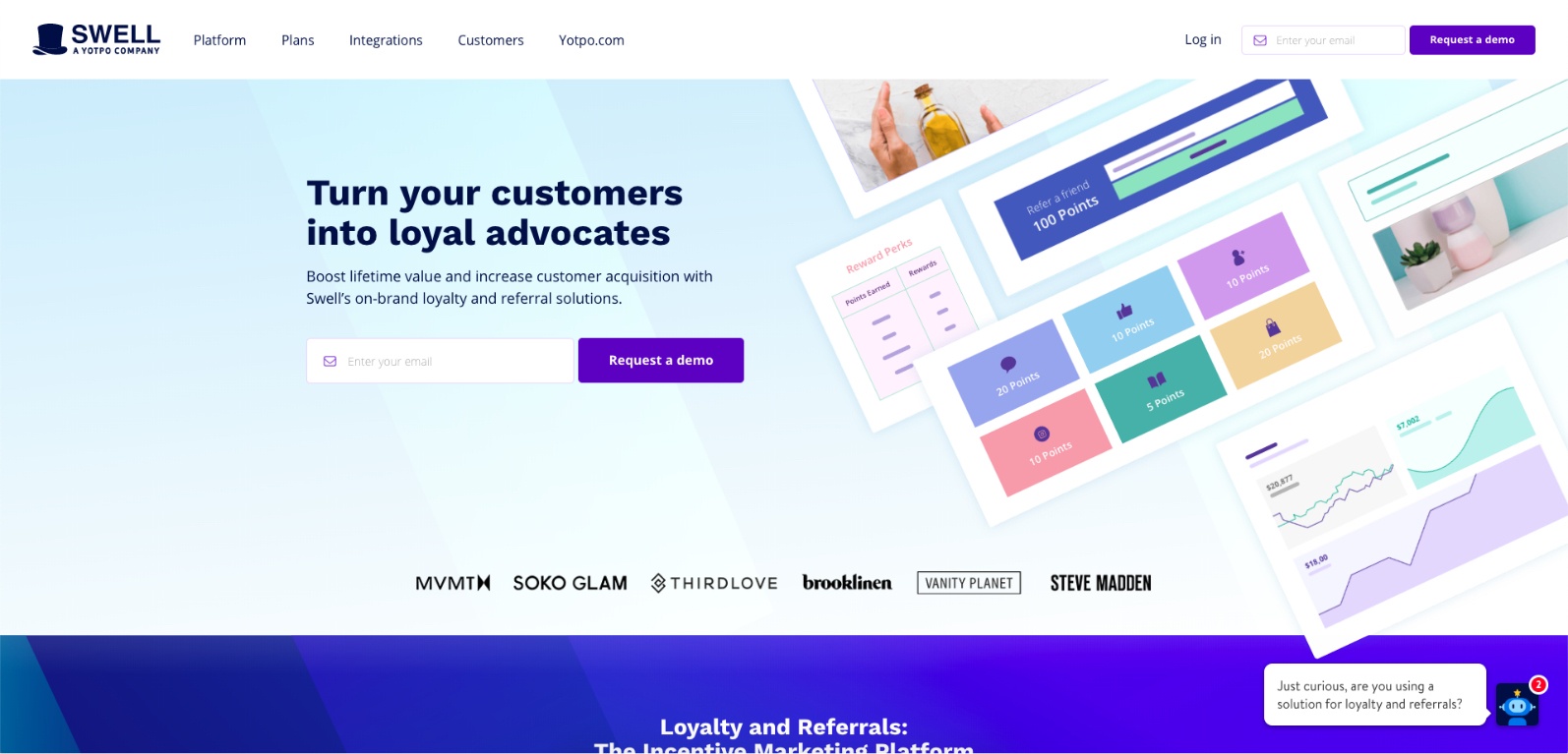 What is Swell Like To Use?
Swell is generally well-reviewed and any complaints tend to focus on the pricing schemes (which are fairly complicated). Some features are only available with a large outlay.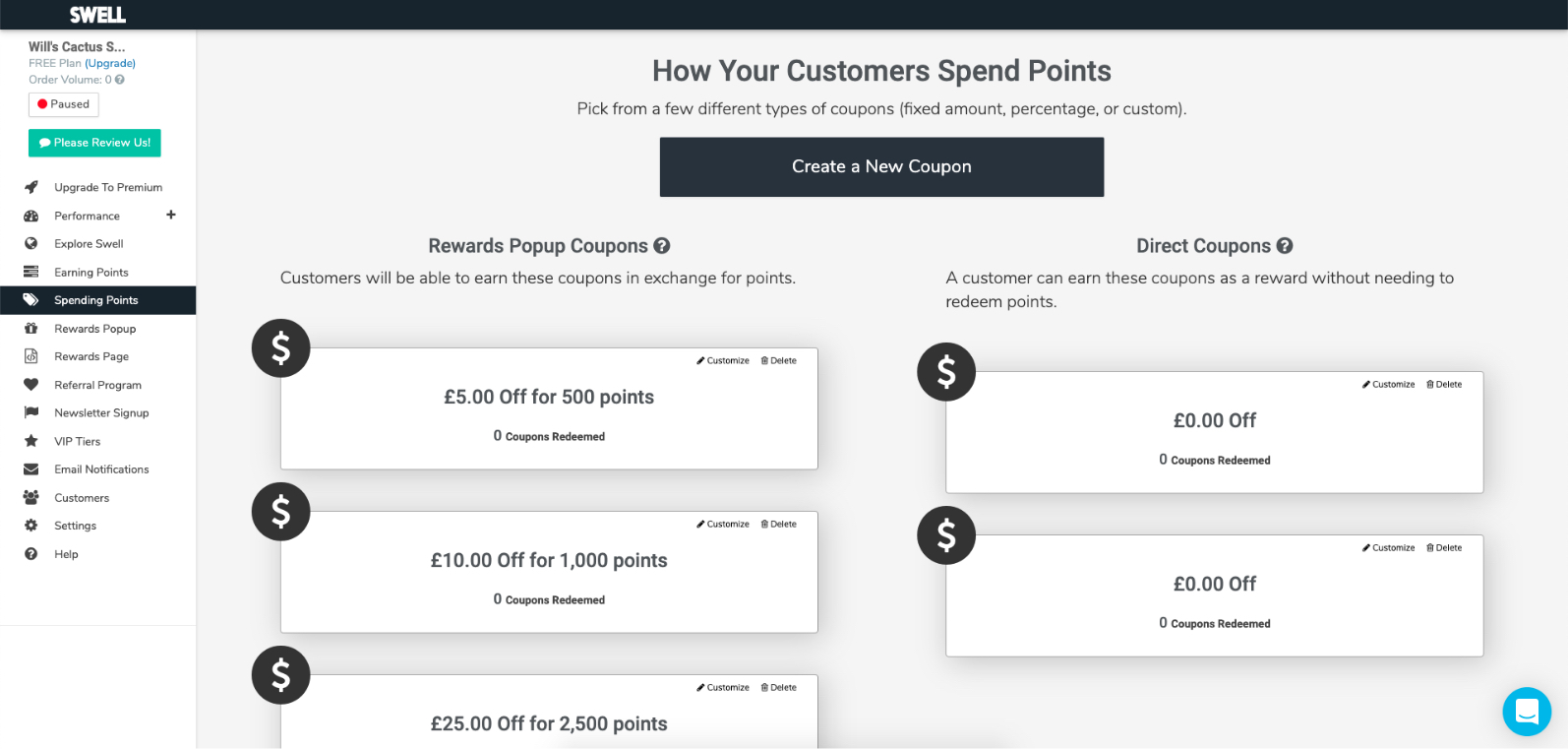 How Will Swell Improve Your Shopify Conversion Rate?
Some of Shopify's largest stores use Swell to increase customer loyalty. One reason for this is that it offers more customisation options and integrations than most customer loyalty apps (such as Smile Rewards). You can even combine the platform with your email marketing, by integrating the app with your email automation software (such as Klaviyo). 
Unfortunately, Swell suffers from the same drawback as Smile Rewards. Whilst it will work like a dream for some stores, it is an expensive gamble to take for a form of marketing that might not suit your store.
Multi-Platform App – $0-99.99/month
Wishlist Plus opens up a new form of engagement for your customers. Rather than adding an item to their shopping cart straight away, the app allows them to add it to their "wishlist."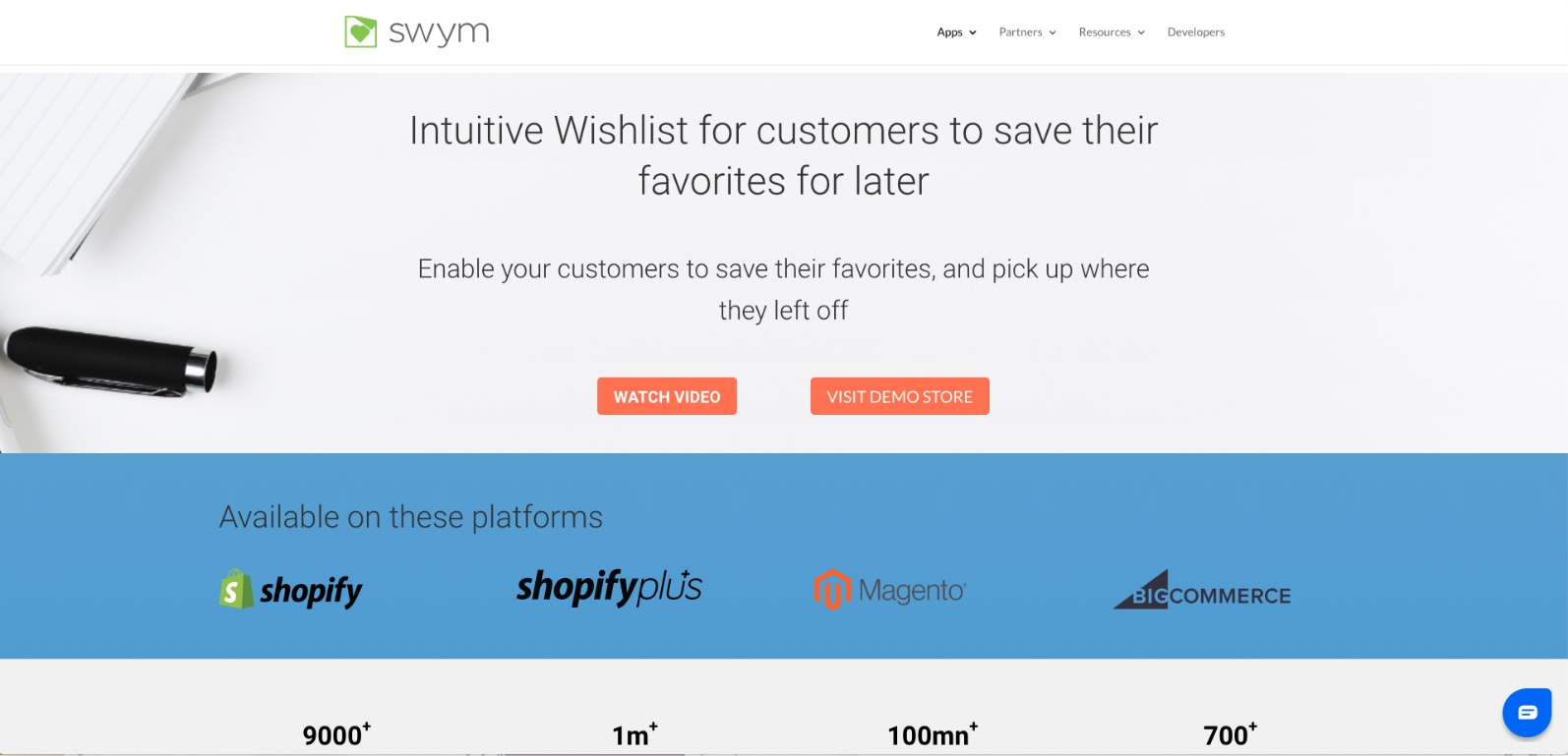 What is Wishlist like to use?
Wishlist is a more complicated app than Fast Checkout, and some users have found it difficult to install the icon (see reviews). However, the customer support is highly-rated and the dashboard is straightforward.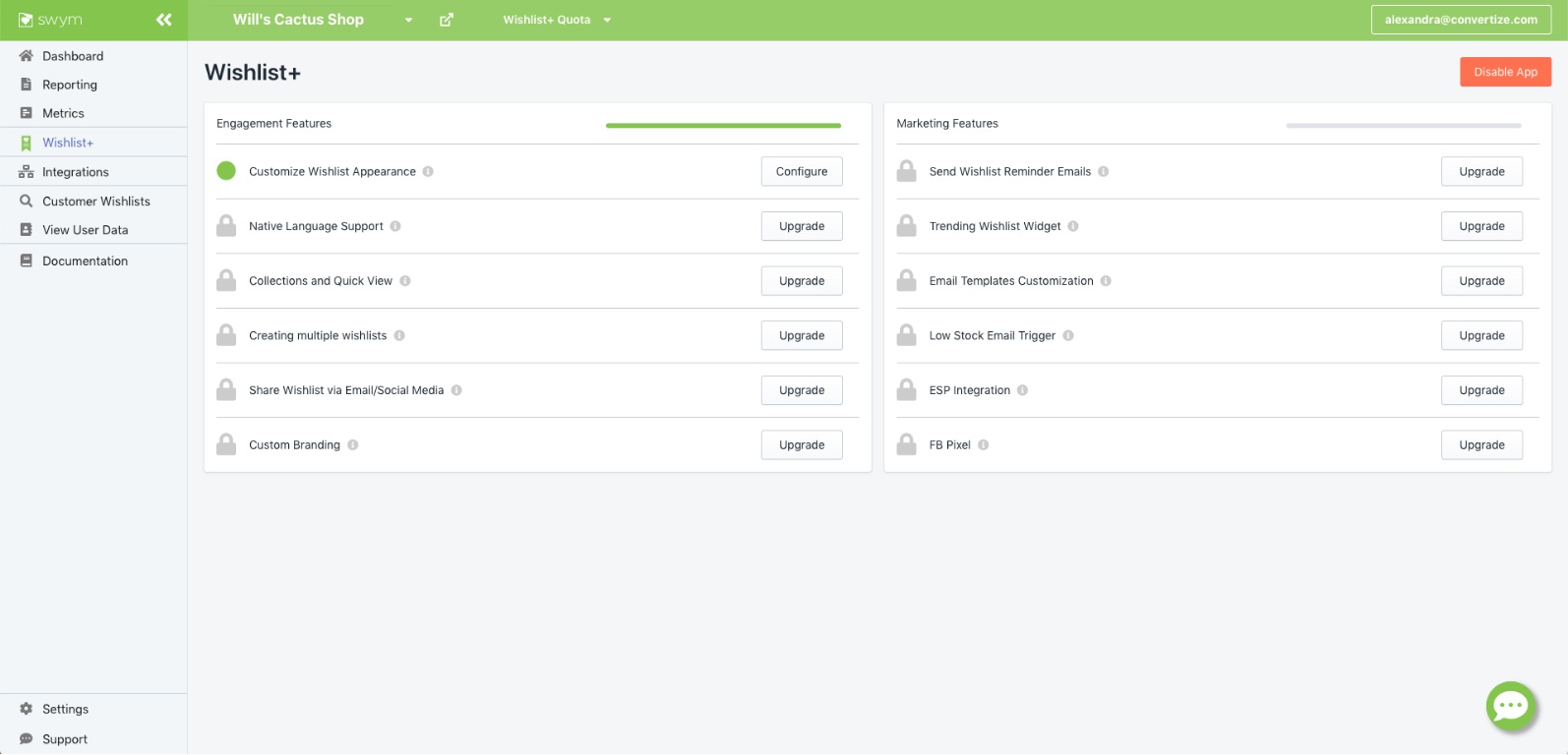 How Will Wishlist Increase Your Shopify Conversion Rate?
Like Fast Checkout, Wishlist adds a secondary CTA to every product page on your Shopify store. That means your customers can save a favourite item and return to it later. Having a soft alternative to the "Buy" button is a great way to keep people in your sales funnel. The wishlist is carried across multiple platforms without your customers ever having to log in, and they can even share their lists with their friends or family.
Pop-ups/Social Proof App – $6.99/month
Bizzy Social Proof, an app developed by Pixel Union (better known for their Shopify themes), displays a notification when your store makes a sale – giving it a more lively feel. By highlighting the popularity of your products and the activity within your store, you can increase your conversion rate automatically.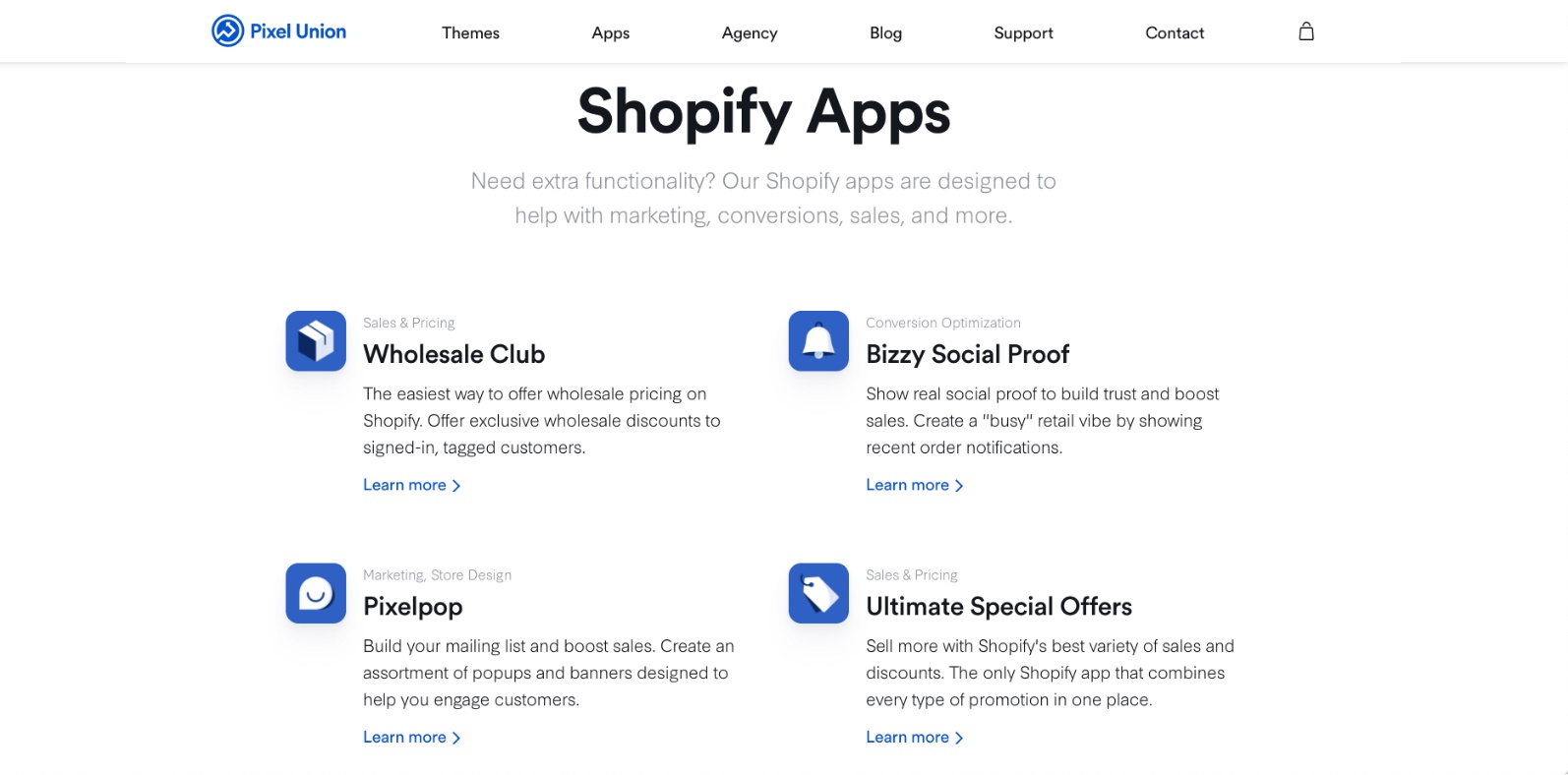 What Is Bizzy Like To Use?
Bizzy is is a pleasingly simple app that can be installed and used in minutes. The customer support is limited, but you're unlikely to need it as this is a very straight-forward platform.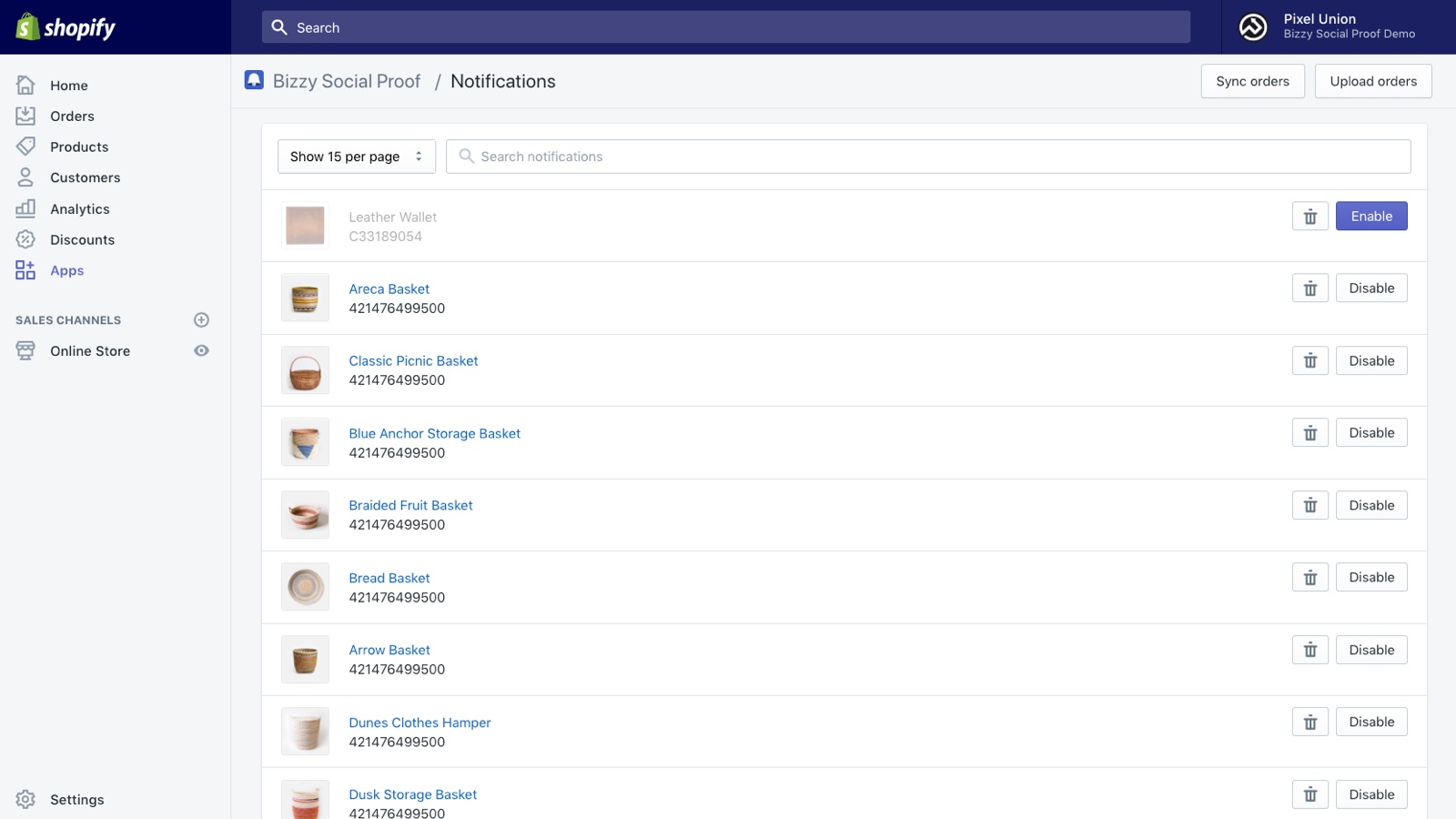 How Will Bizzy Increase Your Shopify Conversion Rate?
Bizzy provides information about recent sales to potential customers and is probably the easiest and quickest way to take advantage of Social Proof. Unfortunately, your choice of notifications is limited and, whilst it might be perfect for some Shopify stores, this app is certainly not suited to all of them. 
Email Marketing – $20/month
Campaign Monitor presents itself as an email marketing platform, but it also provides features you would expect from an all-in-one conversion rate app. Pre-built workflow templates allow you to easily create abandoned cart emails, branded receipts, and newsletters. You can also collect and display reviews from your email contacts.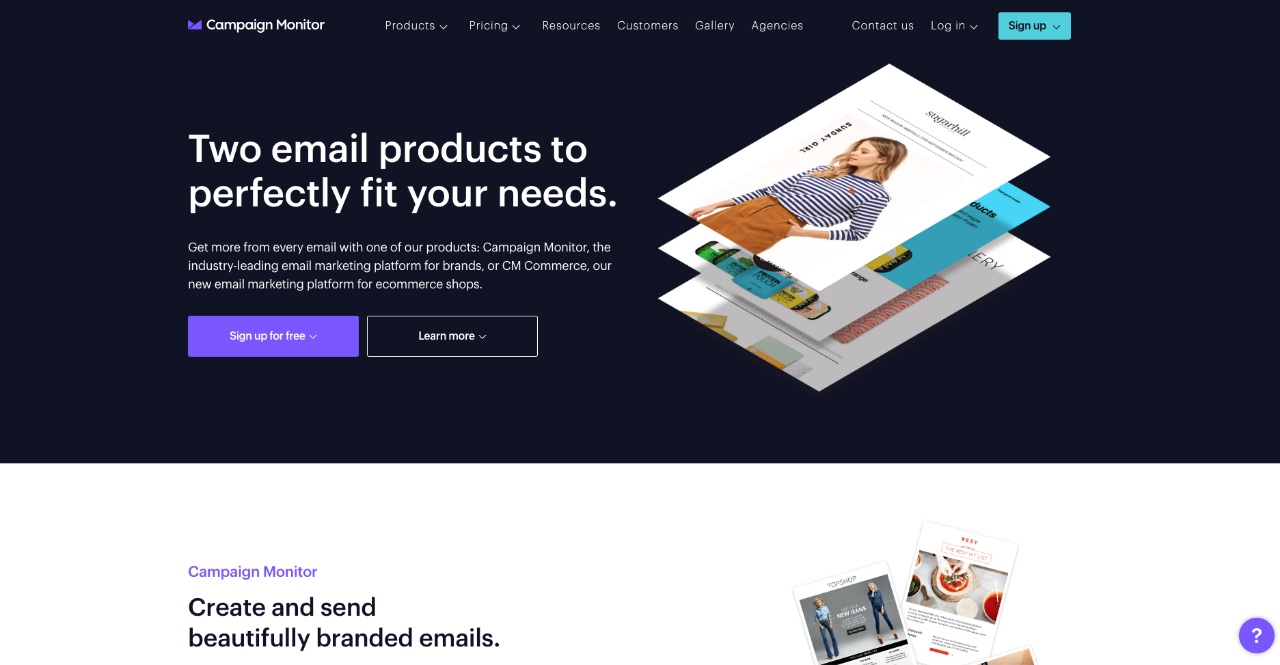 What Is Campaign Monitor Like To Use?
Not only is this one of the most expensive solutions on our list, but the pricing structure is complex. You will be charged based on levels of service and the number of customers you reach. Some customer have complained about the level of customer support provide since the app was sold to its new owners.
(See Campaign Monitor Reviews)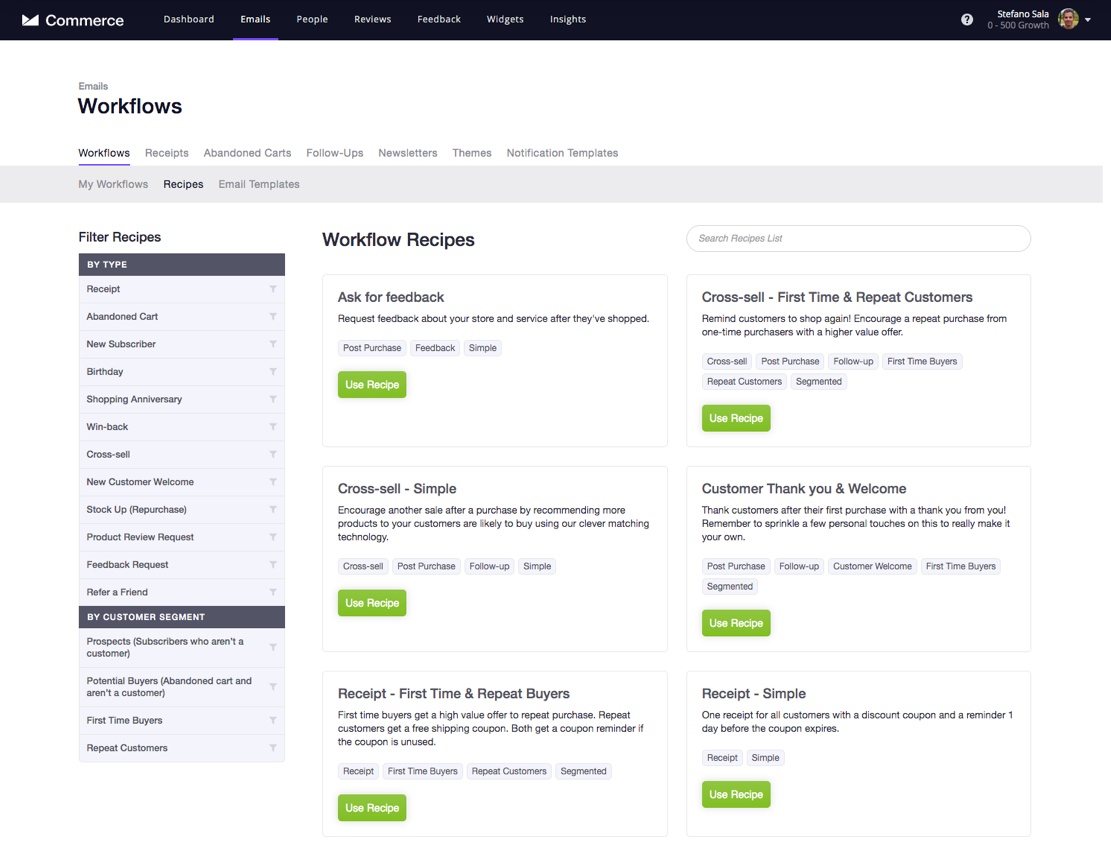 How Will Campaign Monitor Increase Your Shopify Conversion Rate?
Campaign Monitor manages your follow-up, cart abandonment, and newsletter mailing in one place. It also combines your customer reviews with your email strategy nicely. Since you are charged according to the number of contacts you have, the value you get from this app will depend on your average order value.
Trust and Security App – $0-79.98/month
Trust provides trust signs for your product pages and checkout. These are displayed on your product and basket pages, so that your customers feel more comfortable making a purchase.
What is Trust Like To Use?
Trust is the highest rated app of its kind on Shopify. However, the free version of the app is extremely limited, and subsequent packages are quite expensive for the likely return.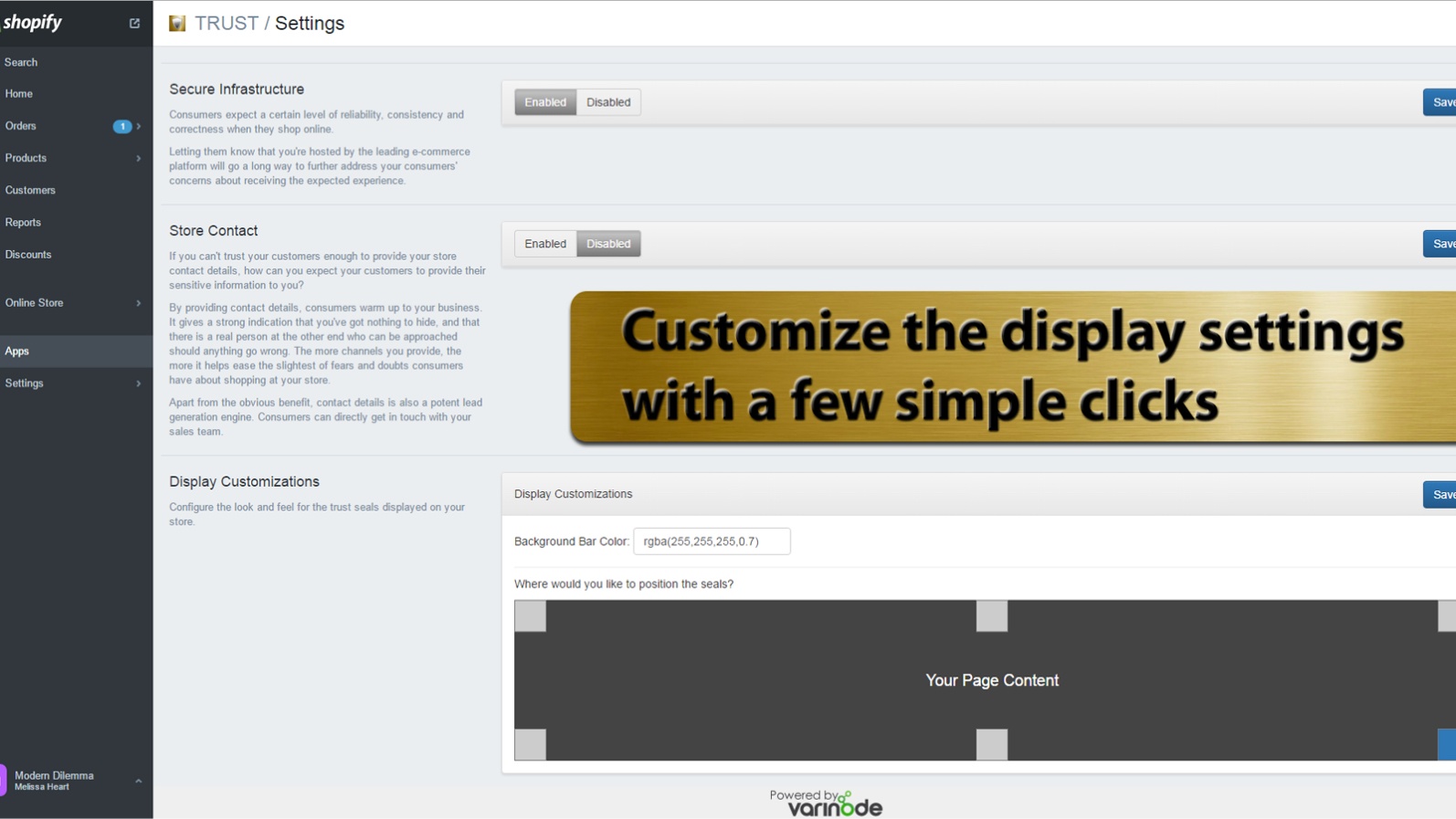 How Will Trust Increase Your Shopify Conversion Rate?
Third-party endorsements provide a simple way of overcoming the anxiety many customers feel when buying from an unfamiliar Shopify store. Trust is an alternative to some of the more expensive security apps like Norton or McAfee. However, as it doesn't provide any additional security itself, this app can feel like a superficial solution.
SMS, web push and email marketing – $0-19/month
Firepush is an automated re-marketing app for Shopify stores. Users can create automatic responses to abandoned sessions and purchases via SMS, email and push notifications. There are a range of different messages for each platform, including countdown timers, flash sale notifications and back-in-stock alerts.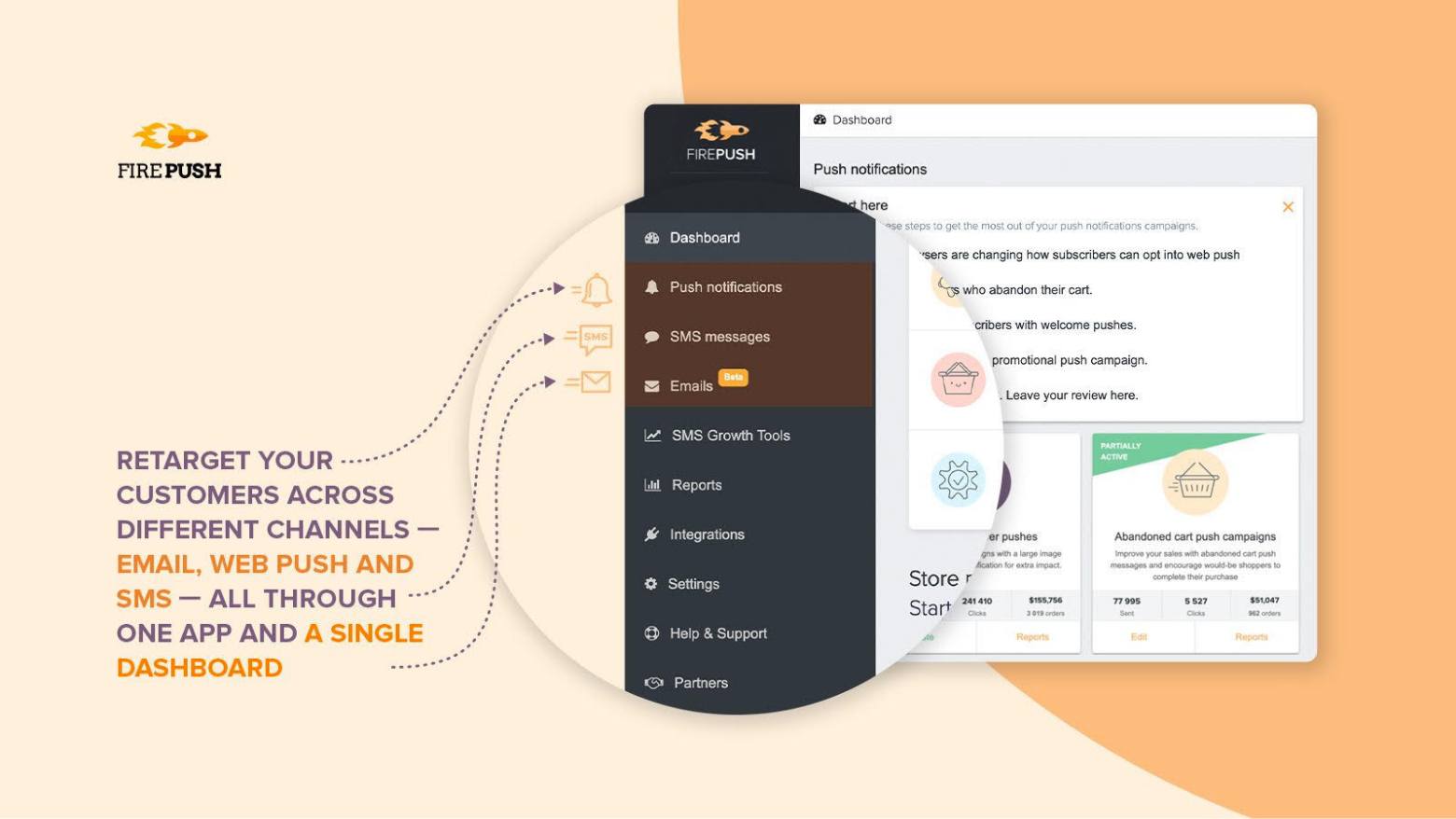 What is Firepush like to use?
Firepush scores highly in the Shopify App Store (4.8 stars), with ease-of-use frequently mentioned in its reviews. The customer support is also well-reviewed, with many users commenting on how responsive the support team is.

How Will Firepush Increase Your Shopify Conversion Rate?
Even highly-motivated browsers don't often convert from their first session. That means you can significantly boost your conversion rate by increasing the number of people who return. Firepush allows you to re-engage qualified leads on a number of platforms. 
This table lists the features, cost and user-friendliness of our 17 Shopify conversion rate apps.
| | What Does It Do? | Free trial | Cost/month | Translation | Support | Difficulty |
| --- | --- | --- | --- | --- | --- | --- |
| Nudgify | Nudges | Free Plan | $0-39 | Yes | Email/Chat/Docs | Easy |
| Fast | Page Feature | 5 Days | $4.49 | Manual | Docs | Easy |
| Privy | Pop-ups/Email | Limited | $24-500 | Manual | Chat | Medium |
| Growave | Customer Engagement | 30 Days | $59-299 | No | Email/Chat/Docs | Easy |
| Smile | Customer Rewards | Limited | $10-50 | No | Docs | Easy |
| Shogun | Landing Page Builder | 10 Days | $39-149 | Manual | Docs | Easy |
| Optimonk | Pop-ups/Email | 14 Days | $29-199 | Manual | Chat | Medium |
| Social Photos | Image Gallery | 30 Days | $10-50 | No | Docs | Medium |
| OptinMonster | Pop-ups/Email | 30 Days | $49 | Yes | Email/Chat/Docs | Medium |
| Yotpo Reviews | Reviews | Limited | $49.99 | No | Email/Docs | Medium |
| Swell | Customer Rewards | Limited | $28-249.99 | Yes | Email/Docs | Hard |
| Wishlist Plus | Page Feature | Limited | $9.99-99.99 | Yes | Docs | Easy |
| Bizzy Social Proof | Pop-ups | 14 Days | $6.99 | Yes | Docs | Easy |
| Conversio | Remarketing | 30 Days | $20 | No | Email/Chat/Docs | Easy |
| Trust | Trust Signs | Limited | $23.98-79.98 | Yes | Email | Medium |
| Firepush | Remarketing | Free Plan | $0-19 | No | Email/Chat/Docs | Easy |
Since the early 1990s, research by behavioural economists and psychologists has identified a set of principles that shape the retail experience. Effects such as Social Proof and Scarcity have become central to the way real-world stores think about consumer behaviour. However, digital stores have been slow to apply these same principles online. 
Understanding how psychology affects your customers' experiences is an important step in increasing your Shopify conversion rate. These are some of the most important effects to consider…
Consumer Psychology Principles
Social Proof – When unsure about a situation or choice, consumers often base their decisions on popular opinion. It is essential for you to emphasise your product's popularity, especially in a crowded market. Social Proof is one of the most effective ways of increasing your Shopify Conversion Rate.
Commitment and Consistency – Forming habits is a common cognitive shortcut; it requires less effort than responding to every new situation. Marketers try to develop relationships with potential customers, hoping that it will lead to sales in the future.
FOMO – Marketers often place time-constraints on a deal in order to make it seem more desirable. When put under pressure, consumers respond with their emotions and are more persuadable.
Friction and Cognitive Ease – Customers report the highest levels of satisfaction when they do not have to think too much. By reducing confusion, doubt, or anxiety ('Cognitive Friction') you can enhance customers' experiences on your Shopify site.
Pain of Paying – Research has demonstrated that the cognitive experience of payment is similar to that of physical pain. In order to maximise your Shopify conversion rate, you should make the payment process as quick and easy as possible.
Optimising your customers' experiences is a long-term process that involves testing the design of your store. However, there are quick ways to massively improve your consumer literacy. A number of the apps in Shopify's App Store are designed specifically to address psychological effects. This table identifies which effects can be effectively controlled using the apps in our list.
Conclusions
The most important factor in determining your Shopify conversion rate is your value proposition. Before you start optimising your Shopify store or adding an army of plugins, you need to ask yourself if your webpage is answering these questions:
Why should a visitor buy your product?
Why should they buy it from you, and not someone else?
Why should they buy it now?
Once you have a water-tight value proposition, you can pick the apps that will help you to deliver it effectively.