Top 3 Social Proof Apps in the Shopify App Store 2020
Reading Time:
3
minutes
In today's crowded e-commerce industry, it is no longer enough to offer the best quality products or cheapest deals. Even if you have invested in ads and managed to drive a decent amount of traffic to your Shopify store, that is only half the battle: all of that ad spend is wasted if you don't achieve any conversions at the end of it. So, what are the best Social Proof Apps on the Shopify App Store for engaging and persuading potential customers who have had their interest piqued enough to land on your store?
Using Social Proof on your Shopify Store
One brilliant way of understanding your customers is to delve into the world of consumer psychology.
Social proof is a very powerful psychological bias which makes us take our cues from the behaviour of those around us. It works because it has one of our deepest fears at play- our desire to fit in and be part of a group. As Robert Cavett says:  "95% of people are imitators and only 5% initiators, people are persuaded more by the actions of others than by any proof we can offer."
What's more, for all you Shopify storeowners, the Shopify app store contains an ever-growing number of apps that are expressly designed to increase conversions through psychological persuasion. In this article, we aim to review some of the best apps on the Shopify app store that use the principle of Social Proof.
We have a personal favourite, but aim to remain objective. The ones that we will review are: Nudgify, Banana Stand, Fomo, Social Proof Samurai and Gatsby.
Here is the list of  3 best Shopify apps to use Social Proof on your Shopify store
FREE to use
Nudgify makes it easy to use Social Proof, Scarcity, Urgency and more…
Nudgify shows relevant messages for each page type, reducing the bounce rate on your Home, Blog, Catalog, Collections, Product, Cart, and Confirmation pages
Popularity Nudge – Harness social proof (28 people recently viewed this product)
Order Soon Nudge – Create urgency (For delivery tomorrow? Order in 1h 32mins)
Low Stock Nudge – Nudge hesitating browsers ('Order now! Only 2 left in stock')
Custom Nudges – Get creative (E.g, price guarantees to special offers)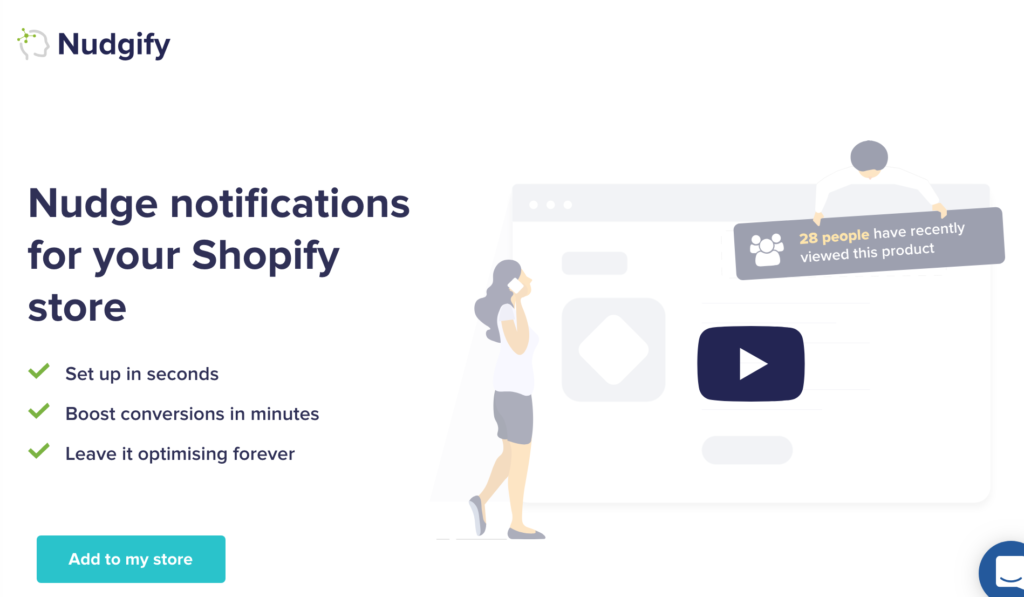 Main strengths:
Full integration with Shopify
Based on the concept of Nudging developed by Richard Thaler and Cass Sunstein
Can take stock, and purchase info directly from your store.
The biases include Social Proof, Urgency, Scarcity, Cognitive Ease, Pain of Paying, and more
Suggests notifications for each page type on your store, including Home, Catalog, Collections, Product, Cart and Confirmation.
It checks which notification converts best, so is optimising all the time.
Limitations:
Notifications do not use emojis
$49/month Small Plan – $149/month Medium Plan (Free "Start Up" plan available)
Fera helps Shopify Stores to increase urgency and social validation, with the promise of increased conversions.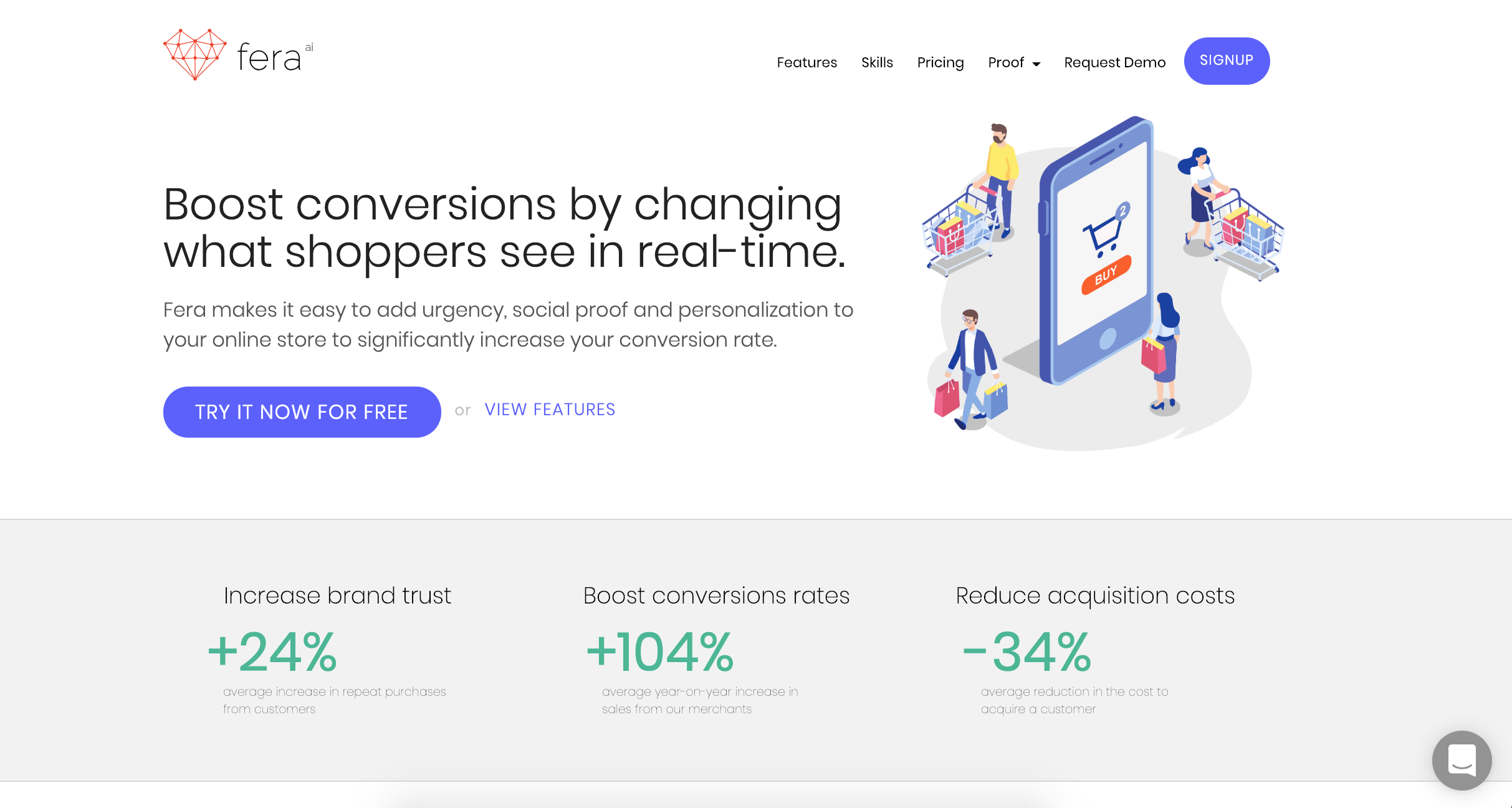 Main strengths:
Easy to install
Allows you track all current customer journeys
Offers a free trial
Limitations:
Not fully integrated with Shopify: You need to leave Shopify to manage the App
Only focuses on social proof and urgency
Dashboard is quite difficult to navigate
Creating notifications isn't intuitive
$39/month Essentials Plan – $199/month Advanced Plan (7-day free trial)
Fomo displays recent orders, product reviews, and a variety of other customer behaviors on Shopify Stores. Fomo also  integrates with Zapier, Mailchimp, Instagram, and more.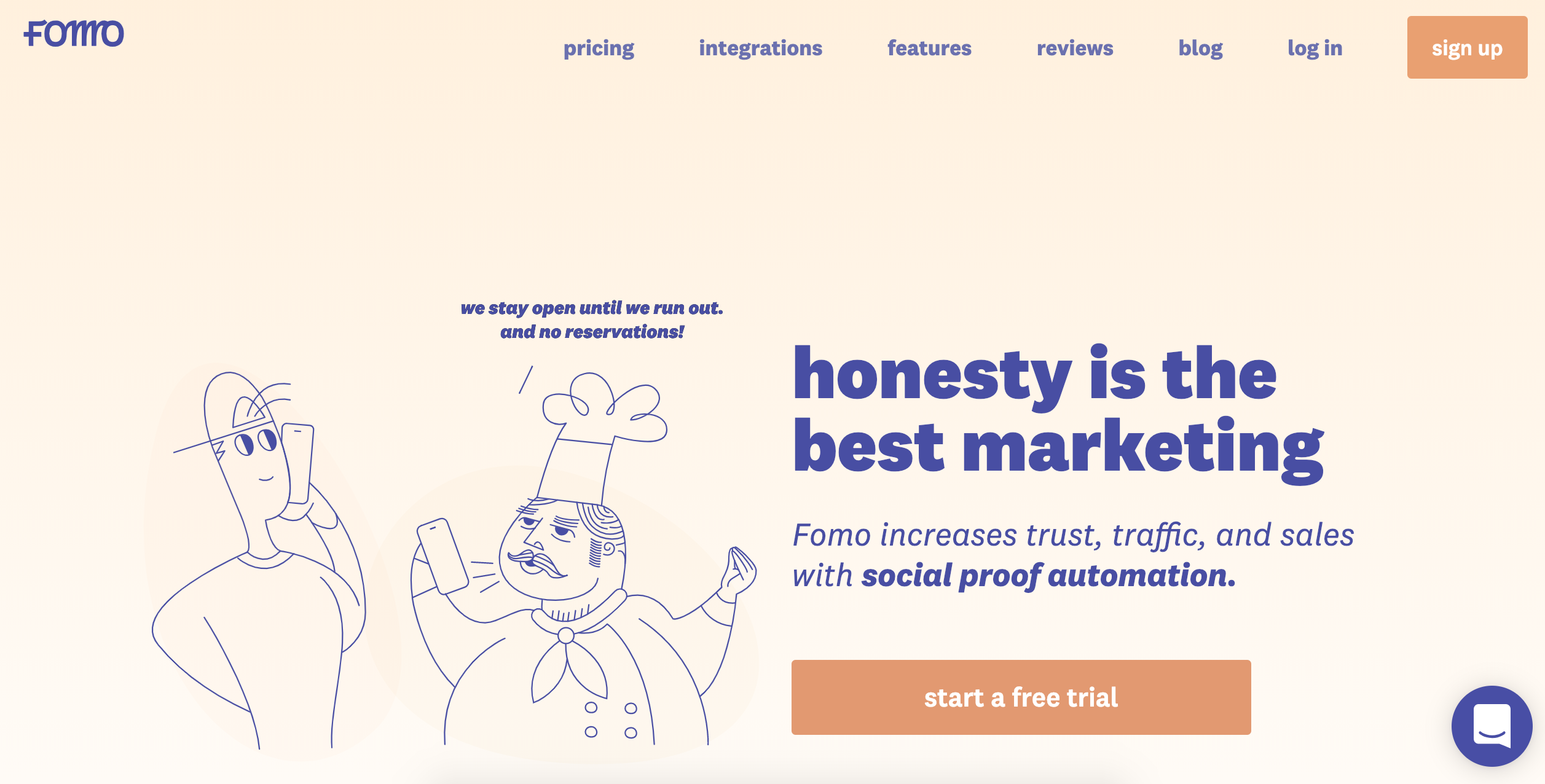 Main strengths:
Offers notifications to increase credibility and hence traffic
Good list of integrations
Limitations:
Not fully integrated with Shopify store
You are allowed only 7 days to use the app for free
Required credit card to allow to go further
A lot harder to navigate its backoffice than banana stand
Conclusion
Shopify stores can easily take advantage of social proof by adding one of these apps to their store. The setup usually takes a couple of minutes and they will get your store getting more conversions. That's our current list of the best Social Proof for Shopify in 2019. Drop us a line in the comment if we missed any great ones. This post will be updated periodically, so your suggestions might be included in the next update.