How To Increase Online Sales Without Spending a Fortune On Website Redesign
Reading Time:
7
minutes
Marks and Spencer, an iconic fixture of the British retail landscape,  spent 3 years and over £150m redesigning their website in 2014. Did it increase online sales?
Maybe they were desperate to move away from their safe, middle-aged positioning as the high-street's solution for sensible shoes and elasticated waistlines.
The site represented a huge investment in video, styling, and magazine-style content.
The result? Sales flopped by 8.1% overnight, and customers deserted the site in droves.
Navigation difficulties played against their established brand-values of consistency, reliability, and predictability.
Forcing existing customers to re-register, they also changed the universally-understood "my basket" to something called "your bag".    
It almost made the shopping seem like an afterthought to design experience. This was a big mistake, which cost the company dearly.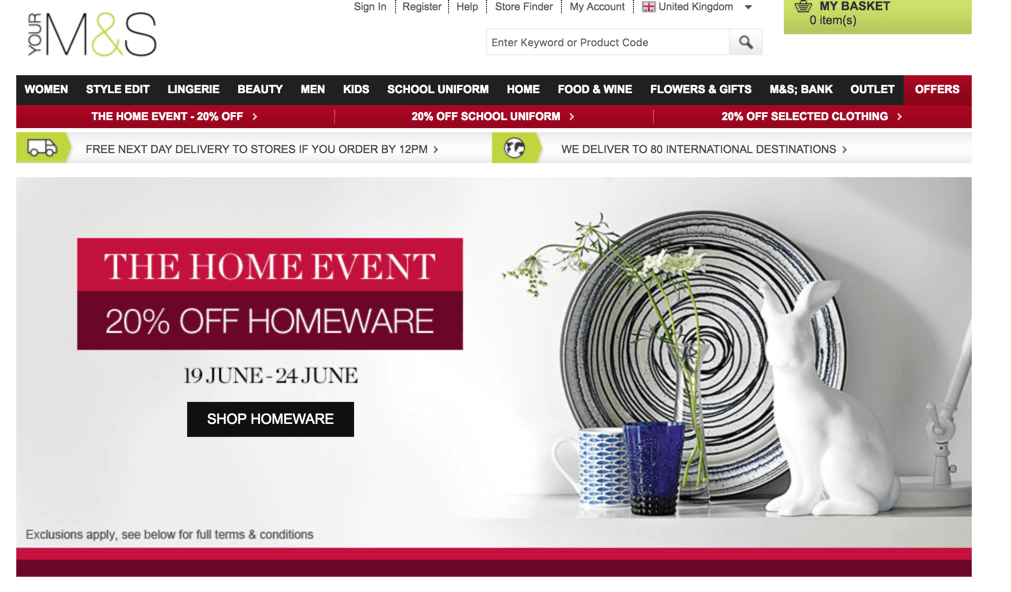 Marks and Sparks – simple translation from bricks to clicks, in 2013 (Image Source: marksandspencer.com; via Wayback Machine)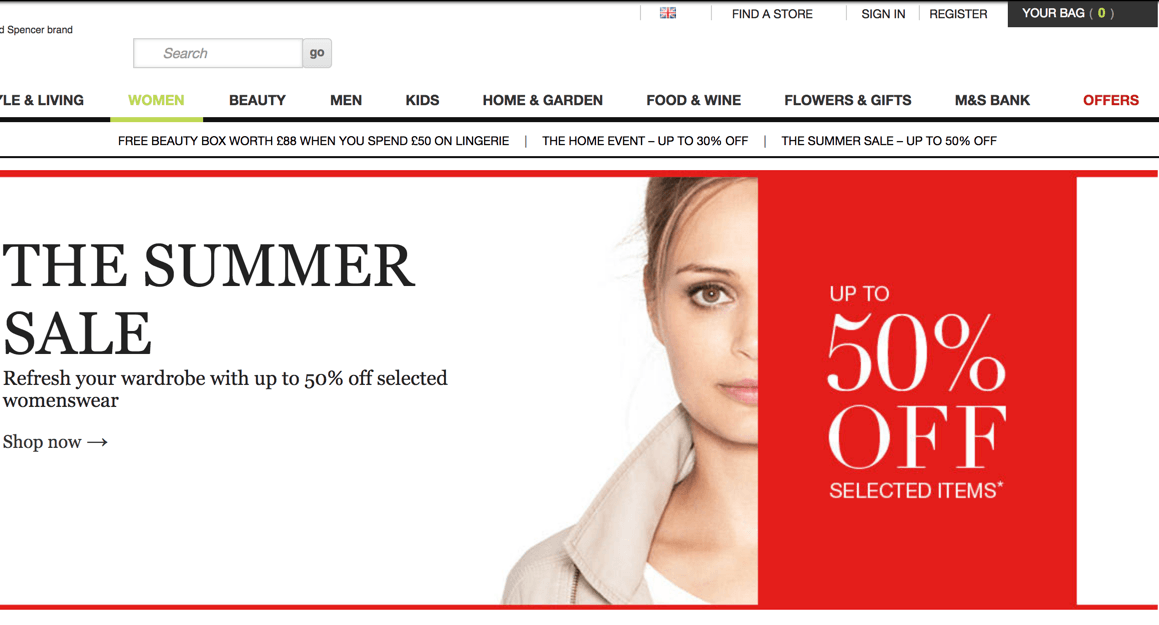 Post re-launch, 2014: "Events", offers and elegance… But I just want to shop! (Image Source: marksandspencer.com; via Wayback Machine)
There are many lessons we can learn from this experience, and one of the first is to go for evolutionary, not revolutionary, change.
If you have a loyal audience, take them with you – make small, incremental improvements, and test as you go.
Design changes are always subjective, but data doesn't lie.
You don't have to wait for quarterly sales figures for feedback though, there are many other metrics you can track as you make changes.
What Are The Ways To Increase Online Sales?
There are really only three things you can do to increase online sales, which puts the role of design into correct perspective:
1. Get More Customers: Increase Quality Store Traffic
At the top of your sales funnel, you need to bring purchasers to your door.
To do this, you must know who your customers are.
Understand their purchasing persona, (whether they are a middle-aged British homemaker looking for a well-fitting bra, or an enterprise buyer of corporate communications hardware).  
What are their pain-points, and how will you solve them?
Optimize your content for the solutions they're seeking. Good, old-fashioned on-page SEO matters, to ensure you rank for the right terms.
But in 2018 that's no longer enough, and it's vital to drive new traffic to your store via other means as well.
Your marketing mix should contain a proper blend of:
Content MarketingGet your message out there to connect with new buyers and their needs by blogging, offering guest articles, and creating unique content on other sites as well as your own.
Social MediaBuild a community around your products, create a sense of connection. Make people want to be part of something, to be 'in the know.'

Zappos on Instagram: pets, potties, what's going on? Not sure, but it looks fun, and I want to be part of this when I buy shoes… (Image Source: instagram.com)

Pay-Per-ClickDrive the right people to your sales page, at the right time for them. You can do this through ads on other sites, including Facebook, Google, and more.

I'm not convinced Facebook knows my style (Image Source: facebook.com)

Referral Programs Leverage existing loyalty to find more customers like those you already have. Do this by offering a great service and customer experience in the first place, but also by rewarding that loyalty with discounts or direct payments.

If you like us, please tell your friends! (Image Source: transferwise.com)
These options cost money, particularly the last two,so monitor outcomes carefully to ensure good ROI.
2. Make Customers Spend More: Get Them to 'Go Large?'
"Do you want fries with that?"
Of course you do.
Better yet, let's bundle a deal which includes a drink, or a dessert you might not even have felt like eating, but that represents a nice overall package with a great margin.
The time-tested 60×60 rule says that your customers will buy an upsell 60% of the time for up to 60% of the original purchase price.
Sell the burger first, then offer the fries.    
Any upsell you offer must be consistent with the original purchase as well, so offer the fries rather than a book or a piece of clothing.
And the 60% rule works at any price point, even with big-ticket items like cars; the framing effect of the initial purchase opens the wallet, then the upsell is a fair game.
Apple knows all about this.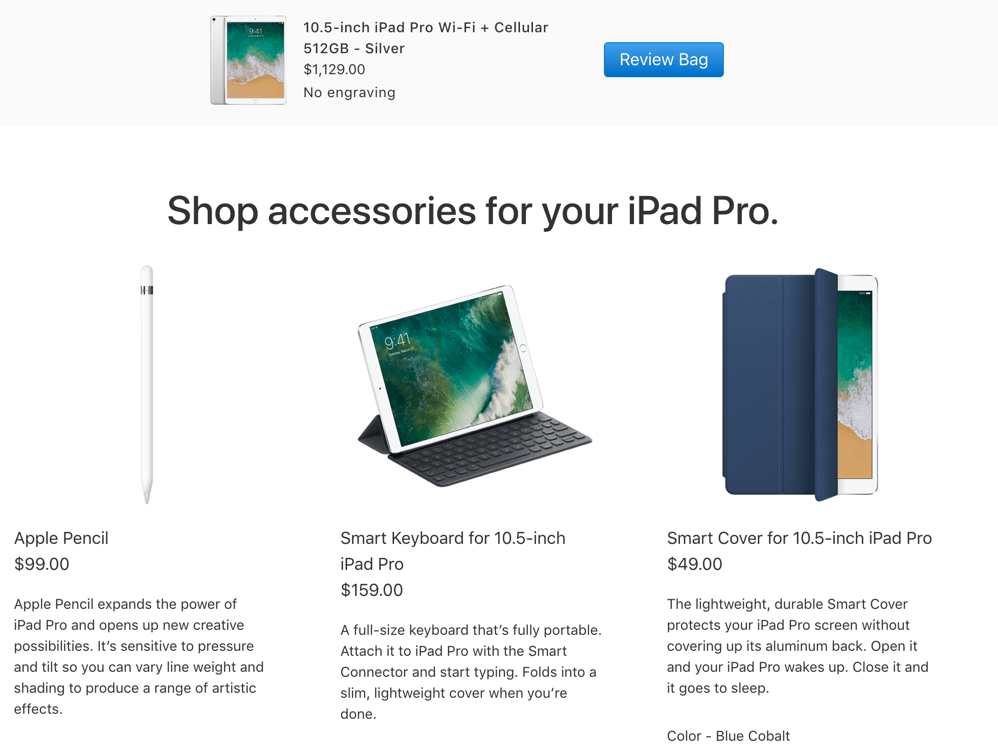 Apple 'fries': Accessorise your purchase (Image Source: apple.com)
Before you get anywhere near the checkout, you'll be invited to add all sorts of cool and pricey things, which will no doubt enhance your enjoyment of the final product.
They could have included them in a single package, but instead they give you the choice – right when you are psychologically ready to say, 'oh, go on then!'
Extended warranties are a fitting example of this as well, and it isn't just traditional retailers who are rocking this trick either.
Low-cost airlines are another example. They will unbundle traditional travel services, then sell them back to you individually: your ticket price no longer includes a checked-in bag, food, or a reserved seat.
But you can add them back at the point of purchase, and when you include all the extras, you end up spending more than double the cost you clicked on.
Large online stores use algorithms to do this automatically: 'customers who bought this item also bought…'
This is a straightforward way to encourage people to add the batteries or accessories that will enhance their purchase, without any effort at the point of sale.  
Here's how Amazon does it. Before you even add the item to your basket, it suggests a 'load more things' you might want.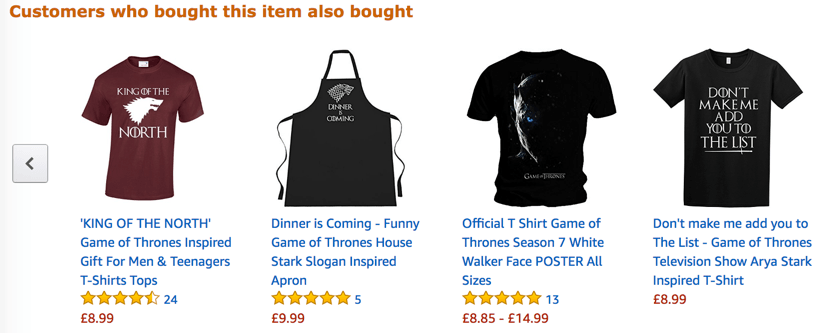 Game of Thrones fan? Then you'll be needing all this stuff too… (Image Source: Amazon.co.uk)
3. Get Existing Customers to Return and Spend More
The final (and perhaps obvious) way to increase online sales is simply to your existing customers to return and spend more.
It's much  cheaper and more effective to keep customers happy and buying than it is to acquire new ones. The good news for online sales is that this is far easier to do than on the high street.
You have contact details for every one of your purchasers. All you must do is look after them. You may even have details for leads who haven't bought yet.
Creative ways to keep them coming back for more include:
Offers and PromotionsYou can target two previous buying behaviours by using intelligent database management. Amazon knows I buy stationery for my home office, so they target me with reminders for things I might have used up. They also know my favourite authors, and that I'd be a great customer for their latest release.
Lock-in DealsThat same retailer knows it's easier to get my next bunch of post-it notes from them than anywhere else, because my Prime deal gives me free next-day shipping for a year.

Whilst you're at the checkout, why not? (Image Source: amazon.co.uk)

Discounts and FreebiesSeasonal offers, from Valentine's day to Black Friday; once you have a customer on your list, you can target temptations to them directly to keep them sweet. If you send a coupon for the next purchase with every order, how could they say no?

Baby it's cold outside!

Removing FrictionAllow returning customers re-use shipping and payment details, repeat previous orders, or access a 'favourites' list.  

As Marks and Spencer learned to their cost, if online shopping is made complicated or difficult, customers will go elsewhere.

But if someone has shopped with you before, you have the marketing intelligence to smooth their path to the next checkout.

Remind me what I ordered before: then I might order it again (Image Source: hollandandbarrett.es)

Amazon's one-click ordering is about as simple as it gets.
Affordable Tweaks Bring BIG Results
None of the changes discussed in this article require big design budgets.
In fact, it could be a huge a mistake to drop thousands on a major redesign, as that confuses and alienates your core customer base.  
Traffic generation does need some investment, but once you have prospects on your site, it's up to you to convert them effectively and maximize their spending.
To increase online sales you just need a deep understanding of customers and what they want, as well as a willingness to experiment and make changes to how you deliver this.
Remember the Agile approach
Hypothesize 'what if…?' (such as: what if we offered customers upgrades on shipping along with a minimum purchase amount?).
Record your baseline data such as current sales or conversion rate.
Make changes one at a time, such as offering free shipping on sales carts exceeding a specific amount.
Analyse outcomes – has the average order size increased? Are people 'going large' to qualify for the free shipping? Be careful to ensure you are comparing like with like. If your sales vary a lot by season, compare with the previous April, or the previous quarter, rather than the month before you made the change.
Compare costs and benefits – how much did you increase online sales compared to the additional costs of offering shipping etc., and either commit to the change or roll it back.
Rinse and repeat – once the change is bedded in and has been accepted by your audience, decide what you are going to experiment with next.
Keep an eye on the metrics that matter, and you'll soon be reaping the rewards in greater sales.
So, what is the first variable YOU are going to test?