4 Proven Ways To Grow Your Revenue With Sales Notifications
Reading Time:
6
minutes
Sales notifications activate the purchase triggers that motivate consumers to buy. In a highly-competitive sales environment, effects like Social Proof, FOMO and Urgency help to increase your eCommerce conversion rate. That means you get more sales from the same number of customers, reducing your CPA (the amount you pay to attract new customers) and improving the profitability of your ad campaigns. 
5 Proven Ways To Grow Your Revenue With Sales Notifications
There are hundreds of website notification apps and plugins that claim to increase your conversion rate. However, it is important to choose a solution that your customers will trust. The most popular Social Proof apps, for example, display customer activity, reviews and product information – giving visitors the confidence to make an informed purchase. 
Sales Notifications are automatic messages that encourage a customer to take action. Some sales notifications provide details about an offer or promotion. However, the most powerful notifications display real-time data such as recent customer activity. By making this context visible, notifications create a more emotional response than traditional sales copy.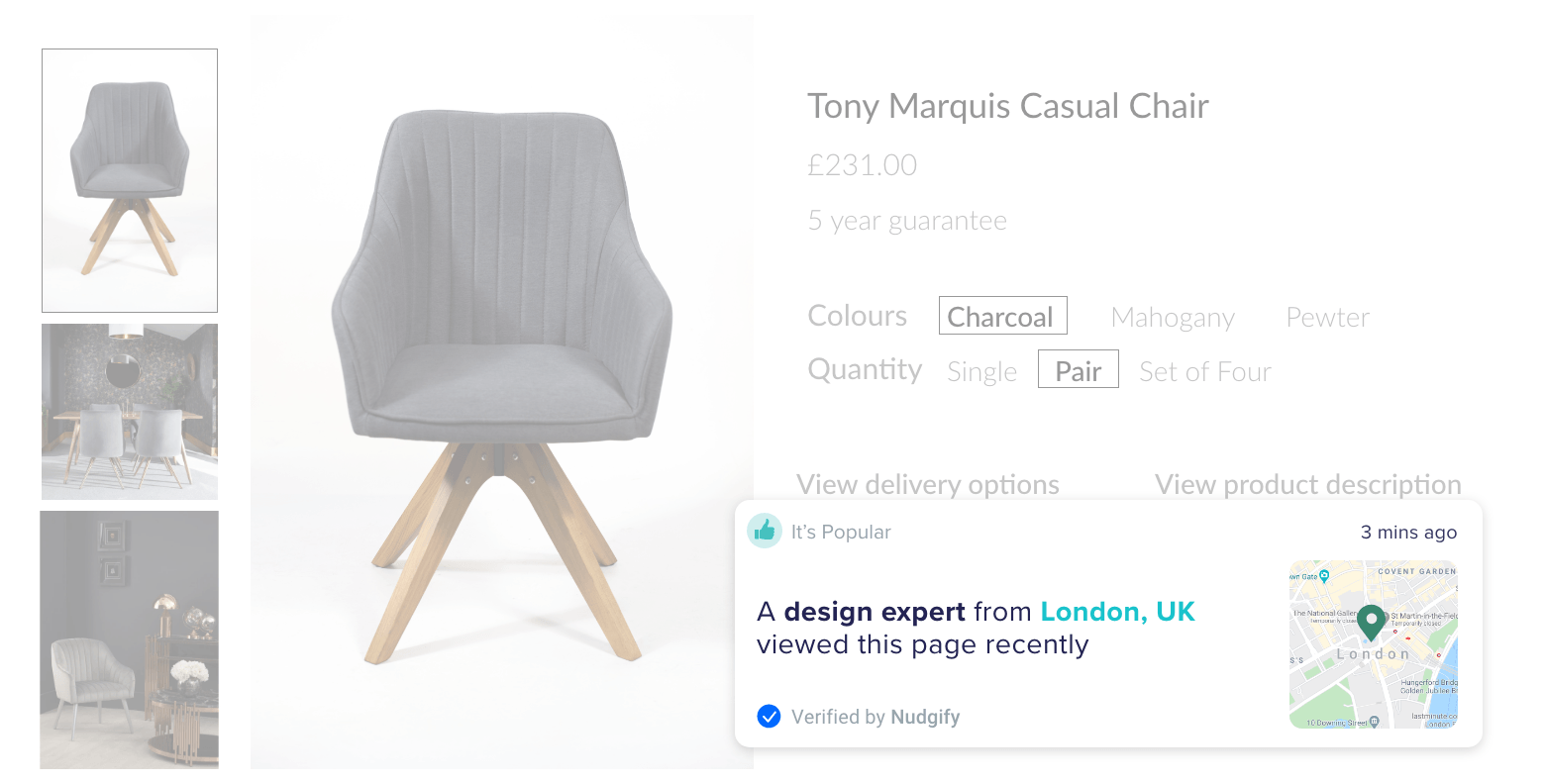 Sales Pop notifications show when a customer makes a purchase. By highlighting how popular your products are, these notifications show visitors that they can trust your store.
FOMO notifications show when a product is nearly sold out, encouraging customers to take action sooner.
Friction notifications remove the obstacles that prevent customers from making a purchase. A "free shipping notification" for example, answers an important question for online shoppers.
Sales notifications provide the extra context that helps us make better choices. When we are unsure about a decision, we rely on things like customer reviews, popularity and other clues to make up our minds. Sales notifications add this kind of detail to your website so that visitors are more comfortable making a purchase.
What is Social Proof? Social Proof is the effect that group consensus and popularity have on our decisions. Seeing that other people have bought an item suggests that it is worth buying. It also helps us to trust the business or store that sells it. 
Sales notifications can also help to create a more exciting sales environment. FOMO and Urgency notifications trigger powerful emotions associated with scarcity. These emotional responses explain why classic sales techniques like limited-time offers are so effective. 
What is "Scarcity"? The effect of scarcity on consumer decisions was demonstrated by the psychologists Worchel, Lee, and Adewole in 1975. Their experiment compared participants' responses to a plate of free cookies when they were either oversupplied or running out. Not only did subjects say they preffered the scarce cookies, but they were prepared to pay 60% more to get one.
How To Add Sales Notifications To Your Website
The easiest way to add sales notifications to an eCommerce store or business website is with a Social Proof app. WooCommerce users can find Social Proof apps for WordPress in the plugin store, whilst there are hundreds of Social Proof apps for Shopify in the platform's app store. 
The most successful online stores and eCommerce platforms tend to have the best conversion rates. Amazon, eBay and ASOS all spend time and money on A/B testing in order to improve this metric. Unsurprisingly, each one of them has found that sales notifications help to increase conversions. 

Showing when an item is low in stock encourages consumers to make a purchase sooner. A low stock notification also draws attention to items that have been popular in the past. That means potential customers focus on the products they are most likely to buy. 

Page view and recent sales notifications reinforce the desirability of a product. They also build the perceived value of a brand, making them ideal for retail websites.
Unlike pop-ups and other more intrusive forms of visitor engagement, sales notifications do not interfere with a browser's session. Because of this, they can actually improve customer experiences at the same time as increasing conversions. Since repeat customers are a strong driver of revenue, sales notifications are an effective way to grow long-term revenue. 
1. Highlight Customer Activity To Build Trust In New Products
Building trust and interest in new products is particularly important for retail and eCommerce websites. Many sites use a block or carousel on their home page to advertise new releases, and well-known brands often use a "new" page. However, these strategies only display new products to a small percentage of the site's visitors. Sales notifications, on the other hand, reach anyone who visits a relevant page.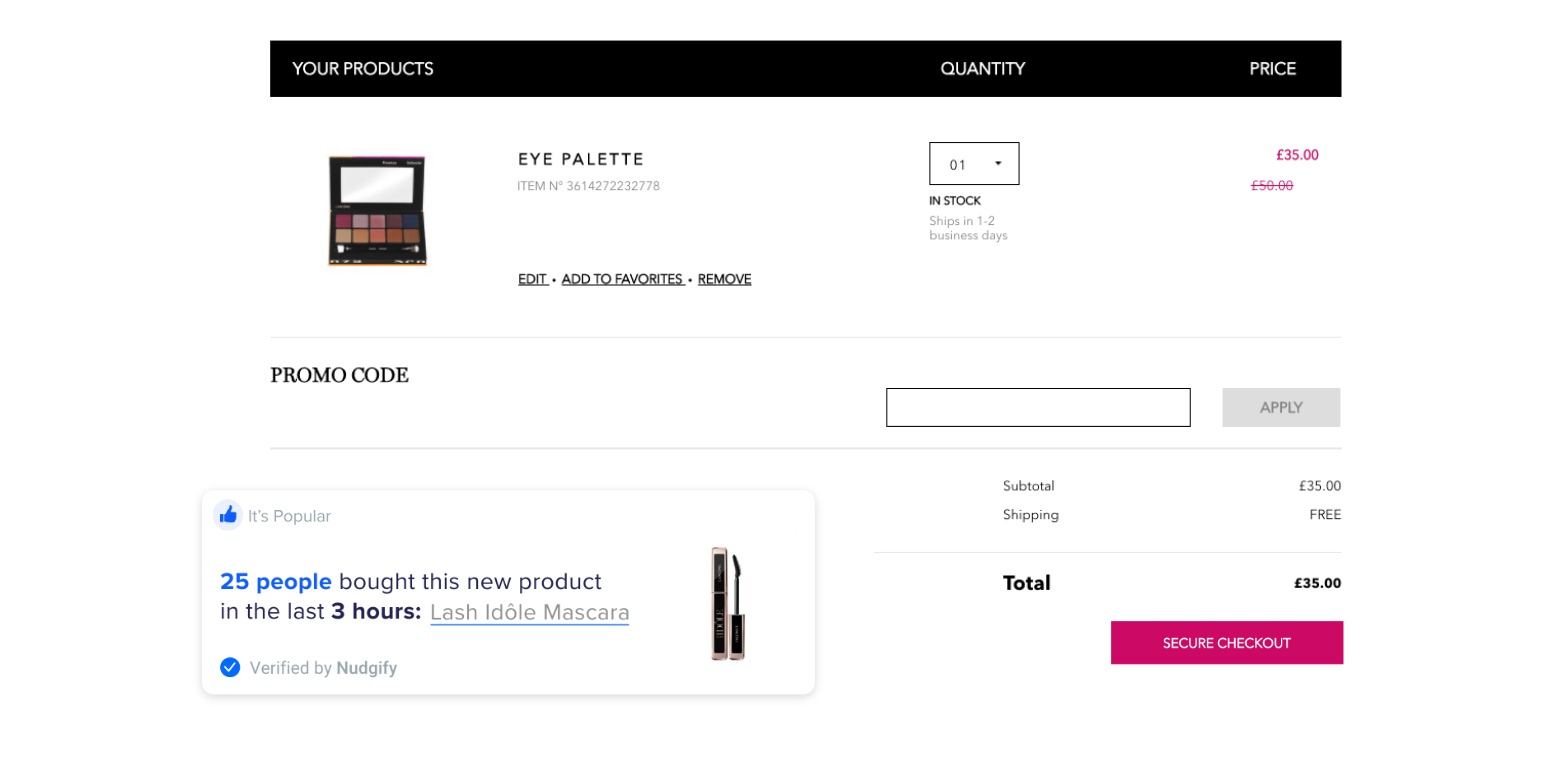 The biggest concern when launching any new product is gathering the reviews and credibility they need quickly enough, and some businesses have even been caught using fake reviews to support a product launch. Sales notifications are a simple way to make new products more visible and address any uncertainties customers have. 
2. Set Deadlines To Stop Your Visitors Procrastinating
In 2014, a musical equipment retailer called Marcus Taylor launched a Groupon deal in which $1250 worth of equipment was sold for just $69. Taylor turned the offer's landing page into an A/B test, where the alternative "B" version contained a countdown timer (the deal was available for only 100 hours, and there were 5000 packages available). These were the results:
Landing Page A: 3.5% conversion rate
Landing Page B (countdown timer): 10% conversion rate 
Simply by introducing Urgency, Taylor was able to convert over twice as many leads into customers.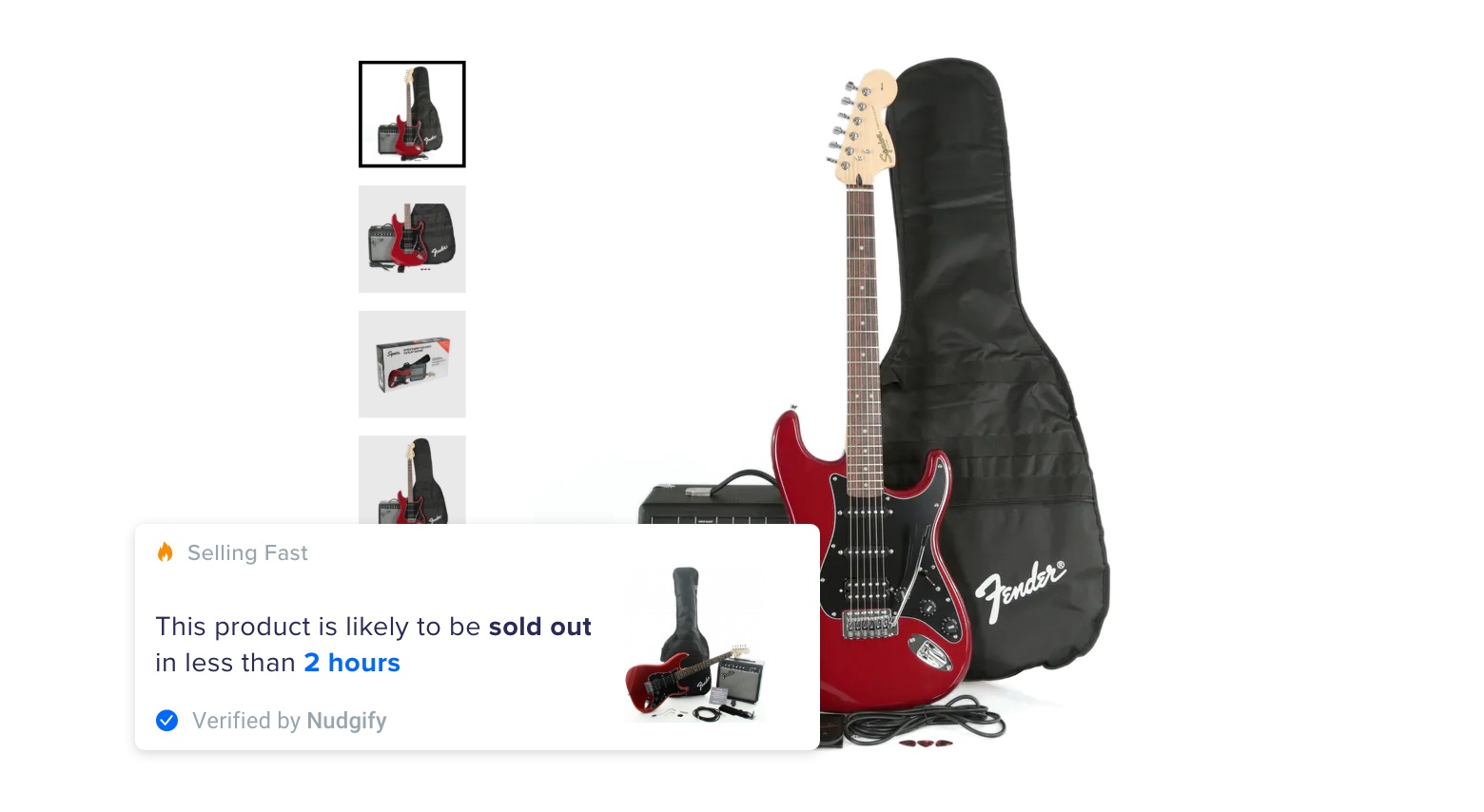 The advantage of using sales notifications to create urgency is that your deadlines can be more organic. Highlighting limited stock or announcing the end of a seasonal sale creates the same urgency as a countdown timer, without appearing inauthentic. 
3. Reduce Basket Abandonment By Addressing Consumer Doubts
If your eCommerce or retail store sees a lot of abandoned baskets, it's difficult to justify spending more money on PPC ads. Instead, you can generate many times more sales simply by removing the causes of basket abandonment. According to a Statista report published in 2019, 41% of people who abandoned their shopping cart did so because of delivery charges. A further 18% of those people simply decided to use a different website. In both cases, sales notifications can recover valuable sales before they are even lost.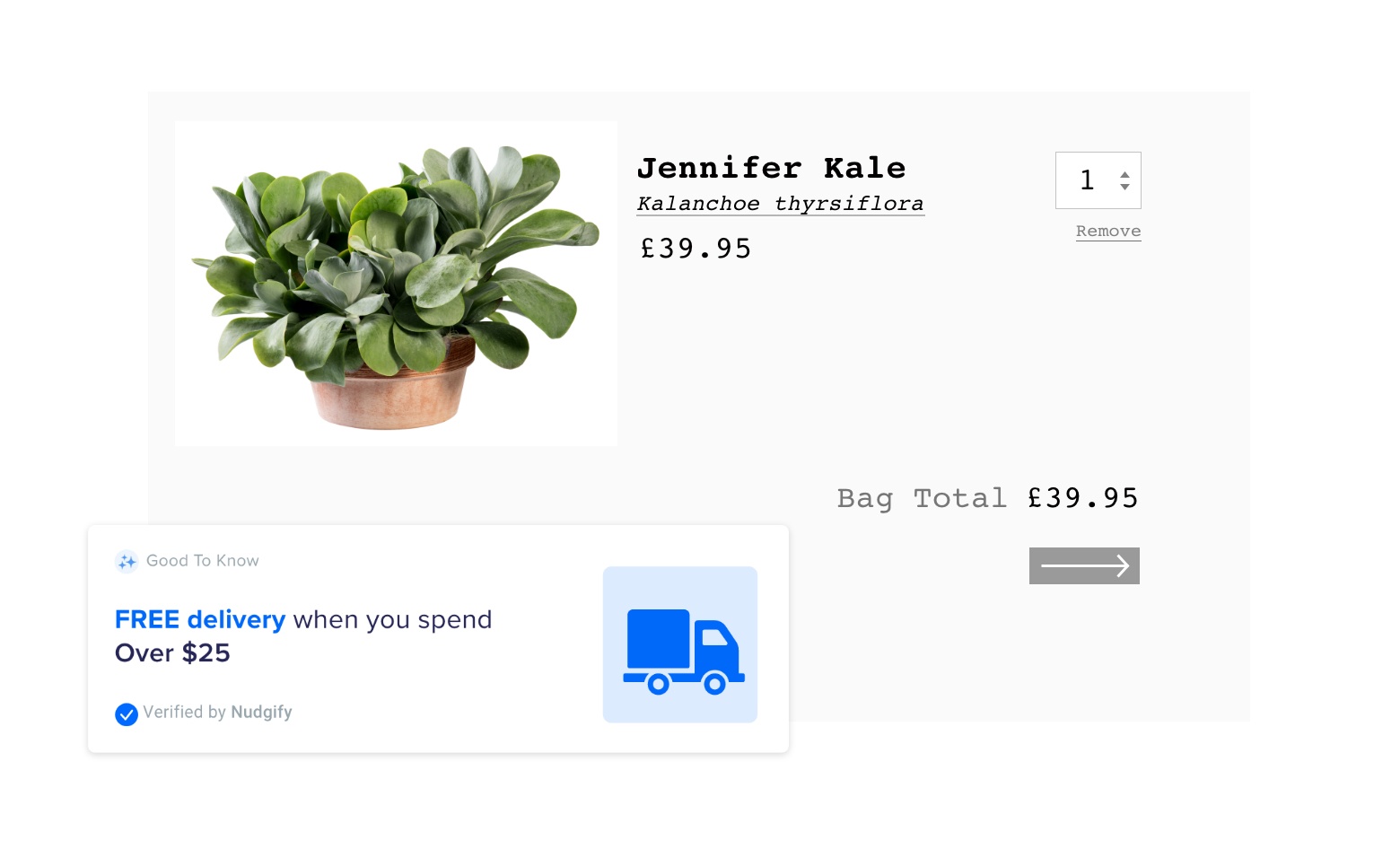 Cart recovery emails are a popular solution for eCommerce stores, and remain some of the most downloaded plugins in the Shopify app store. Unfortunately, the open rate of marketing emails is quite low (16.22% across all industries) and the average click-through-rate is even lower (just 7.17%). Friction notifications prevent cart abandonment before it happens – making them far more effective than cart recovery emails.
4. Increase Your Average Basket Value Through Cross-Selling
Cross selling and up-selling are a proven way to build revenue by increasing your average basket value. According to a McKinsey report, 35% of what people purchase on Amazon comes from the platform's product recommendations. With sales notifications, you can create product recommendations for specific pages or add them to your basket page.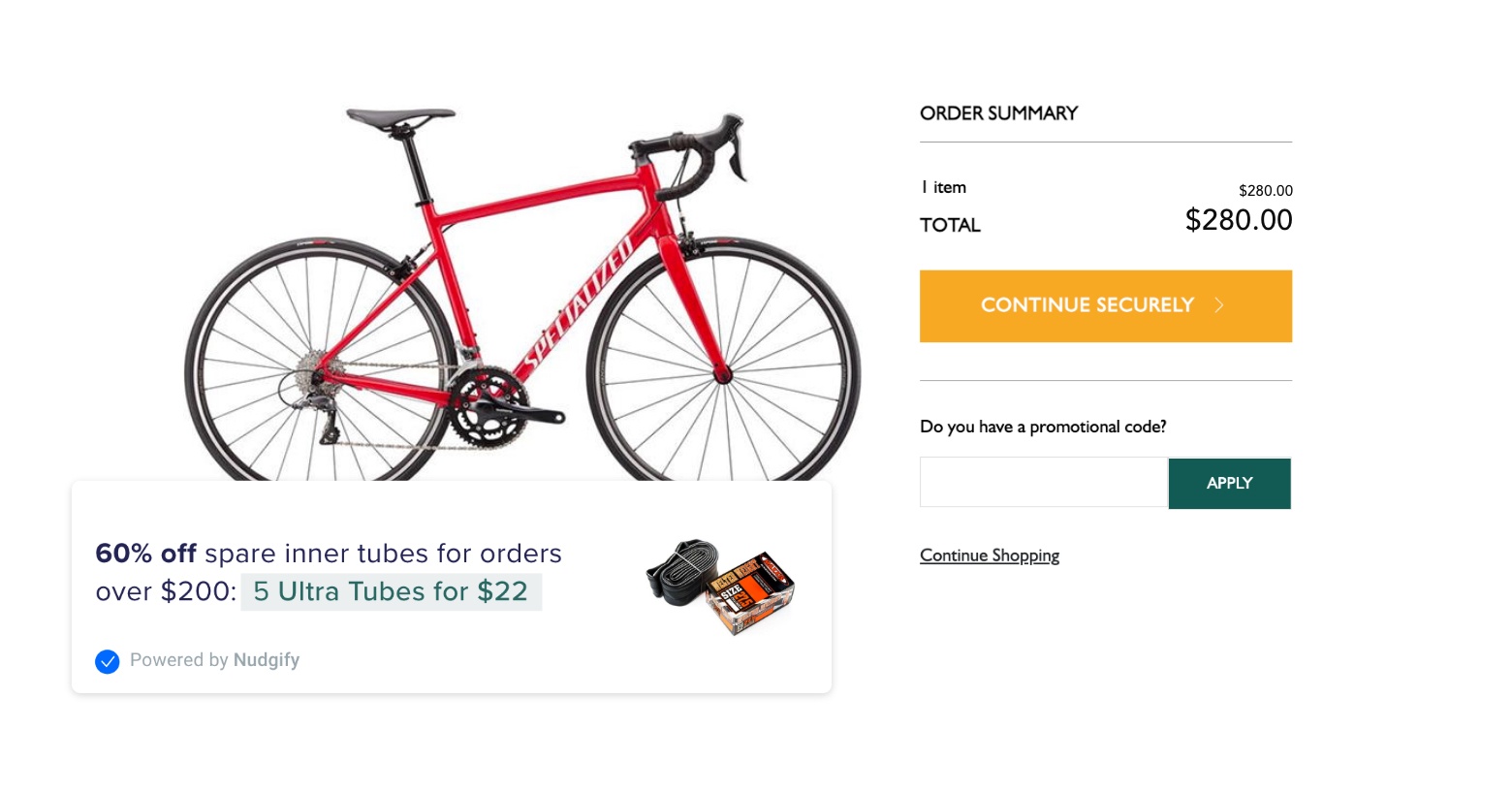 Unlike a built-in recommendation engine, notifications with custom cross-sells and up-sells give you complete control. That means you can track and record exactly which product combinations increase your revenue the most. 
Sales notifications are a powerful tool that can help you increase your conversion rate, reduce abandoned carts and increase your average order value. However, it's important not to go overboard with the wrong kind of notifications; it's far easier to lose trust than it is to earn it. Honesty is key, and if you advertise a limited-time sale that stays live for years, you will lose credibility.
Finally, don't be afraid of testing out different combinations of copywriting, design and notifications on your website. For step-by-step instructions on how to build experiments, see How to do A/B Testing.