Using Scarcity Notifications To Boost Your Website Conversions
Reading Time:
4
minutes
The principle of scarcity was discovered by scientists Worchel, Lee, and Adewole in 1975. It is described in their research as the "effects of supply and demand on ratings of object value". Scarcity notifications are one of the simplest and most effective ways of harnessing this effect.
How Is The Scarcity Effect Used In Digital Marketing?
By using scarcity to market their products, brands can stimulate greater demand. Tactics include offering limited edition products, flash sales or deliberately producing only a limited supply.
For example, just one day after Apple launched the last iPhone, stocks had already sold out, which in turn made even more people want to buy it because it generated the scarcity effect and automatically branded it as a luxury item that people were willing to queue for hours to have.
There are many ways to harness scarcity in digital marketing, via email, social media and webpage design but this article focuses on the use of persuasive pop-up notifications.
What Are Scarcity Notifications?
Scarcity notifications are the messages and information that are delivered from a software application to a device such as a mobile phone or desktop without a specific request from a client.
They are driven by consumer psychology, using real website data to create notifications that attract visitors' attention and persuade them to take action. If I know that stocks are low, I become concerned that I will either not be able to buy the product, or its delivery will take more time.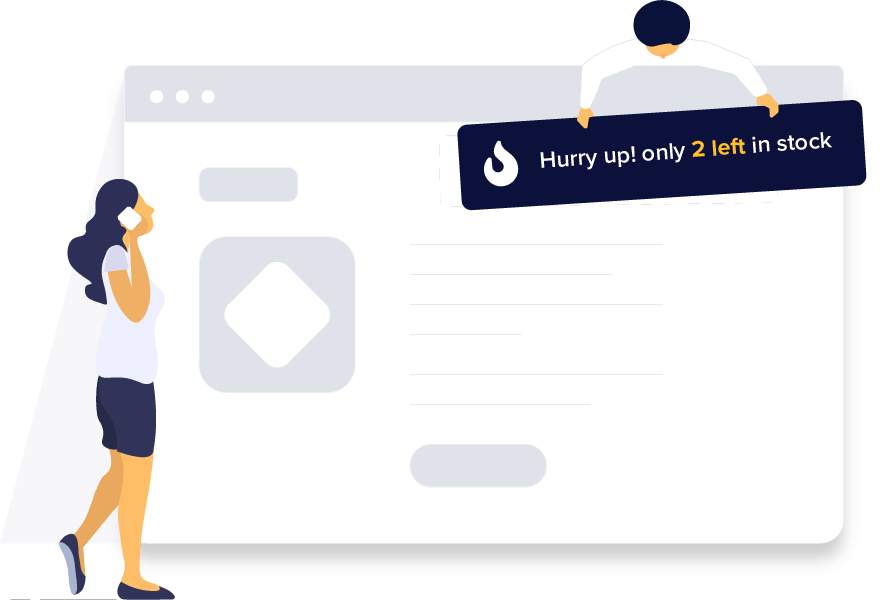 Why Are They Important?
No-one likes being let down. Fulfilling expectations is a key tenet of digital marketing, when I click it results in my desired outcome. In other words, if I click on a product, and proceed to checkout, I will feel disappointed if I then find out the product is not in stock.
Persuasive notifications are one of the simplest and cheapest methods to boost eCommerce conversions. At Convertize we've seen them drive 6% growth in conversions – not bad for a few minutes work!
The risks from letting potential buyers down are huge, as documented by the example of when Mondo ran out of Lego Movie posters. The PR damage was huge, and completely avoidable. In fact, had they harnessed scarcity, they could have sold out even quicker!
How Can I Add Scarcity Notifications To My Website?
Convertize displays dynamic notifications that will capture the attention of your visitors by using the scarcity effect. This increases the perceived value of the product, encouraging them to make a purchasing decision more quickly.
This SmartPlugin™ is powered by an intelligent algorithm that will optimise results in real time and display the most persuasive message for each page and at the best time.
1. It's Easy to Install the Convertize Scarcity SmartPlugin™
Drag and drop: easy as 1,2,3
2. Configuration takes a few seconds
You can tailor it by language and to your ecommerce product. You can also include a "custom product" option which allows you to write exactly what you would like the SmartPlugin™ to say.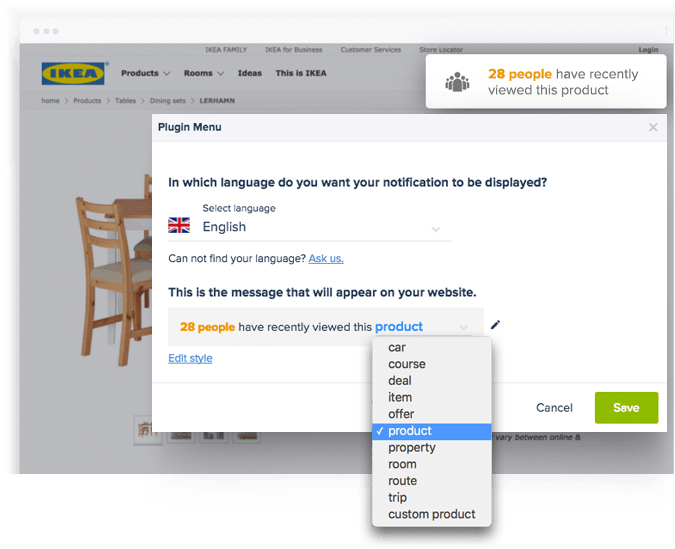 3. And it can match the style of your website too
You can very easily change the colour, background and position of the SmartPlugin. This will match it perfectly with the style of your own website.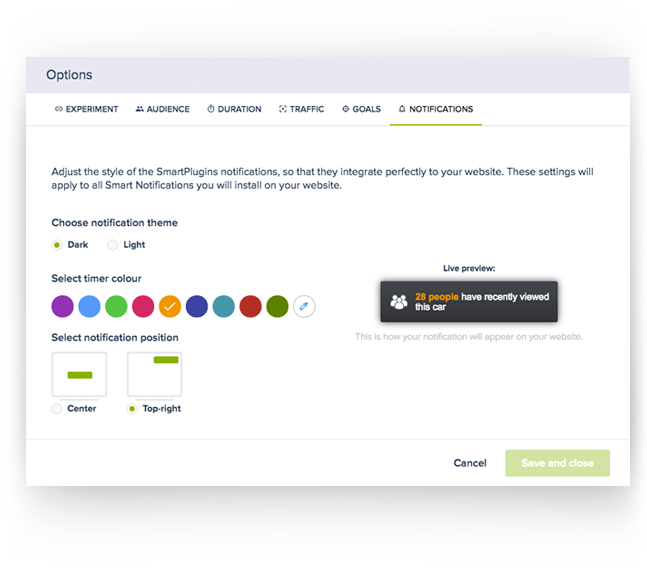 Ta-da! Congratulations, you've now taken the easiest and first step in your conversion optimisation journey. After changing the style, the pop-up will appear natural, and will nudge visitors to buy more quickly and more often.
Conclusion
Scarcity notifications are a powerful tool that can help you increase your conversion rate.
These notifications influence your customers by creating the feeling of a product's scarcity The psychological principle was described 40 years ago, but applies more than ever today.
When using such powerful instruments of persuasion, do not go overboard because you can lose customer trust. If you say that there is a lack of a particular product and this product stays on your website for years, you will probably lose clients.
So don't use the same notifications for the same products for a long period of time. Implicit in the scarcity principle is that it applies for only a short period of time.
Don't be afraid of testing out different techniques on your website. You will surely find what works best for your eCommerce business!