Transform Your Business With Machine Learning for Ecommerce [infographic]
Reading Time:
4
minutes
Machine learning allows us to predict future behaviour. One area of business that is already benefitting is eCommerce. Algorithmic predictions can be used to optimise your website and increase your conversion rates. This article can tell you everything you need to know about machine learning for eCommerce.
What is Machine Learning?
Machine Learning is a form of artificial intelligence that provides useful predictions about future behaviour.
Simply put, a program educates itself and becomes capable of educated, autonomous decisions.
The technology is becoming more and more popular, in a wide range of industries:
Machine learning has also taken root in e-commerce.
This infographic, Machine Learning for eCommerce, explains how the technology can be used to increase your website conversion rates and optimise your online business. 

How You Can Use Machine Learning for eCommerce
Most E-commerce stores have the same problem: their conversion rate is too low. But what if you could use the power of AI to increase your conversions and grow your revenues? 
Here are some real-world examples of how e-commerce companies are already taking advantage of machine learning technology.
1. Customer service chatbots to improve customer experience
Good old chatbots fit perfectly into the modern e-commerce reality. By adding machine learning to your chatbot system, you can create automated interactions that improve with every customer. According to a Ubisend survey, consumers prefer to communicate with a chatbot if it means they receive an immediate reply. 
Even luxury brands like Burberry and Tommy Hilfiger use chatbots as their default customer service system.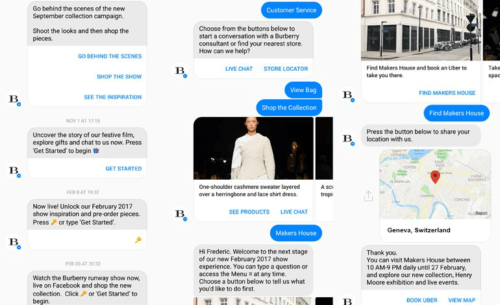 This is what a conversation with the Burberry chatbot looks like. (Source: luxurysociety.com)
Armando Roggio, the senior contributing editor for Practical Ecommerce, believes chatbots are the best solution for online business:
"An intelligent, learning chatbot can manage basic customer service questions and learn how to help customers in ways that are specific to a particular online store," 
Through machine learning, a company can have an online consultant who works 24/7 and never goes on holiday. 
2. Using machine learning to improve product search
Probably every online company understands the importance of the search function.
After all, the more easily consumers can find what they need, the more likely they are to buy something.
"An effective site search function is obviously a key element," says David Moth, Editor and Head of Social at Econsultancy.
That's why many e-commerce companies are trying to improve the search option on their website.
For example, many have added an autocomplete feature, which helps improve both search speed and relevance.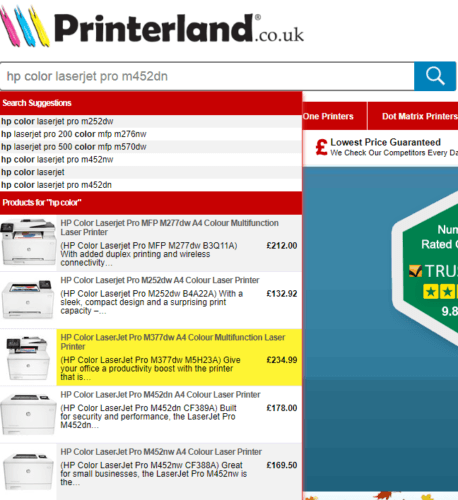 Search with an autocomplete function. (Source: printerland.co.uk)
However, machine learning technology, allows company owners to go even further.
A conventional website search can be turned into a so-called "learning search".
A regular search is based on the principle of looking for similar keywords or synonyms, while learning search is much more complex.
Armando Roggio explains "Improved learning search will also consider click rates, conversion rates, customer ratings, and even product inventory or margin.".
Like everything using machine learning, this type of search will improve itself over time, giving people more relevant and suitable answers to their queries.
3. Merchandising through eCommerce machine learning
There is a trend for companies to apply machine learning to increase the relevance of recommended and related products.
According to Barilliance, as early as Q4 2014, 31% of e-commerce revenues were generated from personalized product recommendations.
Since then, these recommendations have become even more useful.
It also turns out that consumers actually want to receive these notifications.
According to an eMarketer survey 80% of respondents believe notifications to be useful.
Usually, these recommendations are manifested in the form of push notifications.
A customer clicks on the notice and is suggested more suitable goods. The company gets money and a thankful customer.

Source: practicalecommerce.com
4. Persuasive Notifications to Increase Website Conversion Rates
We have discussed the concept of website notifications previously. They can be used to entice a potential customer, applying psychological prompts that are proven to motivate people.
For example, people are more likely to purchase an item immediately if it is in short supply (the scarcity effect) or if a large number of people are interested in it (social proof). 

With notification platforms like Nudgify, Artificial Intelligence is built in. That means Machine Learning can be used to identify the most effective messages to display to customers and the best time to deliver them.
Machine Learning for eCommerce
Machine learning is revolutionising the way that e-commerce companies communicate with their customers. All have the common aim of improving customer experience to drive greater revenues.
Persuasive notifications and smart A/B testing are a simple way for you to introduce machine learning and increase website conversion rates.
What do you think about machine learning technology? Would you like to use it in your store? Please, share your opinion in the comments.