How much have they optimised their website, a Lidl or a lot?
Reading Time:
4
minutes
With Christmas only just around the corner, the competition between supermarkets is really starting to heat up; they all want to be the one to put the turkey and its trimmings on your table this Christmas. The release of their highly anticipated TV adverts marked the start of the festive competition for customers, but I'm more interested in whether or not they optimised their websites using psychological principles. I've started my investigation with a Lidl review (pardon the pun) of the leading discount retailer in the UK.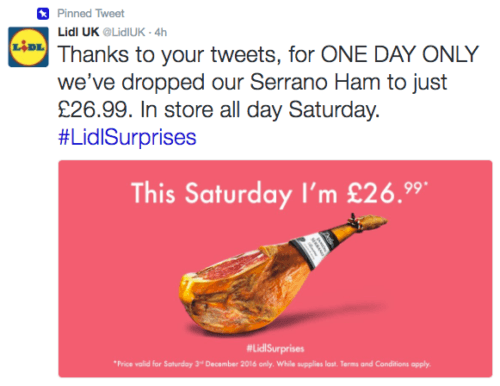 Lidl have introduced a new feature in their Christmas campaign, referred to as the 'Lidl Social Price Drop'. Individuals are encouraged to tweet using the hashtag #LidlSurprises and the more they tweet about a certain Lidl product (e.g. #lobster), the lower the price of that product will drop. This campaign is very clever, as it utilises the 'Commitment and Consistency' psychological principle. This principle states that once an individual has publicly committed to something (e.g. by tweeting #turkey to their network), then they are more likely to carry through and deliver on that commitment (e.g. go and purchase their turkey from Lidl), in order to be consistent.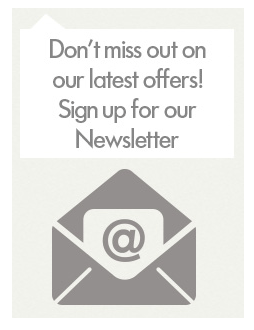 Rather than offer hundreds of different types of the same product (e.g. 20 different brands of stuffing), Lidl will only offer a few. By keeping their Christmas range more simple, they can avoid experiencing a "range overload" – in their own words,  "why browse 100 types of water when you can choose from 8?". Lidl clearly understands the 'Paradox of Choice'. This states having too much choice can lead individuals to reach a less effective and satisfactory decision. Why search through numerous of different types of turkey when you can look at a few that are carefully selected by the company's buyers?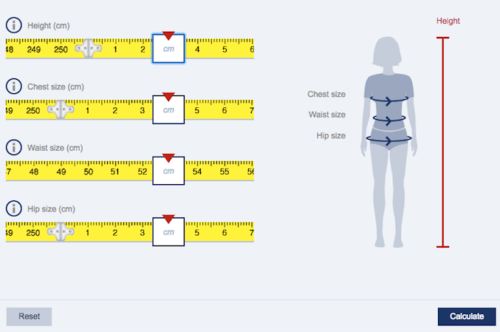 Christmas shopping is stressful and tiring enough without any added difficulties. It is always difficult to know whether or not a Christmas jumper is going to fit (especially after a few too many mince pies…), but Lidl makes this whole process much easier for potential customers; specifically they allow you to enter your own measurements for each different type of garment, so you don't have to calculate your own size or simply guess. This features complements the principle of 'Cognitive Ease', which states that the easier our brain is able to process information, the more positive we feel towards it.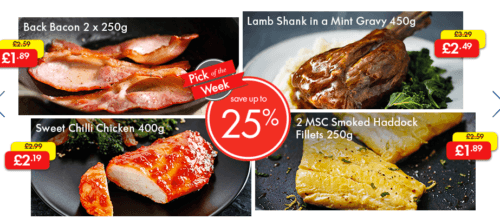 Christmas is the most wonderful time of the year… but it is also the most expensive time of year. After buying all the gifts, the tree, the wrapping paper and endless rolls of sticky tape, there isn't much left for food and drink. Therefore, we are going to want our Christmas supermarket trip to be as cheap as possible. Lidl's prices are already reasonable, but how do they make them look even cheaper? Lidl have used the psychological principle of 'Anchoring', this describes the way in which people utilise the first piece of information they receive as a point of reference for making judgements about subsequent pieces of information. For example, when looking at the price of their Christmas products, the original price (e.g. £3.29) is displayed above the reduced price (£2.49), allowing the higher price to act as an anchor!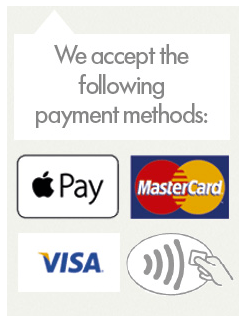 Like I said before, Christmas is a very expensive time and spending money can be a very 'painful' process; so painful, in fact, that a psychological principle has been named after it,  the 'Pain of Paying'. This describes how the act of paying reduces the pleasure associated with the purchase. Therefore, supermarkets need to think about how to reduce their customers' pain for their customers this Christmas. Research has shown that paying by card is less painful than paying by cash; it doesn't feel as if you are giving anything up unlike when paying with your hard earned cash. The new technological developments like contactless and apple pay make payments even less painful and both of these payment methods are accepted by Lidl this Christmas.

When viewing some websites, it can feel as if you are inundated with text and it can become quite difficult to remember where you found certain pieces of information. Did you read about the Christmas tree decorations on this page or another page? The 'Picture Superiority Effect' describes the tendency for individuals to remember images for much longer than words, hence using images alongside text or even using images alone is more effective than just using text. Lidl have used images on their navigation bar in order to assist customers in remembering where they saw particular products. So you know exactly where you saw that perfect angel for your tree.
These are only a few of the psychological principles implemented by Lidl and their abundant use must have assisted with their £4 billion turnover in 2015. These neuromarketing principles aren't always easy to apply yourself, especially if you are relatively new to the field of neuromarketing. Luckily for you, however, there is software available to assist you. Convertize selects effective persuasion tactics based on your audience and context, which you can then easily implement on your website without touching the coding.
Convertize is currently offering a free 14 day trial.